Adobe® Photoshop® CC® Bootcamp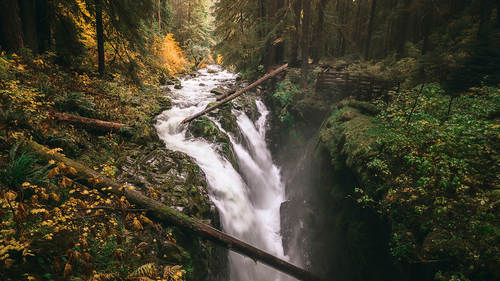 Adobe® Photoshop® CC® Bootcamp
Lesson Info
Cropping for the Subject in Post
We also have cropping for other things, like cropping for the specific subject matter. So these are instances where you have your camera, you're all set up. This is a perfect one in Chicago. My buddy and I, we had just gotten done eating dinner, we were waiting for the sunset, waiting out the sunset, and it was one of those just pay the check and get out of there because we've got a beautiful sunset coming in. And this, I put on a telephoto lens and I shot specifically for the church. But when I shot for the church, I had to get some of that building in on the outside. Now, I could have just moved my camera over and gotten more of the other side of the image. But there's nothing really there that was really that important for me to get into the image. So I had to make the conscious decision to just cut a little bit into this building because what was the left of it wasn't all sky. It was a bunch of other buildings and such. So, this is where we're specifically cropping, not necessarily...
for composition, but we've made a decision in camera that we now need to correct for in post-production. So, if I click here from my crop tool, cycle for my rule of thirds, I can go ahead and press and hold Shift and keep it within the constraints of that image. Now I say press and hold Shift while you do that because I want to maintain that aspect ratio. I want to maintain the same ratio that I had when I shot the image, so that if I press and hold Shift it automatically makes sure that that happens. Press Enter and now that's what I would say is a much better crop than what we had before. You definitely don't need to see that building there and even losing some of the bottom of the church is fine. I just feel like we're a little higher up now. Here's another example of that. The palm tree, it doesn't feel like it's alone in it's beautiful environment like we would typically want to see a palm tree because we've got all of this clutter of the human world that comes into this that doesn't make it necessarily as attractive. It gives us too much of a time and place. So if I'm cropping this specifically for the subject, I'll just come in and I'll just crop that out. And then maybe move this around, get that rule of thirds and boom, I'm done. So, the idea is not to necessarily just shoot because of the sake of when we photograph that image, it's got to have everything in there. You can shoot whatever it is that you shoot and then come in later and just crop it in post. There's nothing holding you back from cropping it in post and still making a good image. Don't sacrifice a good shot for the fact that you just don't feel like there's something there. Take the shot, more than likely, there's a reason why you're snapping that image and your brain sees it and it's telling you that there's a reason why you're doing this and you don't really know. And you get back to your computer and you're like, "Well, why did I shoot that?" And then it clicks and it triggers. So this is one of those instances. I didn't like all of the junk that was on the bottom. But I really did enjoy that palm tree that was in front of me. Here's nother example of cropping within a wide angle lens. It takes in everything. Cropping specifically for the subject matter, I'm just going to go ahead and crop in with the rule of thirds, press Alt while I Shift-click, get that tree trunk out of there. And get a nice composition that looks more like that timeless feel of being in the palouse with those dilapidated barns. We look at the before, pressing Command or Control Z, pressing Command or Control Z again and we see the after. It's a much better, more powerful crop.
Class Description
Adobe® Photoshop® CC® is a valuable tool for photographers, but it can also be intimidating. In this all-inclusive 20 lesson course, you'll go from opening the program for the first time to creating images that really stand out. Join Blake Rudis, Photoshop® expert and founder of f64 Academy, as he shows you how to maximize your use of Photoshop®. Topics covered will include:
Week 1
• Class Introduction & Bridge, Adobe Camera Raw, Setup Interface, Cropping and Layers
Week 2
• Layer Tools, Masks, Selections, Clean-Up Tools and Shapes & Text
Week 3
• Smart Objects , Transforming, Actions, Filters and Editing Video
Week 4
• Custom Creative Effects, Natural Retouching, Portrait Workflow, Landscape Workflow, and Composite Workflow

Don't let the many aspects of Photoshop® prevent you from maximizing your use of this amazing app. Blake will help you develop the confidence to use your imagination and create the images that you will be proud to share with your clients.

Software Used: Adobe® Photoshop® CC® 2018