Adobe® Photoshop® CC® Bootcamp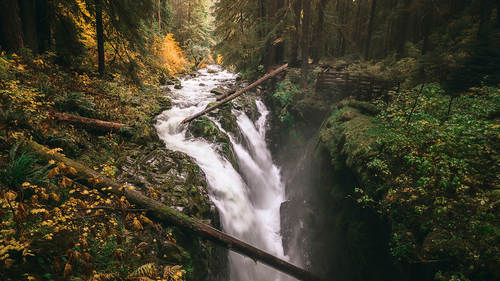 Adobe® Photoshop® CC® Bootcamp
Lesson Info
Content Aware Move Tool
The Content-Aware Move tool is really one of those things, I call it a one-trick pony, and I call it kind of cute because it does take an area and it will grab whatever you've selected, move it to another area, take the area that you moved it to, and replace that other area with that area. So, we're taking selection A, moving it over to area B, area B moves to selection A, selection A moves to area B. Okay, I know, wrap your head around it, it's tough. So, I have that set right here, within the patch tool, there's the Content-Aware Move tool. If I click the Content-Aware Move tool, I'm going to get a couple different options here. The mode is gonna be set to Move, Extend is a little different, we'll show Extend in a little bit here too. Structure and Color, these can change on the fly as you make this selection. So I'm going to make this selection of the American flag here. And I'm going to move this down to here. Right on top of this area here. Again, it wants to snap to something, so...
if I press Control, it allows me to do it without it snapping. If I click that area, and I commit to that, it's gonna move the American flag from this area down to this area, and also fill in the area around it. With that selection still selected, I can change the structure of how it's making that selection. The Structure is how it builds the area that it's moving one area to to the other area. When the Structure is set to seven, it is literally taking that flag and that area around it, and moving it directly down to there, keeping it somewhat intact. 'Cause if we move it down to one, it's all discombobulated. Move it up to seven, it's a literal structure from what we're taking there. If we move something like color, and move the color up, that will affect what colors kind of manipulate around that area as well. The colors are very much alike here, as we're moving this over, so it's very similar in nature. If the colors were a little bit off, before you deselect this, these are the times that you want to consider doing this. The Structure and the Color, 'cause as soon as I deselect this, I can't go back. So if I go ahead and press control-d on this to deselect it. It did an alright job of blending that in, but using that in conjunction with things like the Clone Stamp tool, and using things like the Patch tool, I can then patch this area in, so you can see it's not quite connected here. I could use something like the Clone Stamp tool, alt-r option, click here, with a smaller brush, and just patch that in with the Clone Stamp tool, and then go back up here, to this area where the flag came from, alt-r option, paint in that area there, and it starts to disappear. If I wanted to get real nit-picky, I could go in and get that area too. Now the difference between, and if we look around it, we still have some area around it that's not quite built correctly, that's because the Structure was very literal. If the Structure was lower, it would help patch that area around it, and try to make it blend a little bit better. But with something like this, it bent and warped and manipulated the pole of the flag, and that's not what we want. So if we were to go in with the Clone Stamp tool here, we could then clean up this cloud area by pressing alt-r option, clicking around and just cleaning up any areas that would be, have that edge around it. 'Cause edges, repeated patterns, people will pick up on them in a heartbeat, and know that you cheated. So now if we were to click on the Content-Aware Move tool, there's another thing in here called Extend, and Extend is if I were to grab around this area here, and move it up, see how the pole starts to move up? Now we can make the American flag back up to the top of the building, control-click and then boom. Control-d, we extended the flag. There it was before, and now after. We just moved it up a little bit more. Might have to do a little bit more cloning to clean that up, but that's one option. That's the Content-Aware Move tool. This tool, where would we literally use it, would I use it to move that American flag from the top to the bottom, not necessarily, but it's a great image, example image, to show that on. I actually like the way it was on here at the top. But where this can be helpful, is let's say there's a window on a building, and it's a little too close to a door, and you wanna move that window to another side of that building, just highlight around that building, and then move it over. And again, this is a tool that uses selections, so at any time we could come in and we can make, even a rectangular selection around here, and then go back to that tool and move it over. So it's a selection based tool, so if you don't want to use that free-form Lasso, 'cause it can be kind of hard to make a selection, you can use a polygon Lasso, anything that is a free-form type of selection.
Class Description
Adobe® Photoshop® CC® is a valuable tool for photographers, but it can also be intimidating. In this all-inclusive 20 lesson course, you'll go from opening the program for the first time to creating images that really stand out. Join Blake Rudis, Photoshop® expert and founder of f64 Academy, as he shows you how to maximize your use of Photoshop®. Topics covered will include:
Week 1
• Class Introduction & Bridge, Adobe Camera Raw, Setup Interface, Cropping and Layers
Week 2
• Layer Tools, Masks, Selections, Clean-Up Tools and Shapes & Text
Week 3
• Smart Objects , Transforming, Actions, Filters and Editing Video
Week 4
• Custom Creative Effects, Natural Retouching, Portrait Workflow, Landscape Workflow, and Composite Workflow

Don't let the many aspects of Photoshop® prevent you from maximizing your use of this amazing app. Blake will help you develop the confidence to use your imagination and create the images that you will be proud to share with your clients.

Software Used: Adobe® Photoshop® CC® 2018