Adobe® Photoshop® CC® Bootcamp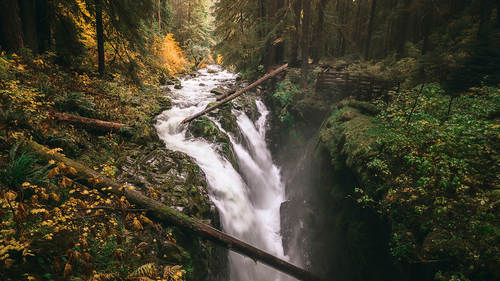 Adobe® Photoshop® CC® Bootcamp
Lesson Info
Brush Mask: Hue & Saturation
So let's go ahead and take a look at how we can use this with hue saturation and other different adjustment layers. So in this image I really like the red color on the stairs, but I think with this, I want to change the overall look and feel of the stairs, by changing maybe the colors of the chairs. Of the stairs. So what I'm gonna do, is I'm going to add a hue saturation adjustment layer, and I've got a targeted adjustment tool here, that when I click on this, and then click on that color of red, I can manipulate the hue of that color red to whatever color I want that color to be. So if I move this over, start making it a little bit on the green side, maybe move it this way and start getting it onto the blue side. When you're rotating the hue like this, what you're doing is, you're actually taking that color of red and rotating it around the color wheel in whatever degrees. So notice when you pull this all the way up, it's 180. Not 100, it's 180. Because you're taking that color red, ...
180 degrees around the color wheel. Pull it all the way down, it's taking 180 degrees to the left around the color wheel. So let's make that a little bit more on the blue side. Let's brighten that up a little bit. And then drop that saturation a little bit. And then change this spread down here, so it spreads a little bit more into those magenta areas. (mouse clicks) See how there's a little bit of magenta on those stairs? I wanna get that in there. So let's change that spread a little bit. When I do that, though, what's it doing? It's affecting the entire canvas, and it doesn't look very good. So if I click on this hue saturation adjustment layers mask, again if I press command or control I, it is gonna make sure that hue saturation doesn't affect anything at all in this image. And then what I can do, is I can press B for the brush tool, make sure that I'm painting with white on this mask, and if I zoom in by pressing control and space bar, and get a little bit more control over the area that I wanna paint in ... Just start painting in that color. Start to get some blue in those stairs, instead of making them red. Paint in, I'm just gonna do this a little bit quicker. Boom, boom, boom. I'm gonna do something on purpose here, I'm just gonna go a little bit lighter on my paint here, Show you how you can manipulate this even a little bit more in the mask. So now those stairs are a blueish color. And if we wanted to we could do the same thing with the couch over here, 'cause the couch matched the stairs. So we'll just paint that in a little bit. (brush sounds) Alright, so now, if I look at this mask, you can see that this mask is not 100% white. You see that? It's got some gray in it, it's not 100% white. It's even got a little bit of black in it. Now I could continue to keep trying to build up and build up and build up to make that mask more white, or I can kinda hack that mask a little bit. So if I alt or option click on this mask, you can do things to masks just like you would do to any other photograph. You can blur a mask with a filter, and any of the things that you see in the menus up here on the top of Photoshop, you can use those to adjust the mask. So you're not just restricted to just the pen at this point, you lay down the mask ... If I were to keep painting here, I might accidentally over spray into an area that I didn't want, or I might paint something in that I didn't necessarily want, but I want a full on white mask. Well because I started with my Wacom tablet, it's not that this is the point of no return, I can't necessarily go back, but what I can do is if I go up to image and go to adjustments, I can go to levels or curves. And now I have a curves adjustment layer for that mask, that's not even going into an adjustment layer. So there's the adjustment layer that's curves, that's the calculation that's happening within the stack, and then there's also curves that are by themselves within the menus. So if we look at this mask, and I bring this down to make this look brighter, look at how the density and the intensity of that mask is changing. So if I bring this down, that whole mask is starting to get whiter. So let me go ahead and press okay on this. I'll press alt or option and click away from this, still with this mask selected, go up to image, adjustments, and curves. And if I make this darker, watch the effect. Look at how those stairs are now getting more blue. And the reason why is because that mask that we painted on there before, wasn't necessarily a 100% white mask. It had some feathering in it, it had some opacity changes in it, because we used the Wacom tablet. So, this is a really helpful tool when you make a mask, and you're like, "Man, I wish that was just a full on white mask." Well you can change the contrast of that mask, just by going in to the curves or the levels of that mask. And that's not affecting the layer that's below it, it's just a curves adjustment layer for that mask. Now unlike a regular curves adjustment layer, you can't go back from that. So once you do it, it's pretty much done. You can go into the history and you can back up in the history, but if I were to keep going, I can't necessarily go back. Whereas a curves adjustment layer, you can delete or alter at any time. On that, we also have some things like properties of masks that we haven't even talked about yet. So when we first started this mask, this mask right here, if we look at the properties of this mask, it has properties just like a curves adjustment layer would have properties, or a hue saturation adjustment layer would have properties. It has a density, it has a feather. So you can increase and decrease the density of this mask, using this control panel. However, it starts at 100%. So if your mask is already light and you wanna go higher, you can't increase the density of the mask beyond 100%, but you can always reduce the density of that mask. And by density, if I press alt or option and click on this hue saturation adjustment layer, and drop this density down, you can see that it's changing the density of the mask, or the black area of this mask. Which is allowing more of the underlying area to be revealed through it. If I were to click on this mask, again and go to the properties and bring that back up, so you can see it in real time what's happening, that black area of that mask around it, this is not affecting the white portion at this point, this is affecting the black portion. As I bring this down, that's allowing more of that underlying color to show through. Even though I've masked it out, look at the mask now. The density of that mask is less. So it's not necessarily about black and white, it's also about what happens in between black and white. If you have a variation of the color black in there, so you have maybe some middle grays, that'll basically be, if it's 128 gray, that's a 50% effect of that mask. But because our mask was painted with straight white and black, we bring the density up to 100%, that blacked-out area around it is going to block out this effect completely from what's happening underneath. (mouse clicks) So if we go to the feather, press alt or option on this mask, and increase the feather, (mouse clicks) this will increase the spread of that mask. And this can be very helpful when we're doing things with selections which we'll see in the next course. If you make a mask and it's got very rigid edges on it, it can be very difficult to go through and paint in your edges to make it better. But what you can do is you can just increase that feather a little bit. If we were to press alt or option to click away from this mask, zoom in a little bit, maybe to right here and see what this feather's gonna do as we bring it up ... It's basically gonna increase the spread of that mask. See that, so it's allowing more of that underlying red to kind of feather through. Press alt or option on that. Drop that down a little bit. There you go.
Class Description
Adobe® Photoshop® CC® is a valuable tool for photographers, but it can also be intimidating. In this all-inclusive 20 lesson course, you'll go from opening the program for the first time to creating images that really stand out. Join Blake Rudis, Photoshop® expert and founder of f64 Academy, as he shows you how to maximize your use of Photoshop®. Topics covered will include:
Week 1
• Class Introduction & Bridge, Adobe Camera Raw, Setup Interface, Cropping and Layers
Week 2
• Layer Tools, Masks, Selections, Clean-Up Tools and Shapes & Text
Week 3
• Smart Objects , Transforming, Actions, Filters and Editing Video
Week 4
• Custom Creative Effects, Natural Retouching, Portrait Workflow, Landscape Workflow, and Composite Workflow

Don't let the many aspects of Photoshop® prevent you from maximizing your use of this amazing app. Blake will help you develop the confidence to use your imagination and create the images that you will be proud to share with your clients.

Software Used: Adobe® Photoshop® CC® 2018