Adobe® Photoshop® CC® Bootcamp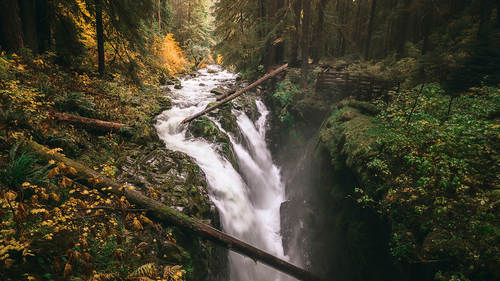 Adobe® Photoshop® CC® Bootcamp
Lesson Info
Adobe Libraries
Let's talk about the Adobe libraries. The libraries are over here and that we've put here, because we've saved this workspace this way. We have colors, color themes, layer styles, and graphics. Now, at any time during your workflow, you might find something that you're doing specifically in the realm of maybe graphic design work that works really well for you that you really like. Under my library, if I go to graphics, there's something that I use quite a bit when it comes to my video tutorials that I do for my website. And that's making this template for a bar that goes across my image with text in it to tell the viewer what they're about to see over top of an image. So if I go ahead and drag this and drop this onto my canvas here, that is a, something's that stored in my Adobe Creative Cloud library that allows me to go to it at any time right there within that library's field. So now, I can move this around and get this fit right exactly where I want it to be. And now, I've got that...
band across there with all the layer styles that would've been in there to begin with. And notice how there's a little cloud icon right there. That's telling me that that's coming from the Adobe Creative Cloud. It's coming from a series of assets that I have created that have then been uploaded to the Cloud. At any time, you see this little button right here that says Add Content or Create a Library from the Document. If this document has a bunch of things going on it, I can create an entire library just for things that are happening in that document. Or I can create just the content that's happening within this area and add it to that library and have access to it whenever I want on any of my images. Now, from maybe, like, a workflow standpoint for someone who's doing maybe portrait or landscape work, this might not be very effective. But for design work or maybe you do portrait work and you have clients and you have the same type of thing that you do on every one of those images and you just maybe alter the text a little bit or change the text a little bit. This gonna be a place where you can put those assets so you can always have access to them. And they don't appear nowhere, okay. They appear, or they don't exist nowhere. They exist within the Cloud and they can appear whenever you want them to. But to get to there, if we open up the Creative Cloud. Remember I said this is your command center for Photoshop. You'll see here, listed under Assets. And this actually comes with 20 gigabytes of storage for you and you can put whatever you want in there. So if I were to just say Open Folder, there is actually a folder in my folder structure within Windows, under my File Explorer here called Creative Cloud Files. I can store files there that maybe I like, these are some of my favorite images that I've ever done, so maybe I want access to them over every computer that I have. So if I'm not at home, I don't need to worry about it. They're all stored on my Creative Cloud in that file catalog. Right now, I'm on my PC. I'm on my laptop that I use when I'm doing events. But if I go home and I go onto my PC, I can see exactly what's happening in that Creative Cloud file because they're connected and they're linked. And I know that because if I go right here and say View On Web, I can see exactly where those exist on that website on the Adobe Creative Cloud. And I really encourage you to navigate through here. You get a lot of stuff when you get your CC package. You get Photoshop, you get Lightroom. And that's all people really think when they get that photographer's bundle. But now, you also get 20 gigabytes of storage on the Cloud. You also get the ability to collaborate with people from these areas as well. You also get ability to make your own website through the Adobe Portfolio, which is actually a pretty cool thing. It's better than nothing, I should say that. It's good, if you know how to use it. It could be a good way for you to represent yourself so you're not just saying, 'Hi, I'm Blake Rudis, here's my card.' And it goes to, you know, I don't know, maybe just has my phone number on it or something like that. So it gives you a place that you can send people to, a call to action, so to speak. And you can put whatever you want in that website. Same thing here too. If I go into this file. Let's say I'm working with a client and I upload a file to this folder, I can click on this and I can send a link. I can share that link to them. And when I share that link with them, right now, this is set to private, but I can open up that privacy, so that I have other options. When I send them this link, do I want them to have the ability to save this in their Creative Cloud? Do I want them to be able to download this image? Or do I just want them to be able to make comments? So let's say you're collaborating with somebody else within a design atmosphere and you want them to see what you've done. This can be a good opportunity to say, 'Hey, can you just leave some comments on here?' Or if you have a client that you want to be able to see a photograph that you've done from their set, all they can do is show comments and they can't download that item. Another thing that's really interesting here is we go to those libraries. If we open up that library, we go to that My Library. And we open up that graphic that we had there. Which was this one, the Sharpening Adobe Camera Raw. We open that up. This should... It did it before. When I open it up, it will show you what it is that creates that that item. It's not doing it at this point. Obviously, it doesn't do that now. Let's try this one. Nope, not doing it now. But a lot of times, it'll show you the details, the layer styles. This always happens when you're, you know, in the middle of production. It shows you the layer styles, what styles were used to create that, and even sometimes the fonts that were used to create and that if those fonts are widely accessible.
Class Description
Adobe® Photoshop® CC® is a valuable tool for photographers, but it can also be intimidating. In this all-inclusive 20 lesson course, you'll go from opening the program for the first time to creating images that really stand out. Join Blake Rudis, Photoshop® expert and founder of f64 Academy, as he shows you how to maximize your use of Photoshop®. Topics covered will include:
Week 1
• Class Introduction & Bridge, Adobe Camera Raw, Setup Interface, Cropping and Layers
Week 2
• Layer Tools, Masks, Selections, Clean-Up Tools and Shapes & Text
Week 3
• Smart Objects , Transforming, Actions, Filters and Editing Video
Week 4
• Custom Creative Effects, Natural Retouching, Portrait Workflow, Landscape Workflow, and Composite Workflow

Don't let the many aspects of Photoshop® prevent you from maximizing your use of this amazing app. Blake will help you develop the confidence to use your imagination and create the images that you will be proud to share with your clients.

Software Used: Adobe® Photoshop® CC® 2018