Adding Images to your Portfolio
Jared Platt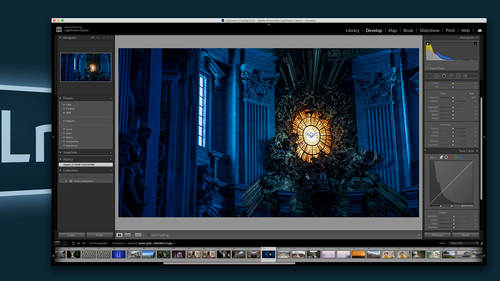 Adding Images to your Portfolio
Jared Platt
Lesson Info
50. Adding Images to your Portfolio
Lesson Info
Adding Images to your Portfolio
Now we're going to add images to our portfolio on We're going to do that, Uh, by going back to light room, remember, we've got our copy. This archive copy is ready, and we're gonna presume that they're the same because we've done a zero sum check. We didn't actually do that in real time here, but we'll pretend that we have that. We don't waste time cause those take a long time. It will take hours for it to go one by one and get all those bites. So you have to walk away from it for a while. So now we're gonna go back toe light room, and we're going to go back into these images and I've already collected, but this is the way you would do it. You search for your starred images, and once you search for your star images, go through and find your favorite images and add them to a collection. And so here is our collection. Right. So these are the images from the wedding that I'm really interested in here. This air, my portfolio were the images. So they're the ones that I want to keep, um, and...
139 of them. I don't need the rest of them for my portfolio. So what I'm gonna do is I'm gonna come back to this collection that I've collected them in, and I'm this is what I need to keep. And so these I'm going to put into a portfolio area, meaning that they're actually gonna leave the the file where they used to be. So they used to be inside of this folder right here. You can see this. This is the folder here. The milliner wedding is is that's the folder. But we're going to take them away from that folder, and we're gonna put them in our own folder on DSO. You can see that I have a portfolio drive right here, but it's dark, and the reason it's dark is because it's actually at home. Um, and that's where I keep all my portfolio work. But in the in term, we're going to kind of make a little fake portfolio. And if you have a really, really large working drive, then you could actually put your portfolio and your, uh, working catalog like you could have your working images in a Jobs folder and then a portfolio full to right above it in the same drive, and that would be a great way to operate if you have a really large drive. So like an eight terabyte drive or if you're if you're not shooting a lot, if you're not working as a professional photographer and you're just taking pictures, maybe if 546 terabyte drive or something like that would be great. But if you have separate drives and I have to different drives, I have one drive that has all of my working images in it and another for the portfolio. Then you run into this issue where you have to transfer them to another disk. So what I'm going to Dio is here in my working drive itself, I'm going to create another folder called Portfolio that's gonna be outside of these jobs. So let's do that right now, and the way to do that is you do it inside of light room. So if I want to see that, see, this is the folder, the Jobs folder that has all of our photos in it. But if I want to actually see the folder above jobs, I right click it and I say show the parent folder. Once I do that, then I've got tough tech. See, that's the name of the disk is the folder, and inside that folder I have jobs. I have a little brief case where I collect things that I need to take with me, and I can right click here on that folder and I can create a new folder inside it. And that folder we're going to call it Port Folio and not including images. Light room is just creating a folder. So now we have created a folder called Portfolio Down Here inside of our main drive. So there's a great way for you to operate if you have a large enough drive to store your regular images in and your portfolio images in. But if you have a lot of portfolio images, then you might want to consider having two different drives. One portfolio drive, one working drive where all your regular images were being I worked on. But in this case, because we have to fake it anyway because my portfolio drives home, we're gonna put them inside of the current working drive, and there's the portfolio. So now remember I'm still highlighting right here. I haven't changed all that file creating that. I just did. I still I'm highlighting this Bahamas wedding, and I just want to take these images, got him highlighted, and I want to move them into the portfolio. So I'm gonna right click the portfolio itself, and I'm gonna create another folder inside the portfolio. And I really like to segment out my portfolio by years. So I'm gonna create another folder called 2019 and I'm not gonna create I'm not gonna include the photos in it. So I've just created an extra folder called 2019 and then I'm gonna right click that. This is where I'm gonna create a folder for this job. So I'm just going to say, this is the milliner wedding, and it was shot in 2019. So it goes in the 2019 folder and I'm gonna include the selected photos and hit create. Now, if I was putting him into my portfolio drive at home, it would actually be making a copy of those images and putting him in that drive, but it's actually moving them, and it moves them pretty quickly. because it doesn't have to actually make new copies. It just moves them. So it's actually taking them out of the original folder of the job, and then it's putting them into my portfolio folder. And the beauty of this is that because light removed it because light removed it into this 2019 folder, the connection to this collection is still active, and the connection to online is still active. And so this once I delete the job, the images that I kept for my portfolio and moved over to the 2019 section of the portfolio. They're still on the Web there, still active. They're still doing everything that they did before. Um, and it's perfect. Nothing's changed. If you have people looking at him online, they're going to still be able to look at him online. So no positions online have changed the cattle. The collections that I have them associate ID in haven't changed. And so now all I'm going to do is go up to the original job, the Milner wedding job and this job. I simply right click it and I'm going to remove it when I click remove. It's going to completely remove the the job from light room, but it's not gonna delete any of the images. It's just going to remove it from light room. It will also remove any of the images that air up in the Web. It's going to remove those from the Web as well. So those that's what's gonna happen when I do that. I'm not going to do it right now because it will take a little bit of time. But all you got to do is right. Click that and remove confirmed that you want to remove it and that entire job will go away. You'll have the final images right here inside of your portfolio. So these are your favorite images that you want to keep. The rest of it could go away and then just simply hide light room, Come to the Milner wedding. This is here's Here's your job. Go to that job, right. Click it and move it to the trash. I remember you already have an archive copy. You've confirmed that that copy Israel. You've also put it into a cloud storage. Perhaps if you have the bandwidth to be able to do it and so you have copies elsewhere. You've also already delivered the job. So you don't archive anything until you've delivered the job. And if that means you've delivered it to say smugmug so clients can print from it. That's considered delivery. Even if they haven't ordered Prince yet. They're ordering it from online eso. It's secure. The client has seen the copies. That client has access to the copies of the images. So you're safe. So delete this original copy and make some space for the next set of photos you're gonna bring in. And that is the process of archiving your job. If you don't archive your jobs, you're going to Philip a disk and then you got to go get a new disk and then fill up that desk and get a new disk, and you're going to start getting confused as to where things are. So the job are the drive that you use to work on. Your photos should be the working drive, and things should come into it, get worked on and leave. It's like a train station. Trains come in and trains go out. They don't just keep piling up. You don't just fill up the train station, and then when you fill it up, go build a new train station, you let the trains come in. If you let the trains go out, that's how you're working. Drive should be. And then you have an archive drive to put all of that extra stuff that you're no longer using and, of course, a portfolio to keep the stuff you really love.
Class Materials
Adobe Lightroom Mobile Cloud
Adobe Lightroom Image Pipeline System
Workflow in Adobe Lightroom
Ratings and Reviews
I am truly a recreational novice in the photography world and this video is fantastic. Photography has become a very technical world both on the camera side as well as post production. Jared has great teaching skills and sure makes it look very simple. I would recommend this video for those starting out in Lightroom as this program can be overwhelming and has a daunting amount of information. I would like to know if there is a resource of location of contact to ask a question or two for clarifications as a viewer goes through the course. For example, when making a new collection and if you choose the option of making this new collection a target collection, what happens if you then make another new collection and select that new collection to be a target collection? If you click on B to add a photo to a target collection and you made two target collections then where does this virtual selection go, ie into which target collection? Thanks Ira irichterma@aol.com
This class was great. I've never used Lightroom before and now I feel comfortable in it. Massive amount of good info.
Loved this class. As a beginner it really gives me working knowledge to use LR confidently. This class is older, so a few times I really had to stop and figure out how it worked in the newest version of LR... but all in all this class was amazing!
Student Work