Making and Adding Presets
Jared Platt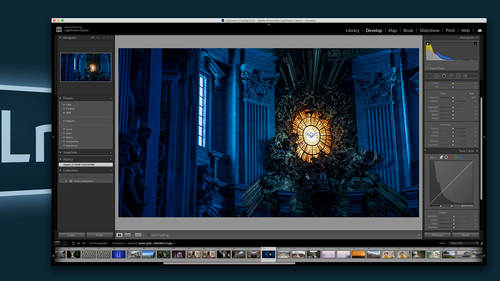 Making and Adding Presets
Jared Platt
Lesson Info
105. Making and Adding Presets
Lesson Info
Making and Adding Presets
speaking of effects that we've created on a particular image, Um, we need to learn how to make presets and presets air really easy to make. All you need to do is adjust in image until you like the way it looks. Make sure you remember everything you did to that image, and then, once you're ready, you can apply a preset to that image. Or you can save a preset, and you simply need to go down to the very bottom of the control panel for your developed settings or your edits and click on presets. So when you click on that preset button, it opens up an entire new panel of presets, and those presets are just buttons that will create movement in sliders. So basically, if you click on one of these presets, it is going to adjust sliders and you can see what it's going to do by rolling over the preset. And it's going to change various slider positions over here, and usually the best presets don't work on the light area because those air basic adjustments they actually work on the color area and th...
e effects area, because really a preset should just be adding an effect of things not necessarily adjusting images specifically because every image is different. However, if you've done something and you really want to add your own preset, you can go up to this little three dot button up here next to the presets, and you can either manage your presets. And by doing that, you can choose which ones show in which don't. So if you never use the ones that Adobe makes, just uncheck them and they will disappear. So now that there's, there's less presets to go through. But you can also click on that three dot button, and you can import presets so you could buy a preset and import it from someone else. So if you went toe, say Jared platt dot com, and you bought some presets. You download this presets and then put import and it'll bring them in and you can start using my presets, or you can create your own presets. If you click on create preset, you're going to get a dialog box that again check boxes the things that you've done to this particular image, you're gonna name the preset here. You can organize it by putting it in one of these groups or create a new group. And then you're just gonna uncheck the things that don't matter to this particular image in this style. So, for instance, optics details, those air completely unimportant to it, Um, color is probably fairly important. And I can open up this and say, Well, white balance isn't but maybe vibrance and saturation is, and of course, color mix might be, um, light and dark area. I don't want to do any of this, but I do want to do the tone curve because I remember that most of the effect is inside of the tone curve. Um, I could or could not. I don't need to have the profile attached to it. And in the effects. I don't need to have texture, intent and our texture and clarity all that stuff involved. So I'm just gonna leave everything off of this except grain. So now I know exactly what that preset is going to do, and I can create that preset. And when I do, it'll just show up here inside of whichever one of these groups I put it in, and then for the rest of my life, I can just click on that one preset, and it'll apply this very setting to any image that I'm looking at. So that's how you create presets inside of light room. Develop our inside of light from desktop.
Class Materials
Adobe Lightroom Mobile Cloud
Adobe Lightroom Image Pipeline System
Workflow in Adobe Lightroom
Ratings and Reviews
I am truly a recreational novice in the photography world and this video is fantastic. Photography has become a very technical world both on the camera side as well as post production. Jared has great teaching skills and sure makes it look very simple. I would recommend this video for those starting out in Lightroom as this program can be overwhelming and has a daunting amount of information. I would like to know if there is a resource of location of contact to ask a question or two for clarifications as a viewer goes through the course. For example, when making a new collection and if you choose the option of making this new collection a target collection, what happens if you then make another new collection and select that new collection to be a target collection? If you click on B to add a photo to a target collection and you made two target collections then where does this virtual selection go, ie into which target collection? Thanks Ira irichterma@aol.com
This class was great. I've never used Lightroom before and now I feel comfortable in it. Massive amount of good info.
Loved this class. As a beginner it really gives me working knowledge to use LR confidently. This class is older, so a few times I really had to stop and figure out how it worked in the newest version of LR... but all in all this class was amazing!
Student Work