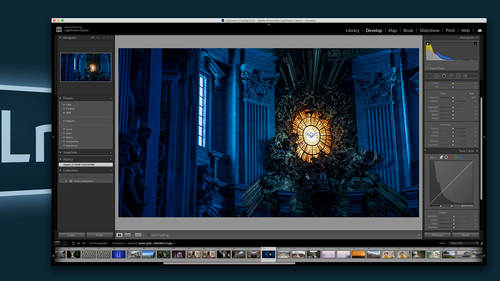 Lesson Info
Maps
probably one of the most misunderstood modules in light room Classic is the maps module, the maps module. Either you love it or you don't know why you have it. And I absolutely love the Maps module because it is another way to find imagery. All I have to do is click on all of my photograph. So in the library module, when you go in the library and you go to the very top in the catalog panel, there's an all photographs option. If I click on that and then I go to my maps module, it shows me all of the images and where they are across the world now. It doesn't show every single image, but it shows all the images that have a geo tag to them. Any other image doesn't show. And so if I was shooting on a camera that had a geo tag, or I add a GPS location, uh, on any anywhere in the metadata. So here's the Here's the metadata right here and you can see the GPS location. So if I have a geo tag, it shows me where those photos were, and if I hover over him, I can see. Oh, here's one where I was act...
ually photographing with my IPhone on my way in somewhere and I happen to have not turned off the It wasn't an airplane mode. And so it was getting the Geo tag because it wasn't an airplane mode and apparently that we still didn't crash. So apparently it's okay if you're not. If you didn't turn it off and I took a picture and geo tag the location, so I know exactly where I was when I took that IPhone photo. But here's a bunch of Iceland photos here that I took in Iceland, and some of them were just in a store with my IPhone and then other ones, and I could just kind of cycle through him so I can see imagery that I took, and I know where I took it. And if I zoom in, So if I start zooming in here to the United States, it starts to show me. Oh, it's separating them out. So now you can see kind of where I've been in the United States taking pictures with a geo tagged camera. But it's great because now I know exactly where these images were. taken. And if I ever want to go back to that location, I know exactly how to get there. Um, one of the ways that I use this best is when I'm driving around the country and I see something even if I don't have a camera on me, I always have my phone, and I know I want to go back to that location and photograph. All I have to do is take a picture with my IPhone. My IPhone delivers the images into Cam into light room, so there's an automatic import. So every photo I take gets put into to light room and light room sends it to the cloud while the cloud delivers it back down to light room Classic. And so, because it's coming back into light room classic light from Classic, then shows me a geo tagged phone photo of a location, and so it will show up here. So then, if I ever wonder, where was that location in Nevada? Here it is. Or where was that, you know, place in the Salt Lake or in the salt flats of the Salt Lake Valley. And so I know exactly how to get back to the place that I was taking a photo with my IPhone, and I'm not to do any extra effort or work. And so everywhere I go, I'm location scouting, always, especially in my own city. I'm driving around and I'm constantly location scouting, looking for interesting places where something might be good for a portrait session or for a corporate session or something like that. So using the maps module is an incredible way toe work. If you don't have a far a camera that that can geo tag locations, you still have an option. And that option is simple. Well, it's It's not super simple, but it's definitely not all that difficult. All you need to do is you need tohave, a camera that has the correct time stamp on the on the images, so you make sure that you set your camera correctly for the time, and then you simply download on your phone. You're gonna download a There's an app called, uh, easy, easy trails and the easy trails app. Will geo tag your location constantly, It just constantly reading your location. So you just turn that on and hit record, and when you're done, it's going to create what's called a G p X file. G p X file is just a bunch of points as to where you were, and every so often it just records the point and that g p x, you can email it to yourself. You simply take that g p x, email it to yourself, and then you're going to import your photos. So import the photos when you were traveling into a collection and then look at those images here and they won't show up on the map. But when you're in the map module, you can come down to the bottom here and click on this little squiggly line. When you do that, you're gonna load a track log. And once you load that track log, all you have to do is tell it to apply it to those photos, and it will just that's azizia. This look at the track log. Pull it in, apply it to the photos, and it will add a GPS location for every single photo in that same timeframe. So you need two things. You need a camera with the correct time and you need a G P X file. So easy, easy trails. Here is an app that will do that. A lot of garment type watches and things like that will create waypoint, uh, g p X files, but it has to make a G p X file. That's the file type that light room is looking for. So if you have something will create a G p X file. All you need to do is go to the squiggly line low to track, log a G p X style track log, and, ah, and then and then ask it to add those to those photos. And that's it. It'll param automatically, and then you'll have all of these waypoints ready to go. But the map module is super helpful in finding your images. If you're looking for something that you shot recently and you knew it was right here, all you have to do is click on it and it will show you inside of your catalog where that photo is. So now you can just click on it and go back to the library module, and now you're in the right place and boom Oh, there's all my images from the lake, so that's it's a super easy way to find images, and I highly recommend using it. If you haven't used the map module, you really need to get in and investigate it because you'll love it.
Class Materials
Adobe Lightroom Mobile Cloud
Adobe Lightroom Image Pipeline System
Workflow in Adobe Lightroom
Ratings and Reviews
I am truly a recreational novice in the photography world and this video is fantastic. Photography has become a very technical world both on the camera side as well as post production. Jared has great teaching skills and sure makes it look very simple. I would recommend this video for those starting out in Lightroom as this program can be overwhelming and has a daunting amount of information. I would like to know if there is a resource of location of contact to ask a question or two for clarifications as a viewer goes through the course. For example, when making a new collection and if you choose the option of making this new collection a target collection, what happens if you then make another new collection and select that new collection to be a target collection? If you click on B to add a photo to a target collection and you made two target collections then where does this virtual selection go, ie into which target collection? Thanks Ira irichterma@aol.com
This class was great. I've never used Lightroom before and now I feel comfortable in it. Massive amount of good info.
Loved this class. As a beginner it really gives me working knowledge to use LR confidently. This class is older, so a few times I really had to stop and figure out how it worked in the newest version of LR... but all in all this class was amazing!
Student Work