Healing Brush
Jared Platt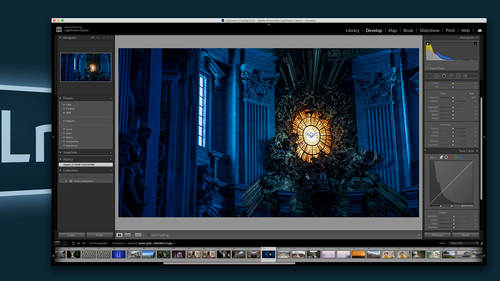 Healing Brush
Jared Platt
Lesson Info
106. Healing Brush
Lesson Info
Healing Brush
now, speaking of other tools, one of the tools that we need to use is not a global adjustment. We've been working through global adjustments. Now we need to get into the nitty gritty and deal with all of our tools that can do things specifically toe specific areas of the photograph. And the first of those is the healing brush and thats right over here That's got a little Band Aid. When I click on the healing brush, I have my tools over here. I can increase and decrease the size of the brush. I can increase and decrease the feather itself and the opacity. Now, in this case, I'm an avid, 100% opacity so that I can brush out this little piece of foliage here, and it's going to choose a place to steal all of the data from and the hell brushes actually going in. And it's changing it. Not only does it get the information from the place here, but it also registers and figures out what the tones are over here on the where it's pasting it so that I can take something from a completely different...
colored area, and it knows well it knows that I'm going to be copying the the texture from over here. But I'm pasting it on a place that needs a different tone in a different color. It does a great job at getting rid of little pieces of things blemishes. It gets rid of blemishes really easily, and the other thing it does really well is if you visualize spots, then you can see if there's any like dust in the air, because sometimes it's really, really hard to find little dust spots in your air because you can't see it yet. Zoom in on 100%. But if you just look for dust spots by visualizing, this one has none. But they will just show up here so you can see where all of the little aberrations are. And so try using visualized spots in order to get rid of dust spots, and that is the healing brush tool. But you can also turn it into a clone tool if you wanted to beam or like the photo shop clone tool, but you can see that it's not quite so intelligent, so I would much rather have it in the healing brush mode
Class Materials
Adobe Lightroom Mobile Cloud
Adobe Lightroom Image Pipeline System
Workflow in Adobe Lightroom
Ratings and Reviews
I am truly a recreational novice in the photography world and this video is fantastic. Photography has become a very technical world both on the camera side as well as post production. Jared has great teaching skills and sure makes it look very simple. I would recommend this video for those starting out in Lightroom as this program can be overwhelming and has a daunting amount of information. I would like to know if there is a resource of location of contact to ask a question or two for clarifications as a viewer goes through the course. For example, when making a new collection and if you choose the option of making this new collection a target collection, what happens if you then make another new collection and select that new collection to be a target collection? If you click on B to add a photo to a target collection and you made two target collections then where does this virtual selection go, ie into which target collection? Thanks Ira irichterma@aol.com
This class was great. I've never used Lightroom before and now I feel comfortable in it. Massive amount of good info.
Loved this class. As a beginner it really gives me working knowledge to use LR confidently. This class is older, so a few times I really had to stop and figure out how it worked in the newest version of LR... but all in all this class was amazing!
Student Work