Overview of Lightroom Desktop
Jared Platt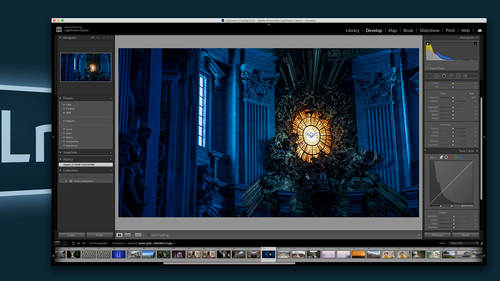 Overview of Lightroom Desktop
Jared Platt
Lesson Info
89. Overview of Lightroom Desktop
Lesson Info
Overview of Lightroom Desktop
for those of you who are professional photographers, we have talked previously about light room classic. Now we're going to talk about light room desktop, and there's a difference between light room desktop in Light Room Classic. And it's very important to understand the differences before you even decide which one you're going to use. Light Room Classic is a much more professional, workhorse oriented programme, whereas light room desktop, which is the newer version of light Room, which we're going to discuss now, is a smaller, more simplified version of light Room. It has the same raw processing engine inside of it. Eso it can accomplish most everything that light from classic can in regards to adjusting and editing an image. But there are a couple tools that are still kind of missing from it because it's still a developing program. So there one or two little pieces of the puzzle that aren't quite there yet. But also there are very big differences in the modules themselves. Rather tha...
n having a library module in the develop module in a book module on a maps module and all of these different tools all within one program light room desktop, the newer version of Light Room is is attempting to do on Lee one thing and do it very well. And that is to store, find and adjust your images really well and allow you to then send those images out, toe other places to do other things, like making books or making prints or editing the images in Photoshop or sending them to other services, other Web services, things of that nature. So it's just a much more pared down version on this schematic that I have in front of me here kind of shows you the difference between those two. Um, we've actually created a comparison between the two of these, so make sure you watch that if you want to get really into the details. But I want to express a couple really important points about light room desktop that we need to understand for the purposes of our discussion, which is light room desktop workflow. So the first thing that we need to understand is that light room desktop is always tied to the cloud. So anything that you put inside of light room desktop the entire file, whether you put a small J peg or whether you put a very large 30 or 50 mega mega pixel file in, it is going to go up to the cloud. It's going to go to the light room cloud, and that's gonna hold your image as a backup. Furthermore, it's gonna actually send those images out to all of your other devices, so it's going to send it to your IPad. It's going to send it to your IPhone. It's gonna even send it to other computers that happen. Have light room death stop on them, so it's going to allow you toe have access to your images anywhere you happen to be. But it is going to fill up that cloud quite quite rapidly because big files like 30 and 40 and 50 megapixel files take up a lot of space, especially when they're raw. So that's the first thing you understand Need to understand is that it's going to fill up a cloud. It's going to put everything in the cloud. And other than turning off your WiFi and never attaching your computer to the Web, there is no way to stop light room desktop from sending your images to the cloud. There's just no way to do it. Furthermore, if you put anything into a an IPad or into your IPhone in light room in your IPhone or your IPad or your mobile device, it's going to send the entire file from there to the cloud. And then that entire file will come down into light room desktop on your computer. So it's a two way synchronization between everything. The full file is going to be everywhere except for you can have on each individual device. You can tell it on Lee download a smart preview because I don't want to fill this device up with the same photos that air over on that computer or vice versa. I can even tell my computer not to download the full file on Lee upload the big files, but any time something new comes in, don't download the full file so I can do a little bit of tweaking on that. Secondly, you can. And if this is your primary mode of looking at photos, if light room desktop is your primary editor, you can and I highly suggest that you attach your computer to a hard drive system. So in my case, I would prefer to have a raid. One system now a raid. One looks a lot like this. It's got two drives in it. 12 and both drives are simultaneously receiving the same data. So if I put my images into Dr One, they're automatically duplicated to drive to. Furthermore, if I take out, drive to and I grab another copy, that's the same size drive and put it in his drive. Three. It will immediately take everything from Dr One and put it on to drive three. So now I have three copies. So a raid one system with two drives in it is probably the simplest, most effective way to back up your images on a hard drive system. I highly suggest that when you institute light room desktop that you tell it to store all of the original files locally as well as on the cloud. If you do that, you'll have a back up in the cloud and you'll have a backup at home. That's the best way to operate its not a good idea on Lee. Have all of your images in one particular place, and especially on the cloud where you don't really have total control over it. It's a good idea to have your main set of photos down on your hard drive here with you in your house or in your studio. Okay, so and and I highly suggest that that be a raid one system rather than some kind of like a Big Five drive, you know, turning your files everywhere, kind of like a dro bow or something like that, that really complicated. And if they fail, they fail big, whereas a raid one. It's very simple. If one of the drives fails, the other drivers fine. If the system fails, the drive itself is independent. The system. You could pull it out and put it in another drive housing, and it'll work. So that's my suggestion, for when you're actually working on your files and putting him in tow light room desktop, make sure that you have a disk drive where they can actually be placed
Class Materials
Adobe Lightroom Mobile Cloud
Adobe Lightroom Image Pipeline System
Workflow in Adobe Lightroom
Ratings and Reviews
I am truly a recreational novice in the photography world and this video is fantastic. Photography has become a very technical world both on the camera side as well as post production. Jared has great teaching skills and sure makes it look very simple. I would recommend this video for those starting out in Lightroom as this program can be overwhelming and has a daunting amount of information. I would like to know if there is a resource of location of contact to ask a question or two for clarifications as a viewer goes through the course. For example, when making a new collection and if you choose the option of making this new collection a target collection, what happens if you then make another new collection and select that new collection to be a target collection? If you click on B to add a photo to a target collection and you made two target collections then where does this virtual selection go, ie into which target collection? Thanks Ira irichterma@aol.com
This class was great. I've never used Lightroom before and now I feel comfortable in it. Massive amount of good info.
Loved this class. As a beginner it really gives me working knowledge to use LR confidently. This class is older, so a few times I really had to stop and figure out how it worked in the newest version of LR... but all in all this class was amazing!
Student Work