Adobe Lightroom: The Ultimate Guide Bootcamp
Importing into Lightroom
Jared Platt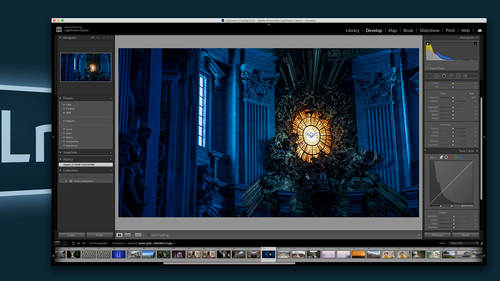 Adobe Lightroom: The Ultimate Guide Bootcamp
Jared Platt
Lesson Info
5. Importing into Lightroom
Lesson Info
Importing into Lightroom
So we've put our photos in the right place. We've put him on a raid, one system so that it's backed up. We have. Our image is secure. And now it's time to start doing the fun part, which is looking at the photos themselves. Now. I talked to you about the idea that light room is kind of a library system. It's really the photos exist in the hard drive, but light room itself is never actually going to touch the photographs. They're always secure. They're always safe. It's a non destructive system. And so those images. We're just going to sit there in that hard drive, but we need to import them into light room. And when I say import in tow, light room, especially light room classic. The import process is not moving the files. It's not doing anything with the files. All it's doing is looking at the files, seeing what they look like and bringing them into light room as previews of the images. So you never actually adjusting the actual riel raw file. You never actually looking at the real raw...
file. You're looking at a preview of the file and then every time you adjust it. It's looking at the raw file, and it's making a new preview as to what it would look like if it were to export that file from the raw file. As with those changes, so you're really never doing anything to the raw file? And the only time that all those changes that you're gonna make inside a light room actually happen is when you export them when you send them out and share them somewhere, so we have to import them. But I need you to understand that you're not importing. You're not bringing him into light room. You're actually just making a reference. So let's go into the process of importing. So I'm going to the import button down here on the left hand side off the library module. I'm gonna open up. By the way, everywhere in light room, there are these little, um, these little triangles up at the top. They're over at the right hand side, the left hand side and the bottom side, and if you click on him, it shuts or opens that panel. So if you want to get rid of something and make more real estate, you can do that. You can also hit the shift tab key, and it will get rid of all of them at once. Shift tab brings them all back, or you can hit the tab key and it'll get rid of your side ones on the right on the left and bring them back. So whenever you want a little more, more real estate, get rid of all those things you're not using and just see your images. So what we're gonna be is in the lot were in the library module here, and we're in the import button here, So I'm clicking on the import button and there's a whole bunch of things I could do inside of the import dialog box and all of them bear mentioning here. So on the left hand side, this is where we're getting our images. This is the source up at the top. Here is what we can do to the photos. Now, If you were plugging in a card and that card popped up the import dialog box, it would ask you if you want to copy him if you want to move them from the card because it would have to actually take the photos off the card and put them somewhere on your hard drive, and that's what these options air for. But if you're not doing it from an external source, all you need to do is add them because, adding means, all I'm doing is looking at the files, seeing what they look like and drawing in that information and building previews. But I'm leaving the files exactly where they are. That is my preference, because my preference, as they mentioned, is that you know exactly where your files are at all times. That's critical to your workflow and to the file security of those images. So up top is what you're going to do with it, how you're going to get them, where into light room and then on the left hand side are all sorts of cool options for file handling and what to do with the images on the way in
Class Description
AFTER THIS CLASS YOU'LL BE ABLE TO:
Efficiently cull and retouch photographs
Manage your files to enable seamless and immediate recall
Get your computer and software to run faster
Create impressive photo books and slideshows
Take advantage of global adjustments
Improve your mobile workflow with both your iPhone and iPad
Deliver and share your images directly from Lightroom
ABOUT JARED'S CLASS:
Adobe® Lightroom® is the industry standard for post-production workflow and in Adobe Lightroom: The Ultimate Guide, you'll learn Jared Platt's gold standard for retouching and managing files quickly and efficiently.
Jared will show the ins and outs of Lightroom Classic, Lightroom Mobile, and Lightroom Desktop. He'll demystify the difference between each and demonstrate when to use each one for maximum output.
Jared will share tips on improving every phase of your workflow – from shooting to archiving. You'll learn how to take advantage of the latest Lightroom tools and features and become faster and more skilled at adjusting your images.
WHO THIS CLASS IS FOR:
Beginner, intermediate, and advanced users of Adobe Lightroom
Those who want to gain confidence in Adobe Lightroom and learn new features to help edit photos
Students who'd like to take ordinary images and make them look extraordinary with some image editing or Lightroom fixes
SOFTWARE USED:
Adobe Lightroom Classic 9.2
Adobe Lightroom Desktop 3.2
Adobe Lightroom Mobile 5.2
ABOUT YOUR INSTRUCTOR:
Jared Platt is a professional wedding and lifestyle photographer from Phoenix, Arizona. Jared holds a Masters of Fine Arts in the Photographic Studies and a Bachelors of Fine Arts in Photography from Arizona State University and has been a professional photographer and college educator for the past 12 years and has been a speaking, debating and lecturing for the past 17 years. His attention to detail and craft make him a demanding photography instructor. Jared has lectured at major trade shows and photo conferences as well as at universities around the world on the subject of photography as well as workflow. Currently, Jared is traveling the United States and Canada teaching and lecturing on photography and post production workflow. Join him online for monthly "Office Hours" at www.jaredplattworkshops.com.
Class Materials
Bonus Materials with Purchase
Adobe Lightroom Mobile Cloud
Adobe Lightroom Image Pipeline System
Workflow in Adobe Lightroom
BW Preset Collection
Color Art Pro Profiles
Ratings and Reviews
Student Work
Related Classes
Reviews
I am truly a recreational novice in the photography world and this video is fantastic. Photography has become a very technical world both on the camera side as well as post production. Jared has great teaching skills and sure makes it look very simple. I would recommend this video for those starting out in Lightroom as this program can be overwhelming and has a daunting amount of information. I would like to know if there is a resource of location of contact to ask a question or two for clarifications as a viewer goes through the course. For example, when making a new collection and if you choose the option of making this new collection a target collection, what happens if you then make another new collection and select that new collection to be a target collection? If you click on B to add a photo to a target collection and you made two target collections then where does this virtual selection go, ie into which target collection? Thanks Ira irichterma@aol.com
This class was great. I've never used Lightroom before and now I feel comfortable in it. Massive amount of good info.
Thorough but very easy to follow. I've noticed a significant improvement in my work since starting this course a couple weeks ago, and I'm also spending noticeably less time editing my photos. I appreciate that it's up-to-date as of October, 2020, so the info is current (I wish CL would take down some of the older courses, since software changes make some of them obsolete).