Collections and Publish Services
Jared Platt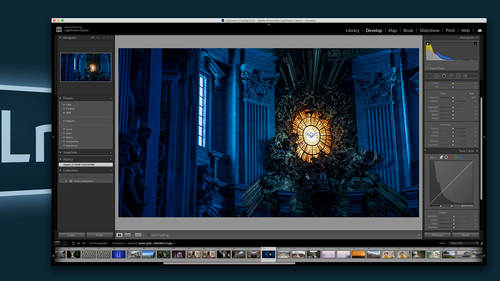 Collections and Publish Services
Jared Platt
Lesson Info
7. Collections and Publish Services
Lesson Info
Collections and Publish Services
and then this option is one of my favorites. And that is toe add it to a collection. So I always add every image that I'm bringing in tow light room to a collection. And I do it for one reason. And that is that light room classic Onley sends images to the cloud through a collection. Collections are the point of entry to the cloud. So if you make a collection, you can then share it to the cloud. If you don't have a collection of images, you cannot share anything to the cloud. And so I want everything shared to the cloud because that helps my workflow. Um, so I'm going to click this little plus button up here on the right hand side, and I'm gonna name this collection, and we're just gonna call this, um creativelive import. And I'm gonna put that inside of a specific folder so that I can remain organized. Where is that folder? There it is. Right there. I already had it selected. Okay, so I'm putting inside of a folder to kind of keep myself organized, and then I'm going to sink it with l...
ight room. So when it says sync with light room. It means sync with light room ecosystem. That's what they should call it sink with light room ecosystem. But they don't. So you're synchronizing it with the light room ecosystem and I hit create. So now I have a collection here, and that collection is going to be synchronized with the light room ecosystem. And now we get down to the very bottom, which is also important. So all of the stuff on the right hand side is there for a reason. It's all important, so use it. So first things first. If I know that I want all of these to be black and white or I want all of them to have a specific look to them, I can add any developed preset right here on the way in so that I never even see them in color. Just turn him all the black and white, or add whatever film look you like so you can add that there you can also add metadata here, and the way you do that is you click on here and you cook on new, so you have to actually create these presets. But they're really important to create. So we're gonna make a couple right now. So what we want to do is we want to create, uh, a 2020 copyright. So every time images come in, it's going toe automatically copyright them for you. It's gonna Well, it's not gonna copyright him for you. Um, images air copyrighted because you took them. So you own the copyright on your images right off the bat. Um, then you have to register them if you want certain protections. Um And so, uh, this is just to identify who owns the copyright, and since you photographed it, you own the copyright. You may not have registered it, but you certainly own the copyright. So what I'm gonna do is I'm gonna go down to the copyright area, which is here, and I'm gonna type in 2020. Ah, comma Jared Platt. So oops, that is the copyright, and I'm gonna tell it that it is copyrighted and then writes and usage. I just go in and put ah, see website, and then I go to www dot Jared platt dot com. There you go. So now if someone finds that photo somewhere stray on the web, if they look at the info. If they're actually interested in knowing who owns the copyright, they can find it because it's inside the file. So I'm gonna hit, create. Oh, first off, in this preset, I'm gonna save it. So we're going to save. This is a new preset, and by the way, everywhere inside of light room, there are presets galore. So every little place that you're doing something over and over and over again, there's a preset, and I want you to always make presets to make sure that you are never doing the same thing twice. So for the rest of 2020 I will use this preset. And then in 2021 I'll make a new preset. So 2020 copyright on create. So now that's a preset for this, and it will automatically put all that in, and you can see how much other data you could put in. So if you're constantly doing a specific kind of shoot that requires a whole bunch of information, you can put it in here and create a preset specifically for that shoot or that location so that you're never having to entering that information again. So we're going to create that one open our exists. Good. Cancel that. So now we're gonna come down here and click on the copyright and then we're gonna keyword.
Class Materials
Adobe Lightroom Mobile Cloud
Adobe Lightroom Image Pipeline System
Workflow in Adobe Lightroom
Ratings and Reviews
I am truly a recreational novice in the photography world and this video is fantastic. Photography has become a very technical world both on the camera side as well as post production. Jared has great teaching skills and sure makes it look very simple. I would recommend this video for those starting out in Lightroom as this program can be overwhelming and has a daunting amount of information. I would like to know if there is a resource of location of contact to ask a question or two for clarifications as a viewer goes through the course. For example, when making a new collection and if you choose the option of making this new collection a target collection, what happens if you then make another new collection and select that new collection to be a target collection? If you click on B to add a photo to a target collection and you made two target collections then where does this virtual selection go, ie into which target collection? Thanks Ira irichterma@aol.com
This class was great. I've never used Lightroom before and now I feel comfortable in it. Massive amount of good info.
Loved this class. As a beginner it really gives me working knowledge to use LR confidently. This class is older, so a few times I really had to stop and figure out how it worked in the newest version of LR... but all in all this class was amazing!
Student Work