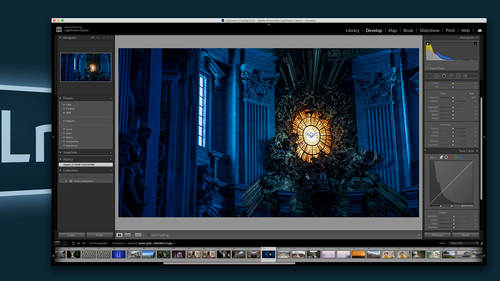 Lesson Info
2. Hard Drives
Lesson Info
Hard Drives
regardless of which version of light room you choose to use, you have to set things up first, and this is before you ever even get into the actual program. So we're not even gonna talk about programs right now. We're gonna talk about file organization. We're gonna talk about what you do with your files before you ever bring them into light room, because we need to be set up in such a way that we know where our images are and that they're well protected, especially if we're in light room Classic. Because in light Room Classic, we absolutely need to know exactly where those photos air going. Lightning desktop. The new version of Light Room will actually do a lot of that stuff for you. Um, and there's actually a way that you can just put him in the cloud, and they literally won't even be on your computer. Um, and we'll talk about that when we talk about light desktop. But in light room classic, we absolutely have to know where our files are. So first things first when you come home from a...
job or from a trip or photo shoot, or wherever you happen to be. You're gonna have cards. So I've got a card wallet here, and I've got several shot cards and and I've got two cards, per, uh, camera, because I have a mark four. So a five D mark four actually shoots two cards. So I have these two cards. Both of them have exactly the same information on them. So all the raw files air here and all the raw files air here. The reason that I shoot that way rather than having them shoot to this card and then this card to kind of have more space is that I want tohave an ultimate backup of the original file right at the camera that we have because cards can go bad. And so if this card goes bad, then this one is my backup. If this car goes bad, then this one's my backup. Plus a soon as I finished shooting him, I can separate the two cards. So when I'm traveling around in Europe or something like that, I will have one of these cards on my person at all times, and I'll have the other card back at wherever I'm staying in a safe place at all times so soon as I finished the day of shooting, I just separate the cards and now I have a full backup of all of my images right off the bat. And this is really important when you're actually a working professional. But it's also very critical when you're just traveling and taking pictures for yourself because you hate to lose all those great images that you you had. I remember one point I I was traveling in Europe when I was still in college, and I was It was still film because there was no digital at that time and I went through Paris and I photographed all these great images, some of the best images I've ever photographed. I photographed in Paris and they were so amazing. And then my bag got stolen and all the film was in the bag because it was just traveling with the backpack bag got stolen. Now I have no photos because I hadn't separated out the photos I had already taken. Plus, with film, it's not like you could make a duplicate of it really quickly. And so all of these photos air in my mind, and I know they were fantastic, but I don't have him because I couldn't separate him out. So I learned my lesson. As soon as I found cameras that she could shoot two cards, I immediately went to those types of cameras. So if you're going to be shooting, I really highly suggest getting a camera with two cards that will you have an ultimate backup right off the bat. Okay, so that's the first thing that we can do to back up our photographs. The next thing that we can do to back up our photographs is when we put them into a storage unit of some sort. And so what I like to do. And in my little diagram here to show how light room works and how it works with your computer in the cloud, you'll notice that I've got a little hard drive unit down here at the bottom, and that hard drive unit is called a raid. One system, a raid. One system is very critical in storing your photos. Now there's all sorts of raid systems. You can get a raid five system you can get beyond raid you can get. There's all sorts of the systems that will kind of automatically back themselves up, and you have five hard drives in one big box, and then that puts it on three different hard drives at any one time. Those are really complicated systems, and so if if that system goes bad at any point, you have to actually send that system back to the manufacturer, and then they have to go through and repair everything and figure it out. And it's a mess. But a raid one system is actually the same as this system. Whatever is on this card is on this card. It's that's what it is. So right here under this ah, monitor, you can see that I have a little tiny box, and that little box is a raid One system. It's got two hard drives in it, one at the top on one of the bottom, and those two hard drives are exact duplicates of each other. It's very simple. They This is a small travel sized one made by a company called C, are you? But they also make big ones, so you can you can buy one that fits 3.5 inch drives, and those drives are much less expensive. And so, if you're always working at your desktop, you can buy one of those and plug in a couple of drives. And the brilliance behind it is that not only do you have two backups of the hard drives, so there's a hard, hard drive. Number one and hard drive Number two. Whatever you put on a hard drive, number one automatically is put on the hard drive to instantly like a the same time. But also, if you remove hard, drive to and put 1/ drivin than everything from DR One will be put on to drive three the second drive down here. But it's now third drive, so now you have three copies, so it's really easy to back those things up. And if you just keep swapping, drive number two and drive number three back and forth. That raid one system will always have two copies in it and 1/3 copy from last week or the every time you swap it out. You got 1/3 copy and that one could go off site. It can go into a safe. It can go somewhere that's protected against theft or fire something like that. So we want to be backed up so that we always know that not only do we have instant backup of our images at the camera level, but once we put one of these cards into the computer, we want to actually put the photos where they're going to be. So that's that's file hygiene for you. So make sure you have backups when you put them on your computer, put them in a place that's automatically backing up. Now some people will put them on a drive. That's not a raid one system, it's just a normal drive. And then they'll have that drive tied to, say, back blaze or Google drive or something where it's automatically backing up to the cloud. That's a great sistemas Well, so just make sure that whenever you put your photos into a hard drive system that that hard drive system is automatically backing up somewhere, whether it's to a cloud or physical without you having to do it. Because if you have to back it up, you're not going to because you get busy and you'll be in a hurry and it just won't happen. I don't know any photographer whose good about manually backing anything up, so find a system that will do it automatically. A raid. One system does that perfectly, or a cloud system does it very well as well. But if you have a cloud system, you're gonna have to have, ah, high speed Internet to make sure that those raw files can get up there.
Class Materials
Adobe Lightroom Mobile Cloud
Adobe Lightroom Image Pipeline System
Workflow in Adobe Lightroom
Ratings and Reviews
I am truly a recreational novice in the photography world and this video is fantastic. Photography has become a very technical world both on the camera side as well as post production. Jared has great teaching skills and sure makes it look very simple. I would recommend this video for those starting out in Lightroom as this program can be overwhelming and has a daunting amount of information. I would like to know if there is a resource of location of contact to ask a question or two for clarifications as a viewer goes through the course. For example, when making a new collection and if you choose the option of making this new collection a target collection, what happens if you then make another new collection and select that new collection to be a target collection? If you click on B to add a photo to a target collection and you made two target collections then where does this virtual selection go, ie into which target collection? Thanks Ira irichterma@aol.com
This class was great. I've never used Lightroom before and now I feel comfortable in it. Massive amount of good info.
Loved this class. As a beginner it really gives me working knowledge to use LR confidently. This class is older, so a few times I really had to stop and figure out how it worked in the newest version of LR... but all in all this class was amazing!
Student Work