Lens Corrections
Jared Platt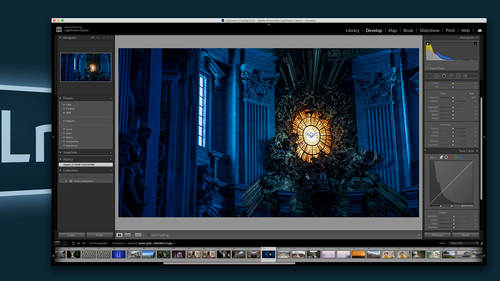 Lens Corrections
Jared Platt
Lesson Info
22. Lens Corrections
Lesson Info
Lens Corrections
So once you are done with split toning if you did this and you're like, Oh, I really like that But I was too much vignette ing go down toe Lin's corrections and simply turn on the enable profile corrections and notice what it does. It actually starts to negate those natural vignette ing. So if you have natural vignette ing that you don't like, click on enable profile corrections and it will not only help to straighten out some of the curvature of the lens, but it will also remove some of the vignette ing. This isn't a great example, because who's going to do that anyway? So I'm gonna double click my de hes put it back to normal because once it it's at normal. If I go down to my lens correction and turn on room, uh, enable profile corrections, it does it perfectly like you can see edge to edge. There's no vignette ing whatsoever, so because that's because it's on Lee dealing with lenses specifics. Now some cameras have lenses that don't have a profile correction. Inside of Adobe, there ...
is a tool that will allow you to make your own profile Corrections. Eso just search on adobe dot com and look for the profile camera. Are the lens profile makers. I think that's what you call it, and you just set up a target and shoot a lot of pictures, and then it makes a profile for your lens specifically. Now, the other thing that goes with this lens correction is number one. You can choose whether you just want the distortion fixed or whether you want the vignette ing fixed a swell. So if I liked the vignette ing of my lens, I could take this and turn it off. So I still have the natural vignette ing, but it fixes the natural distortion of that lens. Or you could go the opposite direction and you could say, Well, I don't want it to fix the distortion, but I do want it to fix the vignette ing or any combination of the two so you have the ability to manipulate that. Okay, so in this tool is well, we also have the, um, chromatic aberrations, and I'm going to show you two images that have chromatic aberration because sometimes people don't understand what that actually is. Um, so let's go back to the develop module, and I'm gonna I'm gonna zoom in to this image and then I'm going to zoom in a lot more to this image. And even more than that, So by the way, over here at the very top of the Navigator is your zoom options. And And when you hit Z, presume it goes from this. Either fill or fit, which is either fitting inside the box or filling the box in the middle. Um, and then when you you click one for one, that's normal. Zoom. So from here on out, it's going to go back and forth between fit and normal. Zoom. But if I click here now, I'm at a different rate of zoom, so I'm actually 3 to 1, so I'm closer in. But if you don't like the way yours assuming and you want to zoom less or more, you can do that. So see how I can go toe 123 So it's a very small amount of zoom. And so so now see, how doesn't even fill the box. So I want to be at 4 to 1. They're not really getting in there. Nice and close. See that there's like a purple nous there, right at the edge. This kind of chromatic aberration. You see it in images where there is extreme edges. So there's a dark suit with the bright lights of white sky or a light sky. Uh, you're shooting on white in the studio, and you've got someone with dark suits and ties or things like that. You'll see these little edges that crop up, and it's Onley in those areas of super high contrast, and it also depends on the settings of your lens and the lens itself. So a lot of that is based on the hardware itself and how it reacts to light. But it shows up in these little edges. So when you come in and you click on this tool inside of the lens corrections, you click on remove chromatic aberration. This is what's gonna happen. Just click on it and these I don't know if that was good enough here. Ready? Okay, you gotta see this. They're purple. See this big purple line and then we click on it, Purple line removed. It doesn't change the fact that there's still light wrapping around that, and so there's a bit of Ah, kind of an edge, but it gets rid of the purple, which is the thing that calls attention to it, because then once we zoom out, you'll never see that. But you will see the purple edge. Um, so if you run into a circumstance where it doesn't quite fix it, so it's it's not quite fixing the right amount of it. You can always go into. Let me see if I can. You can always go into the same tool, but in the manual area and in there you just use the color dropper, and then you're gonna tell exactly what color is offensive. So I'm pointing at the color and clicking on it. And then it's removing instead of hunting around for a color and trying to remove the color that it thought was the right color to remove. Because sometimes you'll see like a chromatic aberration. That's purple over here, and then one that's green over here. And so in the manual area, you can actually choose to points, so you can choose a point that's purple and appoint. That's green. So there's those air to basic colors that come out, so it's like purple and magenta and then like a greenish bluish one. And so you can actually choose two of them, so that instead of just the automatic, sometimes cures one and doesn't cure the other. But in this case, you can actually highlight or click on both of those, and then you can actually adjust here. How much of that hue you want to capture so you can expand your search for that color? Or you can limit the search for that color if it's spilling too much over into one of the objects. So just recognize that this the manual operation here is really helpful when you get chromatic aberration that autos just not solving. But that being said, removing chromatic aberration as an auto feature actually works almost 100% of time, so I would just leave it on and have that is normal. And then on Lee, go in and play with it. If you absolutely need Teoh, I've never really seen it do anything horrible back in the old days. Early light room. You turn it on on Lee when you need it because it wasn't that great. And so sometimes people's eyes would look like Kamat chromatic aberration and they would become gray. But nowadays there's almost no downside to doing it all the time, so you might as well do it all the time. Um, here's another instance where chromatic aberration is coming into play. Um, so I'm gonna zoom in here and you can see the chromatic aberration right at the top of this umbrella. See that purple blue hue that that line is there? And if I turn on remove chromatic aberration, it does a decent job at it, but it doesn't There still purple in there. That's when you really need to go into that manual. Click on here, go in and find that purple. And once you click on it, it does a good job. But removing that and then you just kind of scroll through to make sure that there's no other areas that are created that are giving you that chromatic aberration. I don't see any other areas here, so I think we're we're good
Class Materials
Adobe Lightroom Mobile Cloud
Adobe Lightroom Image Pipeline System
Workflow in Adobe Lightroom
Ratings and Reviews
I am truly a recreational novice in the photography world and this video is fantastic. Photography has become a very technical world both on the camera side as well as post production. Jared has great teaching skills and sure makes it look very simple. I would recommend this video for those starting out in Lightroom as this program can be overwhelming and has a daunting amount of information. I would like to know if there is a resource of location of contact to ask a question or two for clarifications as a viewer goes through the course. For example, when making a new collection and if you choose the option of making this new collection a target collection, what happens if you then make another new collection and select that new collection to be a target collection? If you click on B to add a photo to a target collection and you made two target collections then where does this virtual selection go, ie into which target collection? Thanks Ira irichterma@aol.com
This class was great. I've never used Lightroom before and now I feel comfortable in it. Massive amount of good info.
Loved this class. As a beginner it really gives me working knowledge to use LR confidently. This class is older, so a few times I really had to stop and figure out how it worked in the newest version of LR... but all in all this class was amazing!
Student Work