Exporting Images to Files or Web Services
Jared Platt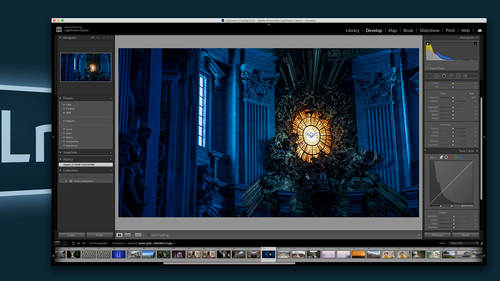 Exporting Images to Files or Web Services
Jared Platt
Lesson Info
113. Exporting Images to Files or Web Services
Lesson Info
Exporting Images to Files or Web Services
another way that you're going to share these images is just by sharing them directly to people, either through making J pegs, like exporting actual J pegs or by sharing them online, whether it's e mailing it to someone or texting it to someone or even just sharing them directly to Instagram or Facebook or something like that. And the way that you do that is, you come over to the right hand side and you're going to go up to the top and click on this little share button here. When you click on that, you're gonna have several options. You can export these air like common exports, so export the original export a large 100% quality J peg or a small J peg that is actually specifically sized four social media. So this is your social media share. This is your export for large printing, and this is your original file. So the original file is, um, the original raw file, plus the settings. So when it says plus settings, it means that it's going to send out not only the original file but also a do...
t X and P file that sits right next to it, and it will have all of the adjustments that you made to the original file. So that's those are your three basic options. But you can also just click on this export option here. And when you do that, you get all of the controls right here so you can choose exactly what size, what's what you want. J. Peg, Tiff, D and G or the original plus settings. So if I'm sending out the original file, I actually would prefer to send out a DMG. But if I'm sending something that someone needs to print, I'm going to send out a J. Peg. If I'm sending out something that maybe a designer's gonna edit on DRI touch, then I'll send him a tiff. The original plus settings that's fine to a D. N G and an original plus settings is the same thing. It's just that the D and G actually includes all the settings varied inside of it. So I prefer the DMG just because it's cleaner and they don't ever get separated from each other. And that's how you would share out images. Here's your quality settings, and here's a few more options about what you include inside of the photos so you can change the original name. Um, kind of ah, renaming type of situation. You can only add copyright information, or you can send all the metadata out and you can change the color space. If I'm sending something toe edit, I want it to be pro photo RGB because that's the deepest best color space. If I am sending it to someone to print, I want it to be S RGB because that is basically most most places print in that color space. Um, if for some reason you know someone that's printing in the bigger color space, usually that's adobe RGB. So that is your export options to share images to other people. And, of course, that sharing optional also allows you to send the images out to your connections as well. And you can add connections. Right now, there's a limited number of connections, but right now you've got White House custom color blurb and Adobe Portfolio, and those will start to increase as more and more people start using and interfacing with other services. Those services will want to connect to you, and so they'll start to design things to fit into those connection points. And if you want feedback from your website, you can turn on the proofing option on the website side of things and then your client can actually give you feedback which will show back up inside of your your portal in the website, and we've talked about all of that. So if you want that feedback from your clients on your website, just simply turn on the proofing option and then you'll be able to get feedback directly from them. They'll be able to select images that they want, and we covered all of that inside of the light room. Classic part of this workshop and it's the same thing because in order to adjust your website and when you're sharing it, you're always actually on the website when you're doing those kind of things, so that's where you get that feedback from. So if you want to get feedback, just go back to the light room. Classic lessons and you'll see how to get that feedback from your website.
Class Materials
Adobe Lightroom Mobile Cloud
Adobe Lightroom Image Pipeline System
Workflow in Adobe Lightroom
Ratings and Reviews
I am truly a recreational novice in the photography world and this video is fantastic. Photography has become a very technical world both on the camera side as well as post production. Jared has great teaching skills and sure makes it look very simple. I would recommend this video for those starting out in Lightroom as this program can be overwhelming and has a daunting amount of information. I would like to know if there is a resource of location of contact to ask a question or two for clarifications as a viewer goes through the course. For example, when making a new collection and if you choose the option of making this new collection a target collection, what happens if you then make another new collection and select that new collection to be a target collection? If you click on B to add a photo to a target collection and you made two target collections then where does this virtual selection go, ie into which target collection? Thanks Ira irichterma@aol.com
This class was great. I've never used Lightroom before and now I feel comfortable in it. Massive amount of good info.
Loved this class. As a beginner it really gives me working knowledge to use LR confidently. This class is older, so a few times I really had to stop and figure out how it worked in the newest version of LR... but all in all this class was amazing!
Student Work