Adobe Lightroom: The Ultimate Guide Bootcamp
Basics Panel: Saturation and Vibrance
Jared Platt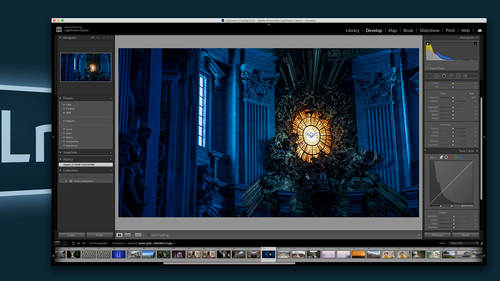 Adobe Lightroom: The Ultimate Guide Bootcamp
Jared Platt
Get access to this class +2000 more taught by the world's top experts
24/7 access via desktop, mobile, or TV

New classes added every month

Download lessons for offline viewing

Exclusive content for subscribers
Lesson Info
18. Basics Panel: Saturation and Vibrance
Lesson Info
Basics Panel: Saturation and Vibrance
Now that we're back in here, we're gonna work on our vibrance and saturation and let me explain the difference. So saturation is just all colors, getting more saturated in all colors, getting less saturated. So if I were to take saturation all the way down to zero, there would still there would be No, there's no actual color now in the image, so I've essentially turned it to black and white. But I've kept the color information. Um, if I increase the saturation, see what happens to her face. So it looks like she's been in like, a fake tanning booth, so we don't want to be there. And we don't want so saturation, usually for me on a portrait, especially on a landscape, you can go both ways a little bit, but on saturation, usually I don't go positive that all. I usually take it negative because it softens things up and it makes it a nicer skin tone. Whereas vibrance is different, Vibrance protects the skin tones, so watch if I take the vibrance all the way up. So I took the vibrance all th...
e way up, and it did weird things to the sky because it was trying to add blue and pink and green and stuff. But look for skin actually looks all right. It's It's still way too much, but it doesn't look as bad. It looks like she went to a good tanning booth and their spray tanning booth instead of a really bad one. So, um, if I use vie if I need something to B'more colorful and more vibrant, I'm going to use the vibrance to do it, because it's protecting the skin tones where a saturation is not protecting them. And consequently, if I take the vibrance down because it's amore intelligent tool, it's not actually taking everything down. So look, the warm tones are still staying in the picture. See that her lips have a little bit of color to him. Her skin does, but her hair is black and white. Uh, the grass is black and white, so all the cool tones have been brought down, so that gives you an indication of what it's working on. In most cases, the vibrance tool is working less on increasing that the warm tones, and it's increasing blues and greens more, and then when you're going negative with it, it affects the warm tones less so it leaves the warm tones and it cools the cool tones down. It removes the cool tones, so that's kind of what it's doing, whereas Saturation does it all at the same time here, regardless of what color it is.
Class Description
AFTER THIS CLASS YOU'LL BE ABLE TO:
Efficiently cull and retouch photographs
Manage your files to enable seamless and immediate recall
Get your computer and software to run faster
Create impressive photo books and slideshows
Take advantage of global adjustments
Improve your mobile workflow with both your iPhone and iPad
Deliver and share your images directly from Lightroom
ABOUT JARED'S CLASS:
Adobe® Lightroom® is the industry standard for post-production workflow and in Adobe Lightroom: The Ultimate Guide, you'll learn Jared Platt's gold standard for retouching and managing files quickly and efficiently.
Jared will show the ins and outs of Lightroom Classic, Lightroom Mobile, and Lightroom Desktop. He'll demystify the difference between each and demonstrate when to use each one for maximum output.
Jared will share tips on improving every phase of your workflow – from shooting to archiving. You'll learn how to take advantage of the latest Lightroom tools and features and become faster and more skilled at adjusting your images.
WHO THIS CLASS IS FOR:
Beginner, intermediate, and advanced users of Adobe Lightroom
Those who want to gain confidence in Adobe Lightroom and learn new features to help edit photos
Students who'd like to take ordinary images and make them look extraordinary with some image editing or Lightroom fixes
SOFTWARE USED:
Adobe Lightroom Classic 9.2
Adobe Lightroom Desktop 3.2
Adobe Lightroom Mobile 5.2
ABOUT YOUR INSTRUCTOR:
Jared Platt is a professional wedding and lifestyle photographer from Phoenix, Arizona. Jared holds a Masters of Fine Arts in the Photographic Studies and a Bachelors of Fine Arts in Photography from Arizona State University and has been a professional photographer and college educator for the past 12 years and has been a speaking, debating and lecturing for the past 17 years. His attention to detail and craft make him a demanding photography instructor. Jared has lectured at major trade shows and photo conferences as well as at universities around the world on the subject of photography as well as workflow. Currently, Jared is traveling the United States and Canada teaching and lecturing on photography and post production workflow. Join him online for monthly "Office Hours" at www.jaredplattworkshops.com.
Reviews
This class was great. I've never used Lightroom before and now I feel comfortable in it. Massive amount of good info.
Thorough but very easy to follow. I've noticed a significant improvement in my work since starting this course a couple weeks ago, and I'm also spending noticeably less time editing my photos. I appreciate that it's up-to-date as of October, 2020, so the info is current (I wish CL would take down some of the older courses, since software changes make some of them obsolete).