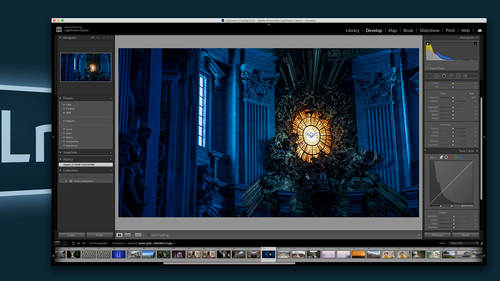 Lesson Info
Geometry
And so now we're gonna go to the geometry section. The geometry section is very important when you're dealing with architectural work, but it also works well with people in the shot because it does a good job at renegotiating, um, the geometry of a photograph without destroying the geometry of the person. So I'm gonna fix this shot because it's this shot is all about frames and about perpendicular and, uh, horizontal lines. So I am going, uh, parallel lines, I should say. So I'm going to fix those, and I'm gonna do it with four lines. So we need to vertical lines and we need to horizontal lines in order to fix this photograph. So I could do this in several ways. There's a lot of different options here where I could actually, you know, play around with the distortion of the photograph. Like this woo, Um, I can do that. I can play around with the vertical and horizontal versions of, so I could do that. But this is all kind of a waste of time, actually. Hear better is to come in here and ...
use geometry and click on this little cross looking button. When I click on that. I'm actually going to get to draw lines that show where the hurl the important horizontal and vertical lines are. So the first whore vertical line is this window. So I'm gonna click here, hopes and add a point, and I'm gonna click here and drag there, and I'm gonna click and drag a line. I don't know why. Didn't work just a second ago, but here we are and let go. So that's the first vertical line. But you'll notice that nothing changed because I haven't added a second vertical line. So now I'm gonna come over on the left side and click on this window sill and give it the next vertical line. And now it shifted. So now all of our vertical lines, based on the one on the right and the one on the left have been fixed. But I still have some skew going on based on the horizontal. So now I'm going to come in and grab a horizontal line here like this Hopes grab a horizontal line like this. Not sure why that keeps doing that. I think I'm touching something here. Okay, so I'm gonna draw ah, horizontal line here across these windows there. And now you can see that it re negotiated itself again based on three lines. And now I'm gonna draw the last important line, which is down here a the bottom and it's gonna be that wall and I kind of messed up that line. So I need to grab this part and re negotiate it until it's right. I messed it up again. They're So now I have all four lines drawn. And if I turn off the geometry so that you can just see look at that, it is super perfectly square. And I love the shot that way because now all of those windows are perfectly square with the frame edge itself. And now it's It's the shot that I wanted. Um, obviously, I wasn't perfectly square when I shot the shot, but that's okay. I have the ability to fix it here in the geometry section, inside of light room itself. So that is geometry inside of light room. And my suggestion is that you usually use this guided option as opposed to you have other options, like auto and level on vertical. Those all just kind of automatically trying. Choose based on Oh, he wants everything vertical. He wants everything level. But my favorite is the guided inside of the geometry section.
Class Materials
Adobe Lightroom Mobile Cloud
Adobe Lightroom Image Pipeline System
Workflow in Adobe Lightroom
Ratings and Reviews
I am truly a recreational novice in the photography world and this video is fantastic. Photography has become a very technical world both on the camera side as well as post production. Jared has great teaching skills and sure makes it look very simple. I would recommend this video for those starting out in Lightroom as this program can be overwhelming and has a daunting amount of information. I would like to know if there is a resource of location of contact to ask a question or two for clarifications as a viewer goes through the course. For example, when making a new collection and if you choose the option of making this new collection a target collection, what happens if you then make another new collection and select that new collection to be a target collection? If you click on B to add a photo to a target collection and you made two target collections then where does this virtual selection go, ie into which target collection? Thanks Ira irichterma@aol.com
This class was great. I've never used Lightroom before and now I feel comfortable in it. Massive amount of good info.
Loved this class. As a beginner it really gives me working knowledge to use LR confidently. This class is older, so a few times I really had to stop and figure out how it worked in the newest version of LR... but all in all this class was amazing!
Student Work