Lightroom Desktop
Jared Platt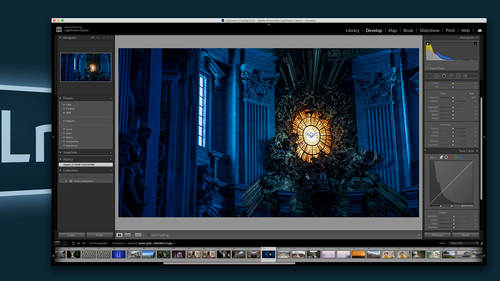 Lightroom Desktop
Jared Platt
Lesson Info
71. Lightroom Desktop
Lesson Info
Lightroom Desktop
now, for those of you who are on light room desktop that the newer version of light Room, this is what it's going to look like when you get home and open up light room desktop, you're going to see that your images have been delivered from your IPad up to the cloud and then down toe light from desktop. And the place that they're going to go in light on desktop is just simply the same album that you created in your IPad. So it's gonna be actually in the same place. It's gonna be exactly the same name. And that's one of the advantages of working in light room desktop, is that it? It perfectly pairs with your phone and with your IPad and with anything that you're working on on the Web. If you go to a website, you can actually go to light room on the Web by going toe light room dot adobe dot com and signing in, and you can look at your entire collection there, Um, and it's all the full raw files. So when you're looking at him on your IPad, you're looking at the full file when you're looking...
at him on the Web there, the full file. And when you look at him here, inside of light room desk talk, you can look at the full file, too. However, there is a preference. So if we go into preferences inside of light room desktop, there are very few preferences. Unlike Light Room Classic, this has a very small number of preferences, and what you're gonna look for is in the local storage you comptel light room to either Onley. Use 0% of your space so that when you're looking at your desktop like in desktop, it's on Lee showing you previews. It's not actually bringing the full file down into your system, and so that's really great if you're using like I do, if you use light room desktop as kind of, ah mobile device, then you can see the images if you're on your laptop. But your desktop home can be the light from classic and light room Classic is pulling down the entire full raw file, but you can also change this and tell it to increase the space. Or you can say, store a copy of Sorry, not the smart previews. This is kind of redundant But you can do that if you want to travel. So if you want to take your laptop with you on a plane and work if you store the smart previews on your local hard drive, you can actually work on the files without having them present. But if you have an IPad, you might as well just use the IPad and leave the the laptop home. That's how I prefer to travel is toe, not even have a laptop computer with me because it's so handy and so lightweight to use the IPad or the phone. But you can also store a copy of the original at a specified location. So if you turn that on and then choose a location, the entire raw file that comes in tow light room desktop will go to that location. So it's very similar to classic in that way that you can say, I want you to store the entire raw file here at a specific place. However, if you put this zero and you turn that off, you can actually run light room so that you Onley see things that are still on the cloud, and you're just seeing the previews and then when you adjust him, it just pulls down the information it needs for the moment to adjust. Um, and then it takes him on, sends those changes back to the cloud, so it's a very easy way to look at your images. It's a little slower to work that way, but you don't fill up the space on your hard drive so you could have a very small disc on your Let's say you had, like, a little tiny, uh, Mac book air or you had, like, one of those net books or something like that. You could run this on it and never fill up any space on it because you turned that to zero. So you have a lot of options when it comes to how you want to store those. But here we're actually looking at him without storing the photos on the laptop. But I can still open up a file, and I can still use all of my adjustment tools here. I can still go and look at the Grady in that we changed and manipulated inside of light from classic all of that. Those changes have come here in tow, light room desktop as well, and it's all going to be right here inside of this collection that we made on our IPad, and it sent it to the cloud and came bound here. So again, the difference. The major difference in the way that these two, that lightning classic in light from desktop interact with your files that you've made on other versions of light room is that light room classic brings them in as collections and puts them in a place, a specific place on your hard drive and a specific collection inside of that from Light Room Mobile collection. Whereas light room desktop literally has the same exact album, same name, same location, and it's put right where you saw in your IPad. It's right there on your desktop version of light Room, so it's a little bit easier to find stuff that way. All right, so that is how we see things come down in tow. Light room desktop
Class Materials
Adobe Lightroom Mobile Cloud
Adobe Lightroom Image Pipeline System
Workflow in Adobe Lightroom
Ratings and Reviews
I am truly a recreational novice in the photography world and this video is fantastic. Photography has become a very technical world both on the camera side as well as post production. Jared has great teaching skills and sure makes it look very simple. I would recommend this video for those starting out in Lightroom as this program can be overwhelming and has a daunting amount of information. I would like to know if there is a resource of location of contact to ask a question or two for clarifications as a viewer goes through the course. For example, when making a new collection and if you choose the option of making this new collection a target collection, what happens if you then make another new collection and select that new collection to be a target collection? If you click on B to add a photo to a target collection and you made two target collections then where does this virtual selection go, ie into which target collection? Thanks Ira irichterma@aol.com
This class was great. I've never used Lightroom before and now I feel comfortable in it. Massive amount of good info.
Loved this class. As a beginner it really gives me working knowledge to use LR confidently. This class is older, so a few times I really had to stop and figure out how it worked in the newest version of LR... but all in all this class was amazing!
Student Work