Element Six: Editing & Color Correction
Chris Hau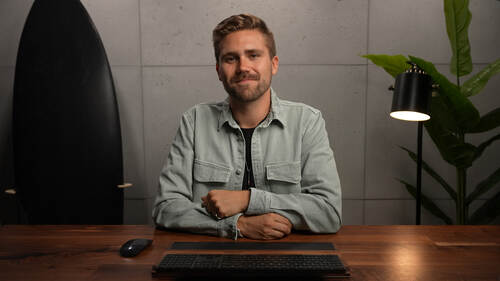 Element Six: Editing & Color Correction
Chris Hau
Lesson Info
15. Element Six: Editing & Color Correction
Lesson Info
Element Six: Editing & Color Correction
Let's talk about editing and color correction. Editing is the process of manipulating and rearranging the different video elements you've collected into a new final piece of work. Now let's relate it to baking. Essentially, you're taking all the individual ingredients, measuring out how much you need of each one, mixing them together, and then baking it. If you've done it properly, it should taste good. This is very similar to editing, but your ingredients are A roll, B roll, graphics, music, sound effects, and then baking them all together into a video to share with the world. Now with the advancements of modern technology, we have the ability to edit super high quality footage on personal computers or tablets or even phones. Now editing is one of the most overlooked parts of the storytelling process. A good editor can completely change the direction, story, and mood of a video. Now right now, the majority of the world uses NLE systems. This stands for non-linear editing. All that mea...
ns is that you can view, cut, and arrange digital elements in any order without the need to play through the whole thing. Now, some examples of popular NLE systems are Premier Pro, Final Cut, DaVinci Resolve, InVideo, and iMovie. I personally use Premier Pro. Now let's talk about color correcting and color grading. Color correcting is important as it allows you to fix any mistakes that may have been captured when you initially shot your footage. This refers to balancing out your whites and blacks, fixing saturation, and adjusting your white balance. Let's see an example of a shot before color correcting. Here, the white balance is off. If we adjust the white balance, you'll see that the color starts to look more natural and truer to the actual colors you'd imagine in the scene. Now let's talk about color grading. There's a difference. Grading is the manipulation of color to evoke a feeling throughout your scene or video. For example, if you're filming a soap opera, you may have pink, red, and orange undertones during the romantic scenes. These colors are often associated with romance and help to support the narrative of love. Now, how does this work in a commercial, you ask? Well, the colors reflected in the video will leave an impression on how your audience will perceive the product that you're trying to sell them. Now let's look at an advertisement for a tropical travel destination. Videos of this nature often include bright, warm colors as it gives the allure of happiness. The audience will then associate that location as something positive, which might entice them to visit that said destination. Now let's say you're making a commercial for the Land Rover Defender, one of my favorite cars. This is a very rugged off-road vehicle that can tackle any terrain and job it faces. In this situation, you may want to color the video with a dark blue and green undertone, as it will make the audience perceive the car as something dramatic and rugged. Now, when coloring your videos, it's all about the tone and feeling you want to leave your audience with, but it's important not to go too extreme on the edits. Most beginners do and I say that because I did this. You still wanna make sure that your skin tones look natural. Good colors are subtle with their color adjustments. There's a level of nuance that you must have so that colors don't look too botched. This is something that you will develop over time as you make more videos and understand the importance of color correction and color grading and how it plays into the storytelling process.
Class Materials
Video Questionnaire/ Video Brief.pdf
Ratings and Reviews
Ok, I really enjoyed this course but you should know it is a decent overview of what to do and in what order to do them. This is not going to show you HOW to do anything but it will show you WHAT you need to think about and how to approach a production in a professional manner. Chris knows his stuff really well and everything is covered but it is just an overview. Well worth your time, especially if you are new to video but just do not think that he is going to show you how to do everything.
Student Work