Understanding Shots and Pacing
Chris Hau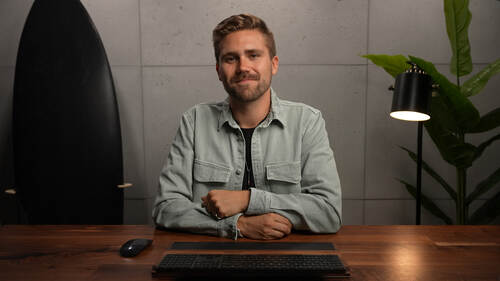 Understanding Shots and Pacing
Chris Hau
Lesson Info
43. Understanding Shots and Pacing
Lesson Info
Understanding Shots and Pacing
Now we've talked about this in previous chapters, but let's quickly cover it again. We've got A-roll, which usually carries the story. For example, when I shoot a YouTube video I usually talk to the camera and then include relevant footage to support what I'm talking about. That's A-roll, when I'm talking to you. And then there's B-roll, supplementary footage to support the A-roll. So here's a sequence from a YouTube video to show you what it looks like when you combine both together. All right, so let's talk about camera bodies for a quick second. My camera of choice is the Sony a7s three. This thing is an amazing video camera, and it's good enough for photos in terms of what I need it for. Now it's only 12 mega pixels, but I post mostly on social media, so it's more than enough. Now pacing changes from video to video. The pacing for an ad is very different than the pacing for a TV series drama. Here's a common example for an ad and then here's the pacing for a conversation. (epic...
music begins) You are not a machine, and you are more than your work. And you have the power. It's always been there. Life can be a grand adventure. Be a tornado that tears. And this is for the artists, the ones too scared to post. The bedroom creators who keep their cards close. And don't let this be another video. Put action to these words and bring life to this life. This world is waiting for you. This took a lot of engineering but 30 frames per second shooting photos. 30? This shoots 30 photos a second? 30. Can we deliver on that? Yes, you should try. Okay. On, right on. And then you have this dial here. Okay, so that's the little. The H plus, right? Okay. And then, then I just, I just hold it down? Okay. Smile. Right. (camera shutters) Okay. Okay. Okay. Wait, wait. Let's try that. Yeah, you should this a quick buffer speed. You should. (camera shutters) (laughing) Yeah. Yeah. Yeah. Here we go. It's like a gun. (laughing) It's so fast. (camera shuttering)
Class Materials
Video Questionnaire/ Video Brief.pdf
Ratings and Reviews
Ok, I really enjoyed this course but you should know it is a decent overview of what to do and in what order to do them. This is not going to show you HOW to do anything but it will show you WHAT you need to think about and how to approach a production in a professional manner. Chris knows his stuff really well and everything is covered but it is just an overview. Well worth your time, especially if you are new to video but just do not think that he is going to show you how to do everything.
Student Work