Always Positive, Always Affirming
Pye Jirsa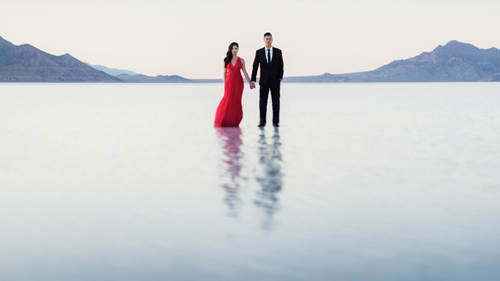 Always Positive, Always Affirming
Pye Jirsa
Lesson Info
81. Always Positive, Always Affirming
As you meet with clients, Pye suggests always staying positive and affirming. Learn how to integrate positivity through body language and more.
Summary
(Generated from Transcript)
The topic of the lesson is how to start a photography business and the importance of maintaining a positive and affirming attitude while interacting with clients.
Q&A:
How can body language and nodding be used to engage with clients?

By nodding and affirming through body language, photographers can show that they are on the same wavelength as their clients and that they value their ideas and visions.

What kind of words and phrases should photographers use to affirm their clients?

Photographers should use positive vision statements like "Can you imagine?" and "Wouldn't it be amazing?" to affirm their clients' ideas and visions.

How should photographers handle clients with unrealistic or impractical ideas?

Instead of saying no, photographers should redirect the conversation and ask questions to understand the clients' vision better. They can also suggest alternative ideas that align more with the clients' preferences and goals.

How can photographers handle requests for services that are not within their expertise or price range?

Instead of outright saying no, photographers can explain the value and cost of their services and suggest alternatives that align more with the clients' budget and needs.

How can photographers tailor their services to commercial clients?

Photographers should ask commercial clients about the intended use of the images, the target audience, and the desired message. Based on this information, they can create images that align with the clients' brand and marketing goals.

Can photographers successfully sell products or services they have no knowledge about?

Yes, by understanding the clients' needs and desires, photographers can tailor their communication to align with the clients' expectations and create a connection between the client and the product or service.
Lesson Info
Always Positive, Always Affirming
Always positive, always affirming. I've been doing this to you guys this entire class. I affirm with body language. So, as I look at you, Paige, I go, yeah right? And then you smile and you nod back. You have to. (laughing) Yeah, Don's looking at me. You got me. Matt back there. He's been quiet but he's nodding. He's like, yep. You do that because it's just natural human tendency. And when you get somebody on the same wavelength as you, you can start affirming through body language and nodding. You do value that, don't you? That is something you would want, isn't it? Tanya back there. That is something that you want, isn't it? And it's so easy to agree and to nod and to get that body language. And you know that when you're on that path that they're in tune. So I want you to watch for it. Do it and then watch them. And as they nod back to you, you know that, I have them engaged. Let's go to the next piece. We always affirm with words like yes, absolutely, of course. We use positive visi...
on statements. This is things like... Can you imagine? Wouldn't it be amazing. And this is the big one... We avoid negativity like the plague. Steer clear. Steer away from no's. I can't do that. That's not who I am. That's not what I do. That's like an immediate kind of slap to the face, right? Someone came to you and said something that they want. That's not who I am. Oh, well shoot. Sorry. I didn't know who you are. So we're gonna strike no or no we don't do that from our vocabulary. But if somebody comes to you with some cockamamie idea, Joe, if I'm like, dude. I'm gonna give you an example that actually happened to me. So for my engagement shoot, I'm gonna be dressed up like a Filipino cowboy and I'm gonna walk into a bar and my girl's gonna be right across from me. She's gonna be dressed up in like a traditional, they were actually, they didn't have Southern accents, okay? I'll drop the Southern accents. My mom, oh my goodness, Mom. You've done this to me. He was like, I'm gonna be in a suit, that's what it was. I'm gonna be in a suit. She's gonna be in a traditional old Filipino gown, and we're gonna be in this bar, like an old, an old bar. Like where you walk through the front doors. And I was like, like a saloon? Yes, a saloon. And she's gonna be sitting there sipping a drink and I'm gonna be there to rescue her from her past. It's gonna be a metaphor. That's what I want. That sounds, hi, that sounds really fun. But is that what you want for your wedding? Is that what you want for the memories? Is that what she wants? It does sound fun. That's a much better answer than no, or I can't do that, or that's not something that I, right? Okay. A step further beyond that is, that's really interesting. Cool concept. Don't get too fancy with your praise. It's gonna be disingenuine, okay? Don't be like, oh my gosh, that's amazing. (laughing) Because you probably don't believe that it's amazing. So be like, that's an interesting idea. And what I did was I said, what do you envision for your engagement shoot? As his fiancee was sitting next to him. That was even better. Because then she said, well, I don't know if I really like that whole idea. And I went, damn it, sister, I'm with you. (laughing) No, I just let her talk, right? I don't really know if I'm into that. I kind of was, I want something a little more natural, something more emotional. And I said, that's a great point. Let me give you an idea. 10 years down the road, these images are in a book, and you're enjoying them. You're showing your children these photographs. That vision that you explained is cool. I can see it like in a movie. But is it who you are? Is it something 10 years from now that you can imagine showing your children and saying, that's who we are? Or would you like to have those images that kind of convey something a little bit more... you two and your story? What is your story? I never said no. I just redirected. Right? So you don't have to say no, even to ridiculous ideas, we don't have to say no. We just redirect and get to where they're trying to go. Because you also know that he probably would regret that photo at some point. I mean, I don't know why anybody would want that, other than they think it's something like, I don't know. Maybe it's a cool conception, I don't know. I don't know. So instead of no, we rephrase. Okay, well how about this? Who am I gonna pick on? Shannon. She's been quiet. Can you do photo and cinema for 1500 bucks? Can you stand? I want you to reframe and explain that answer with a no. Without, that's basically a no, but without saying no. So, here's the question. You know what I'm at a total loss. I don't know how I would not say no. It's hard. to something like that. Right. Um... So, this is the beautiful part about it. You don't actually have to say no. Do I just stare at them? You don't. (laughing) Wait for them to talk? It's tough right? Yeah Okay let's try something like this. Can you do photo and cinema for $1500? Shannon, for what you're looking for. I understand it's expensive, but this is an incredible value. I didn't say no, but I kinda did say no. Didn't I? So that's it. That's as far as you need to go. Okay. That make sense? Oh yeah... It's a tough question right? Unless you actually say it out loud. You have to say it out loud, otherwise we can't get to that place. We can totally do that. What do you think of this idea? Yeah that's interesting, what is your thought? And we kind of take them around to get to the place that we need to. Now, there was a question online that I saw in between and someone said can we do a wave based on a commercial client? Which is not really as emotional. I thought what a great question. Absolutely. So, I'm going to play back to Lee. Can you grab the mic Lee? Lee now let's reverse the roles. I'm the photographer. You're the business owner. We establish a setting of you want a certain set of images for your website. What website? What do you do for business? We are going to sell restaurant supplies to, this restaurant called Fruit Sushi. They're new. (laughing) Damn it. It's always going to keep coming back to me isn't it? So you sell supplies to Frushi? Is that what the deal is? Very unique, specific utensils and such. Okay, very specific utensils and such. Okay, great, so... let's run this through, because we do have a minute we can use so... Lee, hi it's great to meet you. You too. Thank you for taking a minute out of your time. Look I know you're busy, you mentioned you actually have a 3:15 appointment and that's in like 14 minutes. So, I want to respect that time. First, I'm saying that, because I want to skip past the building rapport thing, okay? We don't have time right now to do all of it. So, first, Lee tell me what do you want to use these images for? I think we need to inspire our employees and our future customers. Very cool. Now if you were to kind of give me a word. Like, how do you want to inspire these employees? What are you guys? You guys develop utensils to make frushi, right? Which I looked up and frushi's actually, it looks like a really delicious dessert. It is. It is. I would buy it myself. I don't know where the concept came from, but we think there's a future market for these utensils. Very cool. So, who is the audience for these photographs? You know we hope to develop a web presence. So we envision... the mood boards, filling up on Pinterest, full of these new concepts and we're going to market them through different appropriate channels. Cool. Well it's actually really great for me to know that. By the way this is our commercial setup, so when we ask commercial clients, we ask these questions. What are these images to be used for? Who is your intended audience? What is the format? Because if you say Instagram or if you say Facebook or if you say your website, all of those are going to be different processes, right. If you say you are looking for video or you say this. Then the follow up question is gonna be... Well Lee, what is the message you want those images to convey? And based on what you say there, I'm not going to put you on the spot for that, but based on what you say there, I'm going to play into it. I'm going to say, Perfect. So Lee, I'm imagining your site right now and it's gonna have this set of images and we're going to put that special utensil for that Frushi right there, like as the lead image. And you said you wanted that message to kind of be clean, high end and you want it to have that look and feel. That's what it's gonna... we're going to shoot in a way that's gonna kinda look bright, it's gonna look very sharp, very modern and kind of have clean metallic backgrounds. Can you see that kind of photograph? Is that what you're looking for, for the site? It sounds perfect. It's exactly what I was thinking. Okay. It's the exact same process. Identical process, of just simply identifying what it is that they're looking for, who is the audience? Tailoring the product to that audience, then specifying back that we understand it by repeating and parroting the vocabulary. I think we can get to really serving anybody with this. In fact, when you guys get good at this, to sell a product that you have no freaking clue about. You could go through the exact same process. I could sell your trips. The travel thing that you do. She does these amazing tours and I don't have to know anything about it. I could simply figure out what they want and say, Perfect. That's exactly what Kenna does. What you want is exactly what Kenna does. That's it.
Class Materials
How to Launch a Photography Business Workbook
Experience Pricing Example
Ratings and Reviews
This class and materials are to the point and eye-opening on the business side of photography. Pye Jirsa is an amazing and fun teacher as well! Most photographers need more business classes offered to bring us who love to create art back to reality for a more successful business that makes a living on it's own. This course will definately get you started in the right direction and so cheap too! Great investment! armstrong outdoor tv case outdoortvcase Pye Jirsa is one of the best instructors that I have the pleasure to learn from. He and his team have given me so much more than they'll ever realize. Knowledge, wisdom, training, friendship, mentoring, inspiration, joy... I cannot thank Pye enough for changing my life for the better. I owe them more than they'll ever realize. Thank you, Pye Jirsa!!!
This class has been an eye opener for me; a point of change in my vision as photographer. Pye is and AMAZING, INSPIRING, GENEROUS instructor, with an, authentic desire to help people and to share with them the best of his knowledge. I will not have enough words to say thanks to Pye Jirsa, as a teacher and as a human being, and thanks to Creative Live who allows us to benefit from the experience of such a knowledgeable, educated, well-versed photographer and instructor. 1000% recommended!
Been following this guy forever. Pye Jirsa may be well known in the wedding & portrait photography world and if there is something that this guy knows it is how to create a business, a sustainable one. The workbook he provided is comprehensive, and I honestly wish I had this when I first started out as a photographer! I love that he talks about his failures, keeping it real and honest for anyone starting out. He is definitely one of the best instructors around, super humble, down to earth and with a sense of humor to boot. The course is worth it! THE WORKBOOK is AMAZING! SUPER DETAILED!
Student Work