Facebook Because You Must
Pye Jirsa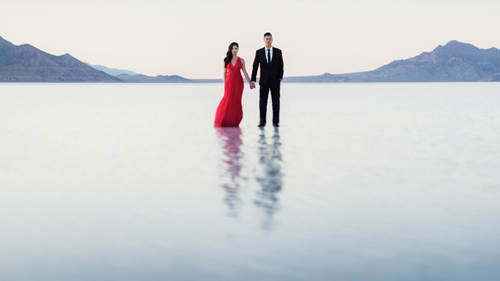 Facebook Because You Must
Pye Jirsa
Lesson Info
46. Facebook Because You Must
Pye cautions against relying on Facebook -- or any single source -- to build your business. But, Facebook is still an important part of your social media marketing. Learn Facebook marketing best practices.
Summary
(Generated from Transcript)
The topic of the lesson is how to effectively use Facebook for a photography business, focusing on the importance of having a presence on the platform for legitimacy and networking purposes, as well as the limitations of using Facebook as a client acquisition channel.
Q&A:
Why is it important for a photography business to have a presence on Facebook?

Facebook adds legitimacy to the business and provides a platform for networking and building relationships with vendors and photographers.

Does Facebook still have value for client acquisition?

No, Facebook is not a reliable channel for acquiring clients, but it is useful for maintaining connections with existing clients and vendors.

What type of content should be posted on Facebook?

High-quality content that adds value to the target audience, such as showcasing the photographer's personality, sharing behind-the-scenes glimpses, and featuring clients or vendors.

Is it recommended to automatically feed Instagram posts to Facebook?

No, it is not recommended as the engagement on Facebook tends to be lower for posts that originated from Instagram. It is better to create separate posts for each platform.

Does Facebook offer promotional opportunities with new features?

Yes, whenever Facebook introduces new features, there is a major opportunity to gain traction and engagement. However, these features may eventually lose their promotional phase and return to regular engagement levels.

Should a photography business have a separate business page and personal page on Facebook?

Yes, it is recommended to have both a personal page and a business page on Facebook. The business page is essential for branding and connecting with customers, while the personal page can be used for personal connections and networking.

What are some other uses of Facebook for a photography business?

Facebook is useful for managing and connecting with brand ambassadors, hosting contests and giveaways, and building a community around the business.
Lesson Info
Facebook Because You Must
Facebook, Because You Must. I don't have anything against Facebook. I love Facebook. I have a lot of things. Nope, I'm just kidding. I'm good, I'm fine, it's fine. This is not about me. Once great, it's now has diminished value, do the basics, and don't rely. Why have we created a four prong marketing approach. Why have we had you go in different sections, from listings, directories, everything, networking, friends, all those? We now have multiple channels to go along with, because everybody, four years ago, that relied on Facebook to get their business, is now out of business, or they had to figure out something real quick. It was almost an overnight switch when Facebook turned off the algorithm, and instantly all of our posts were seen 20% of the time. Do you guys remember this, right? It's happened multiple times. It continues to happen, and you know what? Their team, Facebook, has respond that, "Facebook, "we don't want it to be a place for business. "We want it to be a place for p...
eople "to connect with people." What do you think that means as businesses? You need to be there, without spending your time there. And here's what we're going to do on Facebook. We still need it. It's just not for customers. We need it for legitimacy of our business. Everybody expects it. That's number one, and that's what is expected. But, fans, clients, and vendors need to have a place to tag you, and you need to have a place to tag them, because, while Facebook isn't great for client acquisition, it is amazing for vendor relationships and network relationships. Everybody that you work with, everybody that helps you, you tag them. People that are in your photographs, all of that is fantastic. That works very, very well. Also, your listing will have local SEO value. Has nothing to do with organic search, but we'll talk about this later, it's going to have value in terms of local SEO. It's great for connection with vendors and photographers. This is SEO MOZ, one of the largest platforms for generating inbound leads, SEO marketing, all that kind of stuff, who's saying Facebook is no longer a client acquisition channel. Same rules, though, high quality content. I want you guys to read Jab Jab Jab, Right Hook. Those of you that know boxing, will understand that the most valuable punch in boxing is the jab. It's the one that sets you up. Posting contents with value to the people that are watching it, right? To the people that are in your personas. The people that are in your networks. This means you post things like your personality to Facebook. You have a cute dog that you just got? Oh, by all means, that's Facebook. I have a new studio mascot, that's Facebook. In fact, here's a funny, little strategy that I know multiple female friends have employed, which was buying studio mascots. They got dogs, and they regularly post, I mean, they love dogs anyway, but they regularly post their studio mascot doing things, in between their business posts. So, like, they'll do dog post, something educational, something of value to clients, a feature of one client, and five posts later comes the right hook. Accepting new bookings for family sessions. Here's a discount. Here's a promotional price. Yeah, Sharon. I had a question about Instagram and Facebook. When I post to Instagram, I'm set up to automatically feed it to Facebook. Don't do it. Don't do it? Is that confusing just, because they're two different messages? I don't want to say it's a bad practice, in the sense of like, it works, it's easy. It gets both things done, right? The problem is that your just not effectively using either platform at that point. So, on Facebook, Facebook is set up for the story. It's set up for you to connect. It's set up for you to talk personality. It's set up for all those things. Instagram is set up for you to post pretty pictures. So, you post to Instagram and have it automatically go to Facebook, usually the Facebook flops. You post from Facebook and have it go automatically to Instagram, usually the Instagram flops. You know what I mean? It's both, both time Right, I'm just going the one way from Instagram to Facebook. Yeah, and so you'll generally see the engagement going from Instagram to Facebook, a regular Facebook post that was written organically for Facebook will do better than an Instagram to Facebook post. And you can try it. Okay, makes sense. Has anybody else seen that? Like going from Instagram to Facebook automatically will bring down your content, because Facebook wants organic content that's relevant. That's what they're looking for now. And the annoying thing about it is, do you remember when Facebook was doing their Facebook Live? They were promoting Facebook Live like crazy. So there was a period where if you did Facebook Live, you would get ridiculous amounts of interaction, until they got enough traction on Facebook Live, then they drop it, and it goes back down to regular. So whenever they launch new features, there's a major opportunity, and that's what this last thing is. There's a major opportunity in there, whenever they introduce new features, to just jump on board. Grab it up. Run with it. Don't rely on it, just run with it as long as they have it. Know that once they finish, kind of that promotional phase, they're gonna drop it back down. Now, this is, funny, Michelle you kind of brought up kind of deceptive practices, right? Right. And it's like, oh my goodness. Like everybody is, I'm not even going to argue, like, any of that stuff. But just know that it's kind of messed up to ask every single business to start up business pages, and drop all of their fricking engagement, and say you have to pay for it now. Those are things that will aggravate people. Deals, promotions, generally don't, because you're up front about it. For Facebook, would you have a business page or personal page? You probably already have your personal page, Yeah. Right? You need a business listing. You need a business page. I've got both. Yeah. Okay. Most people should probably have both. If you don't have the business side, you're going to create that, it should be separate. Got it. Facebook is fantastic for managing and connecting with brand ambassadors. This is where your brand ambassador team is going to rely. If you'd like to create a specific page for them, and say, "Guys, I'm starting my business. "I'd love for you to be a part of this group. "and just for us to be able to connect with each other," it's totally fine to do that, too. But it's a great way to do that. It's also fantastic for contests and giveaways. This is one of the main channels that you're going to use for contests and giveaways, in addition to Instagram and all the other stuff. Still has it's value. I'm gonna say, "Watch your time. "Pomodoro your breaks. "Turn off alerts." Those are just managing time when you're on this medium, because it's so easy, it is so easy to click notifications and just start scanning and looking for what's going on. And then you post something, and you're like, "Oh, "I wonder if it's got an engagement yet. "I wonder if it's this." Just post, close it down, and toggle the time that you're actually on the platform.
Class Materials
How to Launch a Photography Business Workbook
Experience Pricing Example
Ratings and Reviews
This class and materials are to the point and eye-opening on the business side of photography. Pye Jirsa is an amazing and fun teacher as well! Most photographers need more business classes offered to bring us who love to create art back to reality for a more successful business that makes a living on it's own. This course will definately get you started in the right direction and so cheap too! Great investment! armstrong outdoor tv case outdoortvcase Pye Jirsa is one of the best instructors that I have the pleasure to learn from. He and his team have given me so much more than they'll ever realize. Knowledge, wisdom, training, friendship, mentoring, inspiration, joy... I cannot thank Pye enough for changing my life for the better. I owe them more than they'll ever realize. Thank you, Pye Jirsa!!!
This class has been an eye opener for me; a point of change in my vision as photographer. Pye is and AMAZING, INSPIRING, GENEROUS instructor, with an, authentic desire to help people and to share with them the best of his knowledge. I will not have enough words to say thanks to Pye Jirsa, as a teacher and as a human being, and thanks to Creative Live who allows us to benefit from the experience of such a knowledgeable, educated, well-versed photographer and instructor. 1000% recommended!
Been following this guy forever. Pye Jirsa may be well known in the wedding & portrait photography world and if there is something that this guy knows it is how to create a business, a sustainable one. The workbook he provided is comprehensive, and I honestly wish I had this when I first started out as a photographer! I love that he talks about his failures, keeping it real and honest for anyone starting out. He is definitely one of the best instructors around, super humble, down to earth and with a sense of humor to boot. The course is worth it! THE WORKBOOK is AMAZING! SUPER DETAILED!
Student Work