Your Mindset, Vibrations & Frequency
Pye Jirsa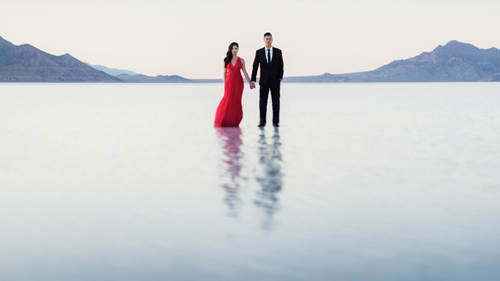 Your Mindset, Vibrations & Frequency
Pye Jirsa
Lesson Info
80. Your Mindset, Vibrations & Frequency
Continue refining your sales skills by adjusting your mindset on sales.
Summary
(Generated from Transcript)
The topic of this lesson is the mindset, vibrations, and frequency needed to start a photography business. The instructor discusses the fears that photographers have when meeting potential clients, such as being too expensive or not being booked. He emphasizes the importance of changing one's mindset and frequency to overcome these fears and believe in the value of their work. The instructor also highlights the need to focus on the emotional aspect of photography and not get caught up in technical details or features when selling their services.
Q&A:
What are some common fears photographers have when meeting potential clients?

Some common fears include being too expensive, not meeting their expectations, and being rejected.

How can photographers overcome these fears and change their mindset?

By believing in the value of their work and understanding their worth, photographers can overcome these fears and present their services confidently.

What is the importance of focusing on the emotional aspect of photography?

The emotional aspect is what clients connect with and value in photography, so it is crucial to prioritize this when selling services.

Should photographers worry about technical details and features when selling their services?

No, photographers should assume that clients already know they use the best gear and are professionals. Their energy should be focused on creating amazing images and meeting the emotional needs of clients.
Lesson Info
Your Mindset, Vibrations & Frequency
This segment is all about techniques to close the rest and refining your sales skill set. This is broken down into four categories that I've placed here. This guy you're going to do on your own. The roleplay, the practice. We did a little bit of it here, we'll do maybe a little bit more, just kind of in our seats and stuff and ask questions. But, this is, by and large, in your own time. We can cover a lot of the psychology, a bit of the body language and some of the verbal communication as well here, but I'd recommend picking up some more books on this kind of stuff as you go further. But I'm going to give you your foundation for the next five years. Sales psychology that's our first thing. This is a fun one. "Your Mindset, Vibration and Frequency" Answer me this question: I want to hear it from a few of you. What is your greatest fear in any potential client meeting? Give it to me, what is your greatest fear, what is the worst thing that can happen? No. No, they don't book you. Ok...
ay. Me messing up. Messing up, okay. That I don't meet their expectations. Don't meet their expectations, okay. They think I'm too expensive. They think you're too expensive, okay. Like Leigh had said, that they would say no, the 'no' word, I guess. The no, the rejection, okay. Anybody else? Did we cover it? How many of you are worried that they think you're going to be too expensive, or they think, how many are worried that you're going to be too expensive? Raise your hands. Cool. How many are worried that they're not going to book you. Raise your hands. Cool. I mean that is basically the worst thing that can happen, right? Here's the fun game. Remember when we said we were going to talk about this later on? Pull out your sheets where you wrote down what you're worth earlier. And I said I'm going to play this game later, where we bring this back up. And you're gonna write down what you're worth, and I'll bet all of you think you're worth somewhere in this range, I hope. $100 to $1000 an hour, I hope you're somewhere in that range. And yet all of you, your greatest fears are gonna be that you're too expensive, that they're not gonna book you. So you have to drop one of those things. You have contradictory, your own cognitive dissonance in your own heads. On the one side, that "Hey, I'm worth this much," "Hey, they're not gonna book me." That's a fun game, isn't it? Did you expect that? What did you guys write down for your numbers? Yes. A hundred? And almost all of your raised your hand that they might think that you're too expensive and that they might not book you. It's a fear, I've done this repeatedly, with all of our own team members, with other photographers, and we all think we're worth anywhere in this range and we think we're worth a lot yet our greatest fear is this. Now, that's a problem, because which one of those things are you going to give up? Which one of those, you have to give up one of those fears in order to continue down the path, right? And this is about changing your mindset, your frequency, and not being afraid anymore that they book. Not being afraid anymore that they think you're too expensive. Understanding your value, creating that value, and presenting it in front of them. The only reason that I'm good at this is because I believe it. So, there's a slight difference in the way that I present it because you're talking to someone who has bought into their own belief system. Does that make sense? Does this make sense now, why I told you all that you are your own worst enemy? And we just basically proved it, yes? Okay, great. Now that we admit it, now that we know that, we can reset. Press the reset button, let's go from here. Your fears are going to become your reality and even if you have this somewhere, deep-seated in the way that you think, it's going to come out in the way that you speak. So, if you're afraid of a client not valuing you, they won't. If you have a fear of a client saying it's too expensive, they will. If you feel your product is inferior, it is. And I bring back up these luxury brands for one simple reason again, to reiterate again that same fact of, "Which of their employees can buy their own product, guys?" Don't feel bad if you're offering a luxury product and it's a good product, charge what you deserve for that product. And we already know that we need to charge a fair amount for that product to be able to stay in business, do we not? We know from the forecast that we did that even at $3,000 per job we still have to do 30- of them to have a decent take-home. Okay. Stop, change your frequency, then move forward. It's okay to not be able to afford your own product right now. One day, you will. We get this. This is something I just want you guys to take home with you and remember at the end of this entire class. So it's not about the features, and I've selected this image for a single reason. Girls, how many of you think this is cute? Okay. Guys, how many of you think this is shot really bad? It's okay to raise your hands. 'Cause every time I show this to, like, a group of photographers, they're like, "Man, that's blown out," and it's only the guys. The sky's blown out, it's like this weird pastel vibe, it's all this. Because they lose the, they're stuck in the feature side of a shot, right? They're stuck in the technical components of a shot. They're stuck in, they've lost the emotion of a shot and that's why I say this shot, and the fact that the clients love it has nothing to do about the way it was lit, how was shot, how it is post-reduced, if the background is too bright, any of those things. And therefore I hope nobody is still selling the features. Okay? We've talked about this, this we've covered this, photography equals luxury, luxury equals the emotional cell. So, we gave it that earlier example of walking into Bentley asking them if they use genuine leather for their seats. It's ridiculous. In the same way, just assume that your clients know that you're using the best gear. Assume that they know that you are a professional. Assume that they know that you will do what it takes to create an amazing images. And unless they ask, that's not where any of your energy should be.
Class Materials
How to Launch a Photography Business Workbook
Experience Pricing Example
Ratings and Reviews
This class and materials are to the point and eye-opening on the business side of photography. Pye Jirsa is an amazing and fun teacher as well! Most photographers need more business classes offered to bring us who love to create art back to reality for a more successful business that makes a living on it's own. This course will definately get you started in the right direction and so cheap too! Great investment! armstrong outdoor tv case outdoortvcase Pye Jirsa is one of the best instructors that I have the pleasure to learn from. He and his team have given me so much more than they'll ever realize. Knowledge, wisdom, training, friendship, mentoring, inspiration, joy... I cannot thank Pye enough for changing my life for the better. I owe them more than they'll ever realize. Thank you, Pye Jirsa!!!
This class has been an eye opener for me; a point of change in my vision as photographer. Pye is and AMAZING, INSPIRING, GENEROUS instructor, with an, authentic desire to help people and to share with them the best of his knowledge. I will not have enough words to say thanks to Pye Jirsa, as a teacher and as a human being, and thanks to Creative Live who allows us to benefit from the experience of such a knowledgeable, educated, well-versed photographer and instructor. 1000% recommended!
Been following this guy forever. Pye Jirsa may be well known in the wedding & portrait photography world and if there is something that this guy knows it is how to create a business, a sustainable one. The workbook he provided is comprehensive, and I honestly wish I had this when I first started out as a photographer! I love that he talks about his failures, keeping it real and honest for anyone starting out. He is definitely one of the best instructors around, super humble, down to earth and with a sense of humor to boot. The course is worth it! THE WORKBOOK is AMAZING! SUPER DETAILED!
Student Work