Forbidden Words in Sales
Pye Jirsa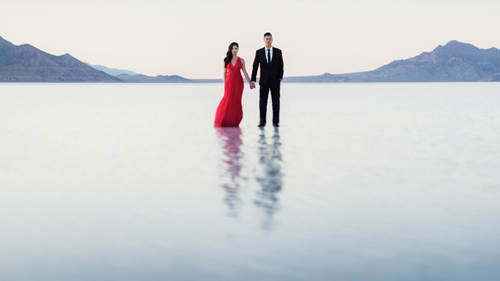 Forbidden Words in Sales
Pye Jirsa
Lesson Info
87. Forbidden Words in Sales
Word choice matters in sales. In the final lesson of the course, learn what words to avoid and what to use instead.
Summary
(Generated from Transcript)
The topic of the lesson is about using forbidden words in sales and how to replace them with more appropriate words to enhance the sales process.
Q&A:
What are some examples of forbidden words in sales?

Some examples of forbidden words are "photo shoot," "initial meeting," "IPS or viewing," "free," "discount," "voucher," "credits," and "picture."

Why should these forbidden words be avoided?

These forbidden words have no value and may not accurately convey the value of the product or service being sold.

What are some alternative words that can be used instead?

Some alternative words that can be used are "photographic experience," "consultation," "design consultation," "gift certificate," "images," and "artwork."

Why is it important to get comfortable with the sales process before deleting these words from vocabulary?

It is important to first understand and master the basic sales scripts before making changes to the vocabulary used, as it ensures a smooth transition and effective communication with clients.

How can objections related to price be handled?

Price objections can be handled by emphasizing the value and quality of the product or service being offered and assuring the client that it will be worth the cost.

How can the request for early access to pictures be addressed?

The request for early access to pictures can be addressed by explaining the importance of maintaining the quality and ensuring that the images are a true representation of the photographer's work.

How can potential clients be encouraged to respond to phone calls if they don't recognize the number?

When calling potential clients, it is recommended to leave a message that includes a specific time window when the photographer will be available for a call, giving the client an opportunity to respond or schedule a call back.
Lesson Info
Forbidden Words in Sales
Forbidden words, this one's gonna be simple. I want you guys just to delete these words. I love that baby's face. Delete these, there's a lot of babies in the last section. I just like babies. Delete these words from your vocabulary. These are our forbidden words on the left side. This is the impression that those words have. These are more appropriate words. So a photo shot doesn't sound, anybody can do a photo shoot. I want to give you an experience. I want to give you a photographic experience. I want to do something that's unique. Call it whatever you want, just don't call it a photo shoot. Hey, do you have time for an initial phone call? No, I'd like to set up a consultation. I can do a consultation with you next week. Hype call is internally. We use internally for hype calls because we want our people to buy into what they should be, which is a call to get your clients excited. We don't call it a hype call to the clients, though. That would be weird. (laughs) Kenna, you got time ...
for a hype call? I'll get you all excited! Woo! (laughs) An initial meeting has no value, but a consultation does. An IPS or viewing has no value, but a design consultation does. These are all words on the left side that have no value. Free has no value, and guess what, nobody respects free. That's the crappy side about it, that you could be given something that costs a hundred dollars, as a gift, for free, and you wouldn't really care. And I know the ones here that are nodding have been given nice gifts, things that they don't really care about. You're at a conference and you win something, a piece of software, you get something, it's expensive, but you just don't value it. You value what you pay for. There's no value in free. If there's a discount, then can I get one for everything? A voucher, well that sounds like a discount for me. So all these are like, your collection includes. Credits, I would still say, man, be careful with credits because people want to apply them to different things. Okay, just understand that. If you give a credit for something, they'll want to apply it to something else. A gift certificate instead of a voucher, so much better. Picture, images, instead of artwork, prints. Those are all the things that I want you guys to kind of just slowly delete from your vocabulary. But again, we've gotta get comfortable with just that sales process first. Get comfortable with the basic scripts first, and then start deleting these words from your vocabulary. All right, guys, so here we go. Objections and questions and answers. Can I get that for free? We all know our way around this right now. Are we good? I hope so. Haldis, you gave ... why? That's how we get around it. I'm just kidding, I'm kidding. She just really liked me and she's like, it's cool, I'll do it for free. Can you do it for less? Do we know our way around that? It's simple. For what you're getting, Joe, for what you're getting, it's gonna be worth it. Simple. Shell, I know it's expensive. You're gonna love it. Simple. Sharon, are you good with this? Are you good with ... Because I know, I know when you come to me, I'm gonna give you everything that you love. I know it's expensive. It'll be worth it. Easy. Just, we've got to get a buy into it ourselves, right? We need to buy into that ourselves. Can I get my pictures early, I hate that one. Oh my goodness. You take the pictures, and then they're like, hey, when can we see these photos? Man, we just finished, like I haven't even gotten back in the car yet. Doesn't that happen all the time? Like you're on the way back, so when can we see these? You know what, they're excited. They love, they loved the experience that you gave them. They're stoked. Here's the beauty of it. We're struggling with this right now. Our studio is struggling with this, like, you get these different pain points and these different kind of growing pains in your studio. One of ours is, with the volume and with the quality we want to deliver, is getting the post production, getting everything timely. Okay? But if you can get this process quicker, well, that's better. Because, Angela, if you came away from one of our shoots right now, and you had that kind of emotional high, and within two days I got you your images, you would still be riding that emotional high. Whereas, a month down the road, not so much. But the line that you say, when they say, can I get my pictures early? You say, I'm gonna do my best, but what I want to do is make sure your images have our quality. I don't want to let anything out of the studio that doesn't, that isn't a representation of my work. And that's why it's gonna take a little bit of time. I didn't say no. I never said no. We're here. We're at the end. This is our Q and A, what else do you guys got? This is all the places that you guys can join us. Yes, Tori? Just a quick question about the phone call situation. A lot of times you call even if someone, like, reached out to you, and then you call them back, people don't necessarily answer their phones if they don't recognize the number. So do you leave a message in that case, or do you try to reach them again, or, you know, how do you get them back, if you weren't able to reach them, even if they are, you know, a qualified lead? Great question, Tori. So I would go back to that same thing of, hey, this is Tori with ... Tori Awesome Photography? (laughter) So, and what you do is, I just had a few minutes to give you a call, I saw your inquiry. Hey, I'm gonna be here for the next ten minutes if you have a moment. If not, I'll be in the office from 4:00 to 5:00 p.m. tomorrow. I'd love to chat. Okay, so you give them those windows, you do the same thing, we did the same thing with scarcity. But if maybe they don't answer, you give them a little window like calling back right away. Hopefully they hear it soon and they're like, oh, yeah, I need to jump on that right now. But still create that, don't leave the message of like, hey, this is Tori, call me back anytime. Okay, I will call you back anytime, in a year. Okay? Now I have one last slide which my producer happened to switch up. (laughter) So thanks, Sarah. She popped that in there, without me knowing. This is a ... This is what happens when photographers get, and hang around each other and they want to test lights. And you take pictures of each other and then you get this stuff. Okay, no, what I wanted to get across was this. I wanted to tie this back to what you saw on the walls of our studios, and to why maybe you think that I truly believe what we do, because I do. A couple years back, I read something in a book, it's actually called The Untethered Soul, okay. Actually I read that book recently. I read something else a couple years back. Anyway, the point of that was, I read this piece that talked about basically the kind of impermanence of life, right? And our whole concept of just breathe, it came from the fact that I read something that said, at any moment, your breath in right now, Shell, could be your last. You could breathe in, and then everything stops, and you're done. And it sounds morbid, but it's not supposed to. What the education is supposed to teach us, what this piece is supposed to teach, is that, death is kind of the ultimate teacher. The only problem is most of us don't learn from it until it touches us in some way. Okay, most of us kind of live our lives in a way of like, we just don't realize the impermanence of everything until someone close to us or until we have our own set of issues. And then suddenly it kick our butts and it wakes us up and it makes us realize the impermanence of everything around us. So just breathe. The words friends, family, love, experiences, memories, those things written up on our walls, it's not just our client why. This is what we believe. This is who we are, this is where it ties back to, that any one of these moments can be the end. So our responsibility in documenting those things is great. Our responsibility in living our own lives in a way where we would be okay that this moment was our last, that's an even greater responsibility. And for all of us that are out there that are looking to basically, this class or something to give us kind of that motivation of starting up a business or doing something that we love or fighting against whatever it is that we are going against, I want to remind you, breathe. This breath, this moment, could be your last. It is kind of that defining phrase that hit us a couple years back, that has shifted every single thing that we have done, including why we're in business and we came to this realization and we said to ourselves, I said to myself, personally, that I am gonna spend my time with my family. I'm gonna document my children. I'm gonna do all the things that I've taken for granted for a very long time. And I'm gonna work and struggle against all those things that are very difficult because, how much time do each of us get? It's all borrowed time, is it not? Every one of us is living on that borrowed time and these things are all cliches, until you tear your achilles, and then a month afterwards, you almost die because you had an emergency gallbladder surgery. And then your mom has a heart attack. These are all things that have happened to me in the past three years. That make you go, wow, if all of this were taken away right now, would I be okay with the things that I have done? And I want you to leave with that because you've learned so much. You've learned a lot in this class. We've covered so much material, and it's daunting. And at this point, I want you to run with it, and just keep running. It's a blessing to be able to fight, to do something that's outside of your comfort zone. If this is outside of your comfort zone and it's something that you want, push against it and go for it because that's the way that you're gonna grow the most. That's where just breathe, friends, family, love, experiences, memories, that's where our entire process changed, and that's where it came from. I wanted to share that with you guys and I want to say thank you guys for being here. You guys have been an amazing class here and you guys have been amazing online. The team here at CreativeLive has been incredible. Our team back home with Lynn and Jirsa, they're all doing things to support everything right now, so thank you to everybody. This has been an amazing trip and journey.
Class Materials
How to Launch a Photography Business Workbook
Experience Pricing Example
Ratings and Reviews
This class and materials are to the point and eye-opening on the business side of photography. Pye Jirsa is an amazing and fun teacher as well! Most photographers need more business classes offered to bring us who love to create art back to reality for a more successful business that makes a living on it's own. This course will definately get you started in the right direction and so cheap too! Great investment! armstrong outdoor tv case outdoortvcase Pye Jirsa is one of the best instructors that I have the pleasure to learn from. He and his team have given me so much more than they'll ever realize. Knowledge, wisdom, training, friendship, mentoring, inspiration, joy... I cannot thank Pye enough for changing my life for the better. I owe them more than they'll ever realize. Thank you, Pye Jirsa!!!
This class has been an eye opener for me; a point of change in my vision as photographer. Pye is and AMAZING, INSPIRING, GENEROUS instructor, with an, authentic desire to help people and to share with them the best of his knowledge. I will not have enough words to say thanks to Pye Jirsa, as a teacher and as a human being, and thanks to Creative Live who allows us to benefit from the experience of such a knowledgeable, educated, well-versed photographer and instructor. 1000% recommended!
Been following this guy forever. Pye Jirsa may be well known in the wedding & portrait photography world and if there is something that this guy knows it is how to create a business, a sustainable one. The workbook he provided is comprehensive, and I honestly wish I had this when I first started out as a photographer! I love that he talks about his failures, keeping it real and honest for anyone starting out. He is definitely one of the best instructors around, super humble, down to earth and with a sense of humor to boot. The course is worth it! THE WORKBOOK is AMAZING! SUPER DETAILED!
Student Work