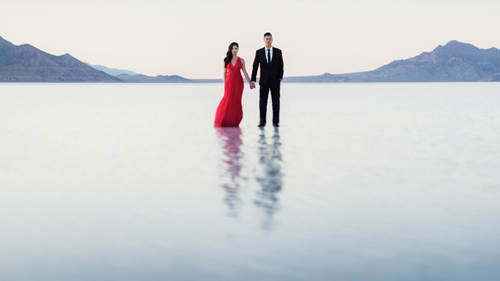 Lesson Info
3. The Road Ahead
There are easier ways to make a living, Pye says, and the expectation that photography is easy money is setting yourself up for failure. Find out what the average studio spends on costs and start calculating rough numbers using an easy spreadsheet included in the class workbook.
Summary
(Generated from Transcript)
The lesson is about setting realistic expectations for starting a photography business and understanding the financial forecast of running a photography studio.
Q&A List:
What are some easier ways to make a living compared to starting a photography business?

Going to school and getting a law or accounting degree, becoming a doctor or surgeon, or working as a salesperson.

What is included in the financial forecast for running a photography business?

The forecast includes expenses, taxes, variable wedding costs, variable non-wedding costs, fixed business costs, and operating income.

What is the average take-home percentage for photography studios?

The PBA states that most photography studios take home around 20%, while personal experience and observation suggest it's around 25-30%.

How many weddings would need to be booked at $1000 each to reach a $50,000 take-home income?

It would require 30 weddings, which would result in a $21,000 take-home income.

What is the recommended price range for booking weddings to make a good living?

Shooting weddings at $2500 to $3000 each can result in a decent living.

How many weddings would need to be booked at $5000 each to reach a $100,000 take-home income?

It would require 61 weddings, which would result in a $50,000 take-home income.

Is it sustainable to start a photography business charging $500 for a wedding?

While it is possible to start a business at a lower price point, it is not sustainable in the long term and requires shifting to higher prices.

Should beginners in the industry who charge lower prices be a concern for established photographers?

Beginners who charge lower prices are not a concern as they are either likely to raise their prices or drop out of the industry.

How much effort is required to start a photography business?

Starting a photography business requires a significant amount of effort and may involve working 80 hours a week in the beginning.

What is the impact of social media on starting a photography business?

Social media can be a source of depression and comparison for photographers, and it is important to use it as a business tool while being mindful of its negative effects.
Lesson Info
The Road Ahead
So the road ahead. This is a truth. I wanna set some expectations here. If you are getting into photography because you think it's a fantastic way of making money, I'm gonna tell you that there's easier ways to make a living. Okay? Because there, there truly are. There are guaranteed ways. Go to school, get a law degree, you're guaranteed a $100,000 job to start. And you can go up from there. Go into accounting. That's what I did. Basically, anybody here an accountant? Good, I'm gonna bash the hell out of y'all. 'Cause I'm an accountant. So now I can say this without no, but people, I feel like, we choose accounting because you don't really know what to do. You get to school and you're like huh, I wanna pick something that will kind of let me do anything. I'm gonna do accounting 'cause it's basic and it's general knowledge and great, fantastic, and it honestly does do that. But it's the reason why most accountants are no longer accountants within five years of having learned that craft...
. But either way, be a doctor, be a surgeon, any of these different pathways. Be a salesperson, for crying out loud, you guys could, if the goal is money, if that's the expectation, go, go, Honda, anywhere. Go to a dealership and get a job as a salesperson. You'll make fantastic money tomorrow. What I'm trying to say is that, if that's the expectation, you're setting yourselves up for failure. Let's talk about this for just one second. I'm gonna switch over to our workbook. Now we have, I'm actually gonna show you guys the workbook a little bit later. But oh, you're gonna see this. Okay. Let's go to tab number four. In this class, in the downloadables is the workbook. We will talk about it as we go through. We're gonna introduce everything, but for now, we're gonna go to tab four, which is the forecast. Okay. Inside of this tab, as you're doing your competitor analysis, all these different things, when you're setting your own goals, you can actually determine exactly how much another studio is making, how much you would like to make, how much you need to shoot, everything. I have in here, and this is, again, I'm a CPA. So those of you that are accountants, this is from my background, this is how we would create these kind of documents, and what you see here is a basic financial forecast. And under, let's scroll down a little bit, expenses and taxes, if you expand this section you can actually modify. So if you wanna get in there and modify stuff, feel free. I've put in a basic guideline of the cost to running a business. Don't even worry about any of that. All I want you to do is populate this number. Average wedding booking. Let's say, give me a number. How much do you guys want to be able to book a wedding for? What is the goal? $1000. That's a great starting point. Let's start with $1000. From our $100,000 dollars, this will take out variable wedding costs, it'll take out variable non-wedding costs, fixed business costs, and you land from $100,000 at a $70,000 operating income, which then you deduct state and local taxes based on your amounts, you end up with $46,000. From $100,000 of revenue. What if I told you that's the best case scenario? Okay? PBA, so our base calculation above is a best-case, like if you run a lean and mean studio, you could possibly take home 46 cents on every dollar that you make. Okay? On average, the PBA says that most photography studios are at 20%. From our personal experience and from watching Friends, it's around 25%. So you're doing good if you're taking home 30 cents on every dollar of revenue that you generate. Now your example of $1000 per wedding? Really quick, starts to become unsustainable. Because at $1000 a wedding, if you're doing 30 of them, look at your bottom line. Your take home, so, would be about $21,000. Can't sustain yourself. There you go, see? Okay, so we know that we need to get a little bit higher numbers. $2500 to $3000 for a wedding is decent, and you can make a good living, but this is the expectation I want you to set of okay, if I'm doing 30 weddings at $3000, then I'm gonna be making about $50,000 take home. Now let me, let me say this one thing. Take home means post-taxes, okay? You guys are all nodding. This is the best part about this. All of you are like nodding like this? We've had no less than 15 employees over the last ten years come into our office and say, "I thought the amount that I was making was like, after taxes?" No, your salary is pre-tax, and then you have after that. "Oh, I didn't know that." And I was like, oh my gosh. How, how did you not look at any pay stubs of any of your past jobs or anything like that? I don't understand. So, $50,000 take home is not bad. That's basically like a $70-$80,000 salary. Right? Think of it that way. But at $1000 per? It's a good side gig. And you know what? There's nothing wrong with that. If you got your full-time job, I'm gonna talk about that in a minute, there's nothing wrong with having that expectation of this is a side gig for me. Okay? So down here at the bottom, you're gonna see, so this is the average take home based on our calculations and everything else. The average take home, and then we have the simple revenue-to-take-home calculator, which states that with what you put in, with an average take home of 20%, you'd need to shoot 243 weddings to achieve your goal, to get $50,000 take home. So when you adjust the numbers above, so like, for example, if I put in $5000 up here, it'll automatically adjust the numbers below to say at that amount, you need to shoot 30 weddings. So you can put in your desired take home right here. So if I want to make $100,000, it'll tell you that you need $300, of revenue at $5000 apiece, or you need to shoot 61 weddings. Is that kinda cool? You can put in whatever numbers you want. You wanna tweak the expenses? You can do that but it's already set up for you. So all you do is you say, if I'm currently taking home $60, at my existing job, so my salary is somewhere around 90, and I'm taking home 60. If I want to replace that income of $60, and I shoot weddings at $5000 each, I need 36 of those. Is that a good planning tool for you guys? Okay. That's just one of 16 in the course. You can start a business. There's nothing wrong with starting a business charging $500 for a wedding. That's what we did. I'm gonna tell you exactly how to do it. It's just not sustainable to maintain that. You have to shift and keep moving up to get to a bracket that's actually sustainable. So all the people online that are going oh my goodness, all these newbies are ruining our business. They're coming in here and charging $1000. What do you guys think about that now? Yeah, let's grab you a mic. They won't be here in a few years. Exactly. Are they a concern? Marginal at best, yeah. Okay, so, so that's where we need to shift our mindset to like, great. Like, let them come into the industry. Because they're either gonna do one of two things. They're either gonna become great and raise their prices to your place, or they're gonna drop away and realize that this is at best a side gig, or they're just gonna completely cut and run. And they'll spread the word to the other people. Don't get in. Yeah, it's, what I want you guys to see right now. There's so much great potential in this. Thank you for so much for that. And tell me your name? Joe. Joe? I like to shake hands, Joe. I'm Pye. Nice to meet you, Joe. Okay. So, they're not your concern, right? That's not the market that you should be looking to compete in longterm. That's an entry place. And once you get past the entry place, just think of any big brand. Think of a Luis Vuitton, make luxury purses, right? Do you think they care that somebody starts selling a genuine leather purse for $100? No. That's not their market. They don't care. But what I do want you to understand is that this road ahead is not some super easy, I'm gonna throw cash in your face rockstar lifestyle that seems to be what people promote on social media. It is gonna be work. Okay. Lori Greiner, entrepreneurs are willing to work 80 hours a week to avoid working 40. This is such a true statement. More so at the beginning of your careers than once you're five, ten years into it. Because in the beginning, you gotta launch and to get something moving, it takes effort. A lot of effort. It's kinda like physics, right? To get a wheel turning, it requires more effort to get it turning than it does once it's actually spinning. Then it's easy. But to start it out, you're gonna have these kind of, I want you to set this expectation. Oh my goodness. This is like, has become one of my strongest venting sources over the last few years. Social media is 99% fakery. The other 1% is glamorized. Turn it off. I know that you guys have to use it for business purposes. Quick story. A little bit ago, it was about four months ago now. I'm queuing up Instagram to start a, to write a post for my photography stuff, you know, that kind of thing, doing business. And then I have to update Instagram 'cause I have the iPhone X, which I really am not a fan of. I'm sorry, you bought yours just recently. I don't like mine. I was gonna tell you that, but I'll let you figure it out on your own. But now you know. So, I'm not a fan, but I had to do an update. So to do that update, I deleted the app. And I deleted Instagram, and then the weirdest thing happened. I didn't expect it. I was just gonna do an update. But once I deleted it, I was like (sighs), what was that? That's nice. It was this feeling of relief, of like oh. So then I was like, I wonder if I play into that. So I deleted Facebook. I deleted literally every single thing from my phone. Every piece of social media is gone. And I was like, yeah, that was actually relief. There are studies now proven that social media is one of the leading causes of depression. Do you know why? Because all of us only post the 1%, and that 1% is not even like a true 1%. It's a glamorized 1%. And then we all compare each other, and we all compare our lives to what we see online, and it's, none of it is real. And when you're at home and someone's on the beach, sipping muay thais and having a good time and you're just sitting on your couch watching Netflix, this is my life. I'm just kidding. But you compare, right? Get your heads out of it. Now, I'm gonna say, I will teach you how to use these tools as a business tool, and I'm gonna teach you ways to keep yourself productive by actually tracking the time that you're putting into those tools and staying off them otherwise. It'll be one of the quickest killers of your business before you even get off the ground. Because you're simply gonna compare. My images aren't as good. I'm not doing as well. Oh my gosh, they're getting this wedding. Oh my gosh, they're shooting that client. Oh my gosh, they got newborn shoots all the time. I'm gonna show you how to make it look that way.
Class Materials
How to Launch a Photography Business Workbook
Experience Pricing Example
Ratings and Reviews
This class and materials are to the point and eye-opening on the business side of photography. Pye Jirsa is an amazing and fun teacher as well! Most photographers need more business classes offered to bring us who love to create art back to reality for a more successful business that makes a living on it's own. This course will definately get you started in the right direction and so cheap too! Great investment! armstrong outdoor tv case outdoortvcase Pye Jirsa is one of the best instructors that I have the pleasure to learn from. He and his team have given me so much more than they'll ever realize. Knowledge, wisdom, training, friendship, mentoring, inspiration, joy... I cannot thank Pye enough for changing my life for the better. I owe them more than they'll ever realize. Thank you, Pye Jirsa!!!
This class has been an eye opener for me; a point of change in my vision as photographer. Pye is and AMAZING, INSPIRING, GENEROUS instructor, with an, authentic desire to help people and to share with them the best of his knowledge. I will not have enough words to say thanks to Pye Jirsa, as a teacher and as a human being, and thanks to Creative Live who allows us to benefit from the experience of such a knowledgeable, educated, well-versed photographer and instructor. 1000% recommended!
Been following this guy forever. Pye Jirsa may be well known in the wedding & portrait photography world and if there is something that this guy knows it is how to create a business, a sustainable one. The workbook he provided is comprehensive, and I honestly wish I had this when I first started out as a photographer! I love that he talks about his failures, keeping it real and honest for anyone starting out. He is definitely one of the best instructors around, super humble, down to earth and with a sense of humor to boot. The course is worth it! THE WORKBOOK is AMAZING! SUPER DETAILED!
Student Work