Create the Logo & Branding
Pye Jirsa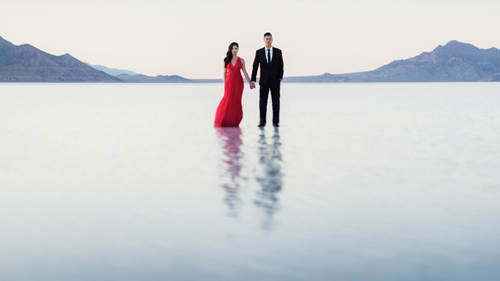 Create the Logo & Branding
Pye Jirsa
Lesson Info
30. Create the Logo & Branding
Build a logo that represents your business. Learn the qualities of the ideal logo. Then, jump into additional branding materials.
Summary
(Generated from Transcript)
The lesson is about creating a logo and branding for a photography business. The instructor discusses the importance of having a defined brand identity and target client personas before creating a logo. They emphasize the need for a logo to be simple, timeless, scalable, and unique. The instructor provides options for creating a logo, such as using logo templates from Creative Market, and shares their own logo evolution as an example. The lesson also touches on choosing brand colors based on their emotional associations.
Q&A:
What should be in place before creating a logo for a photography business?

A defined brand identity and understanding of target client personas.

What are the criteria for a good logo?

It should fit the brand message, appeal to the target client personas, be simple and timeless, and scalable.

What are some options for creating a logo?

Using logo templates from sites like Creative Market, hiring a designer, or DIY if you have design skills and time.

How much does it cost to get a custom-designed logo?

It can range from a few hundred dollars to several thousand dollars, depending on the designer and package.

How can brand colors be chosen?

The instructor suggests Googling the "Logo Color Emotion Guide" to see a list of different brand colors and their emotional associations.

What does the instructor's logo evolution show?

The instructor shares their own logo evolution as an example of how the logo can change and evolve over time to better fit the brand messaging and criteria.
Lesson Info
Create the Logo & Branding
Product development, we're back to this. We need to create the logo under branding. Where again, week five, we know what we want, right? You've put together your persona. You have a vision of who you are. You understand your brand identity, what you're trying to achieve. Those are things that you need to have in place before you can find a logo that actually fits what you're looking for. So on the roadmap, we're at this week five place, product development. We're now putting down on paper and creating the assets for our business. This is the funny part. How many of us here are already in business? Raise your hands. How many of us have figured this stuff out? Okay, we've got some work to do, let's go back and do it. It's totally fine. This is an evolutionary process. As I've said to you in all the previous segments, don't think of this as perfection, I have to have all of this stuff set up. No, you don't. You can be doing business, you can be successful, without a proper logo. I'm gonna...
show you guys, exactly, right now. But we've got our Positioning in check. We've got Brand Message in check. We've got Client Personas. We have the Why, we have the Experience. This is where we can go and look at a logo and say, "That fits." Up until now, you're looking at a logo and probably doing this, "Oh it's cool. "That's cool, I like it." You're smiling 'cause you did that. You did that, don't lie to me. Okay, so complete the Client Experience, ideas behind it, you're gonna revise it over time. Now create the logo, brand assets and products. This is what a logo should do. It has to fit our message and that's why that had to be defined prior. It needs to appeal to our target client personas, which is why that needed to be identified, prior. It needs to be simple, timeless. Scalable, is a big one that a lot of us don't even think about. I know it's really popular right now to get your name in the form of a signature and slap it on your images. It even looks great. The problem is it doesn't fit any of these criteria, like scalable. You can't recognize it when it's small. It's tough to read even when it's large. It's not unique and identifiable, because everybody's got that signature. Its popular now, everyone's got a signature. How do you identify one signature from another one without actually reading the two, right? Ideally, it contains some sort of simple element vector, some sort of a graphic that is identifiable. That piece is something you can use as an accent throughout all of your materials. Throughout your books, your branding, your messaging, your website. This is what I want you guys to do. It's worth your time and a little bit of your capital. I'm gonna put you guys right into this slot. If you DIY it, you better be a designer. I'm gonna show you the sucky logo that we created at first. If you DIY it, it needs a lot of time, a lot of patience, and good design skills to get to someplace that's great. Don't go there. If you design source it, this is like sites like Design Crowd, where you spend 250 bucks, 500 bucks, and 30 designers submit different designs hoping that they win the money. Okay, you generally get a lot of... I mean just think about it. If you're a photographer and someone is like, "I've got 500 bucks to do this. "Bid on my project." Most of you wouldn't spend your time there because you're good, that's really the plain, simple truth. Your time is better spent elsewhere and same thing with designers. Unless you're spending a lot of money on those sites, you're not gonna get good designers doing it. So it can be very hit or miss. And a custom design, it's expensive. Two, three, four, five thousand dollars to get a logo and a branding package is very common. Up to 10 thousand dollars to get a logo branding package. And you still might not be happy with it. So what I'm gonna say is if you go to Creative Market.com, search logo templates, you'll find for 30 bucks, a whole host of different templates that have different branding assets. I know what you're gonna think, you're gonna go, "I don't want a brand or logo "that's gonna look like anybody else's." You're not cause they come with tons of different assets inside of these, okay. Now, the probability of another photographer picking the exact same template set and then choosing the exact same logo with a similar name is very, very rare. That's not gonna happen. So you can get a professional-designed logo by simply getting a template, selecting it out, choosing a nice typeface, putting a little bit of your own sweat labor, sweat equity into it, and get to a really great professional result without spending a lot of money. That make sense? (laughs) We can't show brands here and this particular thing would be like nuclear meltdown here on Creative Live. Go and Google the Logo Color Emotion Guide. It's gonna give you a whole list of different brands and colors and how they emote or what those colors emotionally mean. This is gonna be how you set your colors and your brand preference and all that, okay. It would have been funny to put it up on the screen. Just to watch your face kinda... This is the evolution of our logo. So this is me going, "Okay, I'm just gonna try "and put this together myself" from 10 years ago. And eventually I was like, "You know, "that really doesn't look good. "I'm gonna try something else. "Let me try and create some sort of..." I actually found this floral piece on a stock-photo site. I was like, "I'm gonna take that. "I'm gonna trace it into a vector, "and hopefully we'll have something with branding element." And then it eventually evolved, again, think evolution not perfection. It eventually became this and it fits the criteria. Is it scalable, to an extent. If we go too small, the flower gets a little bit too crazy. So, it's not fully scalable down to like very small platforms, like resolutions. But when anybody sees that flower vector in Orange County, they know it's us, they know it's... This isn't an example of the best logo, just a logo that will work and it's good. But it conveys what we kinda talk about, right? The simple, refined nature. We talked about it fitting traditional. It has this Serif font that fits a very traditional, kind of luxury look. It fits all of our brand messaging with things that we talked about previously.
Class Materials
How to Launch a Photography Business Workbook
Experience Pricing Example
Ratings and Reviews
This class and materials are to the point and eye-opening on the business side of photography. Pye Jirsa is an amazing and fun teacher as well! Most photographers need more business classes offered to bring us who love to create art back to reality for a more successful business that makes a living on it's own. This course will definately get you started in the right direction and so cheap too! Great investment! armstrong outdoor tv case outdoortvcase Pye Jirsa is one of the best instructors that I have the pleasure to learn from. He and his team have given me so much more than they'll ever realize. Knowledge, wisdom, training, friendship, mentoring, inspiration, joy... I cannot thank Pye enough for changing my life for the better. I owe them more than they'll ever realize. Thank you, Pye Jirsa!!!
This class has been an eye opener for me; a point of change in my vision as photographer. Pye is and AMAZING, INSPIRING, GENEROUS instructor, with an, authentic desire to help people and to share with them the best of his knowledge. I will not have enough words to say thanks to Pye Jirsa, as a teacher and as a human being, and thanks to Creative Live who allows us to benefit from the experience of such a knowledgeable, educated, well-versed photographer and instructor. 1000% recommended!
Been following this guy forever. Pye Jirsa may be well known in the wedding & portrait photography world and if there is something that this guy knows it is how to create a business, a sustainable one. The workbook he provided is comprehensive, and I honestly wish I had this when I first started out as a photographer! I love that he talks about his failures, keeping it real and honest for anyone starting out. He is definitely one of the best instructors around, super humble, down to earth and with a sense of humor to boot. The course is worth it! THE WORKBOOK is AMAZING! SUPER DETAILED!
Student Work