The Second Money & Dual Process
Pye Jirsa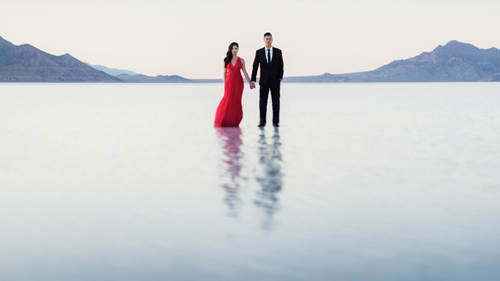 The Second Money & Dual Process
Pye Jirsa
Lesson Info
82. The Second Money & Dual Process
Booking a client a second time is easier than the first. In this lesson, Pye walks through how to book the first sale or the minimum package while allowing the client to upgrade later.
Summary
(Generated from Transcript)
In this lesson, the instructor discusses the concept of "second money" in sales psychology, emphasizing the importance of getting customers to make a minimum purchase before they leave. The instructor also introduces the idea of dual process, which involves empathizing with customers while also holding firm to one's value and pricing. The lesson highlights the importance of creating scarcity and avoiding desperation in sales situations, and encourages photographers to prioritize their own value and the needs of their families while empathizing with clients.
Q&A:
What is "second money" in sales psychology?

"Second money" refers to the concept of convincing customers to make additional purchases after they have already made a minimum purchase.

Why is it important to get customers to make a minimum purchase?

Making a minimum purchase helps to lock in the customer and make it easier to upsell or add more products or services later on.

What is dual process?

Dual process involves empathizing with customers while also holding firm to one's value and pricing.

Why is creating scarcity important in sales?

Creating scarcity makes customers feel like they might be missing out on something, which can make them more likely to make a purchase.

What is the danger of appearing desperate in a sales situation?

Appearing desperate can make customers question the value of the product or service and may make them less likely to make a purchase.

How can photographers prioritize their own value and the needs of their families while empathizing with clients?

It is important for photographers to hold onto their dual process and understand that their own well-being and the needs of their families are just as important as meeting the wants and needs of clients.
Lesson Info
The Second Money & Dual Process
The second money. And I use this photograph because first of all, our studio manager's family is beautiful. Second, it's much easier to convince your husband to have the third child more so than the first, right? That's second money. We've already got two. Let's do a third. Ladies, you know it's true. No? (gasping) You have to be convinced? (laughing) Yeah, yeah. Second money is easier than first money. This is a psychology, kind of sales psychology piece of why do we try to get somebody to buy something before they exit, okay. If they can't decide. If they can't pick what package to get into now. If they can't choose what service is best right now, that's what your minimum is for. Your minimum is set to get them into something. Don't worry, Shell, we'll think about it later. I want to get your date locked in though. Let's get you started here. How can I take your deposit? So when you come to me with the objection of well Pye, I really don't know which package and everything like that.
I don't know my wedding day. I don't know my timeline. I don't know any of those things. No problem, Shell. Let's get you locked in. I want to get your date reserved. Let's start with the minimum. We can always add more later. When I see she's on the fence, I go to the minimum and I try and get my first sell, okay. Because it's always easier to add later. We can add albums, we can add hours, we can add wall art. The second sell is so much easier than first money. So don't let them leave without first money, okay. Do your best to get them into something then. And then allow them some time to figure out what they actually want to add. Does that make sense? Book now. We can upgrade a little bit later. We need to empathize without attachment. This comes from Jeb Blount in Sales EQ. It was such a beautifully written piece of what this whole piece is of sales psychology. But this has to do with understanding, empathizing, being able to hold that line while also being able to hold your position and your value. That's called dual process. Okay, most of us break down. We understand and we empathize and we break down on our value. Do you know why? Because we all, you all, we're all creatives. We're empathetic creatures at heart. We are tied into our emotions. We love people. We love creating images. We love helping. We love the people that. You fall a little bit in love with every one of these clients that sit across from you that you can relate with. Don't tell me you don't. Because that's what makes you good at what you do. And that's what makes you terrible at selling to them. Because we don't know when to be firm, when to walk. We don't hold onto our dual process. We drop one side of it. Now here's a question. If we hold onto dual process, what does this create? If you push me, who's gonna push me? Jason. If you push me on my price on the service that I offer on everything, and I say Jason, I would love to work with you and I know you're gonna love the service that you get. I don't know if it's a good fit though. If you want what I have and I'm willing to walk away, how does that make you feel? Like I'm losing something. Oh man, you feel like you're losing something right now. Being taken away. Yeah. It instantly creates scarcity. Thank you. That's exactly how it feels. If you want something and I don't know if it's a good fit. I don't know if this is right. I know it would be great. I would love to work with you. It may just not work. And that's okay. When you say those words, if it doesn't work, it's okay. You have just created scarcity in their minds because now oh man, okay. This the funny part about sales. It's very much like trying to approach somebody that you would like to date. Okay, doesn't matter. Man, woman. LGBT, anything, doesn't matter. If you're desperate, everybody runs from you, right? If I have this scent of desperation in the air. Hey Kenna. It's so great to meet you Kenna. I know so much about you. You are amazing. I love you. Do you want to go get some coffee? (participants laughing) Maybe next time. I mean overpowering. This over kind of like excited nature to kind of close the deal. No matter what kind of deal it is. Whether it's a date, whether it's a package that you're booking. If you're not willing to walk, well the assumption is there's something wrong. Just like your assumption would be oh man. Why is this guy so like, what's wrong here? What's going on in this situation? If you sense desperation, that's the first thing. If you're buying a car, why is that guy so eager to sell it to you? Why is that girl so much want to get you, Joe, into a freaking Honda Civic? It should be a good Honda Civic right? Was it used? Did somebody else bang it into a tree? What happened to it? Why is she so eager to get it off of her hands? That's exactly where our reasoning goes when we start pushing and we start getting kind of desperate. But if she came up to you and said Joe, I would love to put you in this Civic. Is there anything that I could do today to get you in that car? And you're like, I don't think so. Well when you think about what you'd like and if you think that you'd like a reliable car at a great price, let me know, bye. And then you're like, you're so pretty, and I really want that car. Please give me the car. Okay, so be willing to hold onto your dual process. Okay, be willing to understand and empathize with that person while not giving up what your purpose is in supporting yourself and your family. Because you either devalue them, yourself or your family, by letting that go. Or you hold onto your dual process and you make sure that you value both sides. You understand and you empathize. But this is your family. This is your time. This is your life, your blood. And you hold that in equal priority to what your clients want and need.
Class Materials
How to Launch a Photography Business Workbook
Experience Pricing Example
Ratings and Reviews
This class and materials are to the point and eye-opening on the business side of photography. Pye Jirsa is an amazing and fun teacher as well! Most photographers need more business classes offered to bring us who love to create art back to reality for a more successful business that makes a living on it's own. This course will definately get you started in the right direction and so cheap too! Great investment! armstrong outdoor tv case outdoortvcase Pye Jirsa is one of the best instructors that I have the pleasure to learn from. He and his team have given me so much more than they'll ever realize. Knowledge, wisdom, training, friendship, mentoring, inspiration, joy... I cannot thank Pye enough for changing my life for the better. I owe them more than they'll ever realize. Thank you, Pye Jirsa!!!
This class has been an eye opener for me; a point of change in my vision as photographer. Pye is and AMAZING, INSPIRING, GENEROUS instructor, with an, authentic desire to help people and to share with them the best of his knowledge. I will not have enough words to say thanks to Pye Jirsa, as a teacher and as a human being, and thanks to Creative Live who allows us to benefit from the experience of such a knowledgeable, educated, well-versed photographer and instructor. 1000% recommended!
Been following this guy forever. Pye Jirsa may be well known in the wedding & portrait photography world and if there is something that this guy knows it is how to create a business, a sustainable one. The workbook he provided is comprehensive, and I honestly wish I had this when I first started out as a photographer! I love that he talks about his failures, keeping it real and honest for anyone starting out. He is definitely one of the best instructors around, super humble, down to earth and with a sense of humor to boot. The course is worth it! THE WORKBOOK is AMAZING! SUPER DETAILED!
Student Work