How to Launch a Photography Business
Strategy Vs. Planning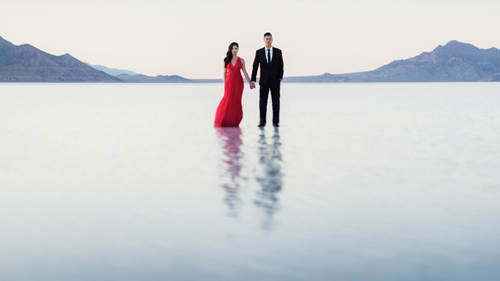 How to Launch a Photography Business
Strategy Vs. Planning
Lesson Info
Strategy Vs. Planning
Time to start a photography business this is like the typical mindset right, I'm going to start by getting a website and a portfolio, really, let's slow down. Or in other words slow down muchacho. Got a little more to go, you guys heard this quote, give me six hours to chop down a tree and I'll spend the first four sharpening my ax Abraham Lincoln. Such a great line, I'm going to give you an example of this because it still happens to me constantly today. I've switched everything over to Apple and I'm still using PowerPoint for all my presentations and I think to myself I'm just going to wait until after this Creative Live course to go and learn Keynote and then I go and create 1000 slides in PowerPoint on a Mac, which is very difficult and very time consuming and all the shortcuts and all the things that would make it efficient and quick don't work on Apple. So by not learning Keynote and by not just saying look I'm going to spend a day just to learn Keynote, I end up spending 40 to 6...
0 hours longer in developing these slides and I get so far into it that I can't even go back at that point. I was like how odd is it that as I'm putting this into a slide I'm literally doing the exact same thing right now and we all do it though. We all throw ourselves into something without having a proper plan, without taking the time, without slowing things down and in the long run we end up hurting ourselves. Slow down, do it once, do it right. Planning versus strategy, these two things are actually used interchangeably but they're far from the same, we're going to develop a strategy and a plan coming out of this segment. So what are they? It's not a trick question you guys can answer it's fine. What is a strategy? What is a plan? Do we all use these words synonymously like yeah they're pretty much the same thing right. But the thing is is that the strategy is the overall goal, it's that overarching objective. If you're playing football or you're playing basketball or whatever sport you could possibly think of, the strategy is basically to win. That's the end goal, that's the end thing to score a point to win whatever it might be. But how do you get there? Because a coach has a strategy to win to score points but the player's going to ask what's the plan coach. The plan is the specific set of action steps that we need to arrive at that and that's where you come up with a plan A versus a plan B versus a plan C. Because you can have the same strategy and have multiple plans, if one fails you start the next one. We want to do that for our business. Raise your hands if you're willing to bet that our success in photography was luck. We got one! Some, I would agree with that 100%, that success is a mixture between preparation and opportunity right of that luck that moment, perfect. There's a plan behind it though, absolutely. Are you willing to bet your career the future of your business just simply I'm going to go out and get a portfolio and start selling my work, I hope none of you are at this point. So here are four pieces, I want you guys to get your notebooks out, if you're online get your notebooks out we're going to start a process here and you can write these things down. Where do we compete, these are four pieces of strategy from the BYU School of Management my business partner Justin went to BYU, I went to Utah we're competing schools, we love but hate each other. Anyway, their business school is fantastic and they had these four pieces of strategy, where do we compete, what is our unique value, what resources and capabilities do we have, and how can we sustain that.
Class Description
The content and opinions expressed in this course are for informational purposes only and not for the purpose of providing legal advice. You should contact your attorney to obtain advice with respect to any particular issue or problem
Build a business and get people to spend money on your photography. Award-winning photographer and co-founder of Lin and Jirsa Photography Pye Jirsa will walk you through the first 12 weeks of building your business. With his relatable and actionable teaching style, he'll explain how to define your product as a photographer and determine where it fits into a consumer mindset. You'll learn the steps to creating a brand, pricing yourself confidently, sales techniques, and basic marketing practices. This class covers everything you'll need if you're considering photography as a job, including:
Where to position yourself in the market
Branding your business to attract your ideal client
Pricing and basic financing
Creating a business plan
Setting up a portfolio
How to get your first customer in the door
Getting leads on new clients
Understanding sales
The psychology of a buyer
Pye has built multiple successful businesses from the ground up and this course includes your 12 week road map to launching your business.
Reviews
This class has been an eye opener for me; a point of change in my vision as photographer. Pye is and AMAZING, INSPIRING, GENEROUS instructor, with an, authentic desire to help people and to share with them the best of his knowledge. I will not have enough words to say thanks to Pye Jirsa, as a teacher and as a human being, and thanks to Creative Live who allows us to benefit from the experience of such a knowledgeable, educated, well-versed photographer and instructor. 1000% recommended!
Been following this guy forever. Pye Jirsa may be well known in the wedding & portrait photography world and if there is something that this guy knows it is how to create a business, a sustainable one. The workbook he provided is comprehensive, and I honestly wish I had this when I first started out as a photographer! I love that he talks about his failures, keeping it real and honest for anyone starting out. He is definitely one of the best instructors around, super humble, down to earth and with a sense of humor to boot. The course is worth it! THE WORKBOOK is AMAZING! SUPER DETAILED!
I saw the live broadcast and it was amazing. Pye is one of the best instructors and inspirational photographers.. there are two type of ppl.. one who has the knowledge and doesn't know to teach another who has the knowledge and knows how to get it through.... I still didn't purchase this as I am saving for my daughters entrance fee for collage... :) Anyways he's one of the best instructors and a good friend.... very humble and always cracks jokes.... Keep inspiring and keep teaching.... my blessings are always with you pye.