Timeless Advice on Being Likable
Pye Jirsa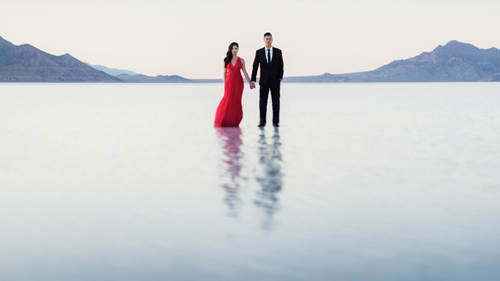 Timeless Advice on Being Likable
Pye Jirsa
Lesson Info
85. Timeless Advice on Being Likable
How do photographers get clients to like not just their work, but themselves as a person? In this lesson, Pye shares tips on building charisma and starting a relationship with clients.
Lesson Info
Timeless Advice on Being Likable
Ha, ha, timeless advice on being likable like Gizmo. He's so cute. We're into the second section of refining your sales skills set. This is one of my favorite ones, hence, the picture. Be excited, like a dog. I can't think of a better example. If you have pets, if you have dogs, you know how they greet you. They are so excited to see you, they want to be with you. They want to talk to you, you have their complete attention. And there's no better example, except maybe don't like go clawing your clients and go like like jumping on them. Don't lick them, don't do those kinds of things. That's just weird. But outside of that, if you're just constantly excited to see them and you just love your clients, that's one of the best places to start. The next one I have is charisma. There's a fantastic book by Olivia Fox Cabane called The Charisma Myth. Charisma, just like sales, just like presenting, just like public speaking, just like all these different things, is a learned skill, you learn it ...
over time. And she gives you some really great techniques on how. The one that I want you guys to be here with right now is; because you can pick up most of that charisma. Charisma has nothing to do with the way you look by the way. It can, that can be one of the components. But the best type of charisma and the easiest one to start right now is presence. It's called focused charisma. So, that means Julie, when I step in close to you, and I look directly at you, you feel a sort of kind of intense focus that all my attention is on you, because it is. That's one of those things that it's a very simple trick that you can use to your clients to show them your care. I told you all to make sure its genuine before 'cause I'm gonna tell you how to make it shown now. This is how to make it shown. So, when one of you comes into my studio; Angela you come into the studio. Angela, it is so amazing to meet you, my name is Pye. Nice to meet you. Did you have an appointment with someone? I'd love to go grab somebody to come help you out. Did you have a meeting with somebody? No I haven't. No, if not, have a seat. I'm gonna go grab one of the girls and I'll be right back, okay, and then, I'm gonna step away. So, there's an excitement, there's a focus and there's nothing to do with anything else, and that's gonna stay present throughout our entire conversation. There's easy ways to actually convey this as well. So, if you are like going into a meeting with your clients, with your phone, you take your phone and when they sit down you say, "Give me one second, I want to turn off my phone "so I can give you my full attention." And then you turn it off and you out it in your bag. That's a clear and visual signal to your clients that now, you are 100% focused on them. Easy. Next, we go smile, listen, use names, important, serve. Hey guys, have we been doing this throughout this entire meeting? Through our entire class here? Do you feel like I want you guys to be successful in your businesses? Have I used everyone of your names? Have I been listening to the different objections and the different things that you have brought to me? Do you feel that I am being genuine right now, because I am. But I'm using body language and I'm using all these things to show it. And if I didn't know everyone of your names, you wouldn't feel it. Joe, if I couldn't tell the difference between you and Don and I just said, "Hey you, hey yeah, that's a really good question. "I really like that, good job." You might feel a little bit differently than the fact that I can actually identify you. It makes us feel as though we're important, right?. It makes us feel as though, each one of us; the sound that we love most, is our own names, and if I can say it repeatedly, Sharon, Sharon, Sharon, sorry Shannon. (audience laughing) Shannon, Sharon, Shannon. Shannon, Shannon, so you know how I remembered Sharon? Red hair, Sharon, red, except for right now. (audience giggles) That didn't work right now, Shannon. It feels good to hear our own names does it not? You feel. What? She wouldn't know. That is her name, her name is Shannon. Now. Now, oh give me a break, there's 18 of you. The next thing is active posture. We talked about this. This is literally again the entire classes active posture. Being in front of you, open chest. And then we stop talking. It's hard 'cause I want to demonstrate this to you guys. This is one of the big pieces, but it's hard for me to do that because I have to talk. But at dinner last night, who talked? Did I talk the most at that table? (audience laughing) Goodbye guys, I'm done, I'm out. We all talked. We all talked. Did you feel like I was there taking over and trying to make it about me? Definitely not. Okay, in fact, I think I asked a lot of questions like what's new in your guy's lives, and tell me, what's going on? You do. Okay, do the same thing with your clients. Just stop talking. It's the easiest way to be a good conversationalist is to not talk, is that not the weirdest thing ever? We have a rule, and then we parroting. Leil Lownder talks about parroting. If you ever lose, like your, look all of us do that. Where we think of the next things that we want to say and we lose track of what's being said right? If that happens, and Lee, let's say you said something like, "I'd really love it if you could just capture "that one photograph of the salmon." Okay, and all I heard was, "Ah man, I really want to ask Lee this next thing," and then you said, "Salmon." I said, "Interesting. "Tell me more about that salmon, like what are you looking?" That's parroting, I don't really know what was said. I'm just like, tell me a little more, like what salmon are you kind of talking about? But you picked up the last word, or the last two words, and then you repeat those in a phrase of a question. This is parroting, it works. Don't do it more than once or twice. (audience chuckles) And then we're gonna match their mood right?. So if they come in with a mood that's a little bit more serious, I'm gonna be a little more serious. If they come in, like I'm not gonna be the goof ball, when I have a traditional Jewish mom and dad next to the bride and groom and all four of them are sitting in there, I'm going to be the proper like me. In terms of, that's the mood that they have set and I'm gonna follow suit. It'd be awkward for me to come in and be like; "Hey guys, I'm so excited to see you all, my name is Pye! You're not matching the tone that they're setting and so we want to kind of match that to kind of feel a little more empathetic. All this should be making sense yeah? A few more notes on charisma. It's not born with, it's learned. There's multiple types of charisma. Presence equals Focus Charisma, we talked about this. Authority without warmth. This is where I want you guys to steer clear from. Authority based charisma is like those that are say, police officers, they have a authority, right?. Those that are in a higher position. A boss, a manager, there's an authority charisma that comes along with those position. Now when that authority, which you all have, because guess what you guys are the boss over? (mumbles) What? Cameras? The camera, right, when you have that camera in your hands, you are the boss. You dictate what they should do, how they should pose, what you like, all that. And this is to varying degrees depending on how many of you do a lot of pose work, versus journalism, versus something in between. But you are that boss. And when that's carried without warmth, it comes off as arrogance. And that's a big thing that I see like a lot of shooters going in, is instead of coming across as like, "oh, oh my gosh Shell, I would love to have you, "stand right here next to Julie. "And if you girls just sit up right now, I would love that." But instead it comes into as; "Look I just need you two to stand up." And that comes off as like this really negative arrogance. These are things that are very easy mistakes to make during a shoot. Especially as you see second shooters or anybody else coming and representing your brand. That you need to tell them hey, I need you to convey warmth with all the direction that you give. Likewise in your client meetings, do the same thing. The next thing I'm gonna tell you; One of the biggest things that you guys can immediately improve your charisma with going into a client meeting is to pre-visualize. We talked about visualization right? I'm gonna have you put it to use, write it down. Write it down, visualize the success of that meeting. And I'm not saying that you're like visualizing yeah, I can see the money right now, yep. (audience giggles) No, I mean like visualize from start to end that whole thing. You starting with getting to know them, going through the wave, understanding their needs, their wants, presenting the solution. Visualize every piece of that six step process in your heads before the meeting. And then you'll walk into it with a whole different perspective and a different mind set when it comes to booking and the charisma difference will be noticeable. You'll be noticeably more confident in the way that you present 'cause you already saw it workout. These are weird almost overly simplified tips that seem almost too good to be true until you actually try it. And you're like whoa, this actually works. So again, if you want to read more, it's a fantastic book, The Sing-Sing Voice. This is again, if you want examples of The Sing-Song Voice, just go back thorough any piece of the segment and listen to what I'm talking about right here. This is my; using my voice to kind of move up and down in volume throughout an entire sentence. Pausing, keeping things consolidated and then basically you're piecing together, stringing together, different ideas in almost a melody as we go through. It makes somebody easy to listen to. When people say Pye you're really easy to listen to, it's because I have a Sing-Song voice. Monotone is great for babies. You put them to sleep real quick. It actually does work I got a new born on set. And I'm like, "hey, shhh", I love the newborns. I just love the newborns and they'll fall asleep. My own baby would, I don't do that all the time. So we're gonna connect all words prior to a comma and a period, we're gonna create a vocal melody, and that's really it. And you have plenty of examples there, so I don't really want to hang out here very long. 'Cause that's what we did this whole time.
Class Materials
How to Launch a Photography Business Workbook
Experience Pricing Example
Ratings and Reviews
This class and materials are to the point and eye-opening on the business side of photography. Pye Jirsa is an amazing and fun teacher as well! Most photographers need more business classes offered to bring us who love to create art back to reality for a more successful business that makes a living on it's own. This course will definately get you started in the right direction and so cheap too! Great investment! armstrong outdoor tv case outdoortvcase Pye Jirsa is one of the best instructors that I have the pleasure to learn from. He and his team have given me so much more than they'll ever realize. Knowledge, wisdom, training, friendship, mentoring, inspiration, joy... I cannot thank Pye enough for changing my life for the better. I owe them more than they'll ever realize. Thank you, Pye Jirsa!!!
This class has been an eye opener for me; a point of change in my vision as photographer. Pye is and AMAZING, INSPIRING, GENEROUS instructor, with an, authentic desire to help people and to share with them the best of his knowledge. I will not have enough words to say thanks to Pye Jirsa, as a teacher and as a human being, and thanks to Creative Live who allows us to benefit from the experience of such a knowledgeable, educated, well-versed photographer and instructor. 1000% recommended!
Been following this guy forever. Pye Jirsa may be well known in the wedding & portrait photography world and if there is something that this guy knows it is how to create a business, a sustainable one. The workbook he provided is comprehensive, and I honestly wish I had this when I first started out as a photographer! I love that he talks about his failures, keeping it real and honest for anyone starting out. He is definitely one of the best instructors around, super humble, down to earth and with a sense of humor to boot. The course is worth it! THE WORKBOOK is AMAZING! SUPER DETAILED!
Student Work