What is Sales? Show Me!
Pye Jirsa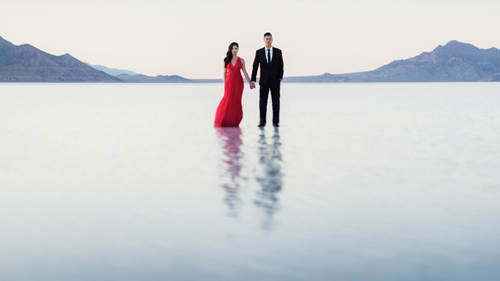 What is Sales? Show Me!
Pye Jirsa
Lesson Info
65. What is Sales? Show Me!
Sales is a life skill, no matter what industry you are in. Gain insight into the sales process as Pye roleplays sales sessions with students.
Summary
(Generated from Transcript)
The topic of this lesson is sales in the context of starting a photography business. The instructor discusses the importance of sales skills and how it applies to various industries, including photography. He provides a role play example of a sales conversation and emphasizes the need to uncover the client's needs rather than focusing on what the photographer wants to sell. The instructor also highlights the importance of understanding that clients care about what the photographer can do for them, rather than the photographer's own offerings. He emphasizes that sales is about providing a service and finding out what the client wants. The lesson concludes by discussing common biases and beliefs that can hinder the sales process and encourages a shift in thinking about sales.
Q&A:
What is the importance of sales skills in starting a photography business?

Sales skills are crucial for attracting and retaining clients in a photography business.

How does sales apply to different industries?

Sales skills are applicable to all industries, including law and various genres of photography.

What should a photographer focus on during a sales conversation with a potential client?

The photographer should focus on uncovering the client's needs and how they can fulfill those needs.

What is the role of pricing in sales conversations?

Pricing is an important factor in sales conversations, and it is common for clients to inquire about the cost. However, the photographer should focus on the value they provide rather than simply lowering their prices to match competitors.

What is the instructor's advice regarding biases and beliefs in sales?

The instructor advises photographers to let go of their biases and beliefs and focus on the client's wants and needs. They should avoid down selling and instead recommend packages that meet the client's requirements.

How does the instructor define sales?

The instructor defines sales as uncovering the client's needs and providing a service rather than manipulating the client into buying something they do not want.
Lesson Info
What is Sales? Show Me!
Sales is rad. I know all of us come into sales with this mentality that it's not a fun thing. It's a four letter word, but you're gonna come out of this not feeling that way at all, and the other beautiful part about this is it applies to everything. Aaron told me you're in Law, right? It's gonna apply to you. It's gonna apply to every single genre of photography, inside of photography, outside of it. This is one of those life skills that's something that gives me a lot of joy to be able to share with everyone. So, where are we in this roadmap right now? We are towards week nine through 12. We've kind of gone through the proc of getting some leads in, and now I'm hoping you're starting to get some people that are actually calling you. You're starting to get some people that maybe even towards the end of week 12, want to come and meet you somewhere to get a cup of coffee, to see if you're the right fit. Okay? We're getting to that place, and this is the great part because now, unlike th...
e way most of us think, now it has nothing to do with the photographs that you have taken, in the past. This has to do with simply you, and that's what's wonderful about it. Okay. This is where we are in the plan, and what is sales? Show me! And I have a picture of a handsome groom-to-be. He's actually one of my models for one of our workshops. I thought that looked like business; that looked like, you know, he looked business. What is sales? "Sell a ketchup Popsicle to a woman in white gloves." This is the beloved Chris Farley in Tommy Boy, and I would say that this line probably encompasses most of the way that we think about sales, right? It's selling a ketchup Popsicle to a woman in white gloves, which is basically, selling something to somebody who has no desire for that thing. Okay. Let's start with a little basic role play, and I got Haldis. She's gonna come up and do it with me. Everyone give Haldis a hand. (audience applauds) So, that's my word, Haldis. So, talk to me. Tell me about yourself. I'm just kidding. I want you to sell my something. Okay. What do you want to sell? I'm gonna sell you a package, a family package. A family package of photos, yeah? Yes. Artwork. Okay, so this is the first time, artwork? Okay, okay. Got it. My bad. My bad. This is the first time we've met. Okay. We're just sitting down. These are my coffees. Mine, not yours, and we're having a drink and let's take it from the top. Sell me. Pye, so nice to meet you in person. So nice to meet you too. Yeah, hey! So, thanks so much for reaching out. Your family is beautiful, by the way. Thank you. You're kids are just like outstanding. I think this photo shoot is gonna be really super easy for us to just knock out some beautiful artwork. Awesome. So, tell me a little bit about what you're looking for as part of this photo shoot. Well, I wanted to ask, like the pricing for it, 'cause I don't know, what we can necessarily afford, but I really like the work that you do, and I'm hoping we can kind of come up with a deal. Oh, thanks so much. Yeah, I appreciate that. My artwork, I put a lot of pride into my artwork, so I really appreciate the compliment. Cool. My prices start at 450 for a family session. Okay. Awesome. And then they go up from that, and so for 450 you'd get about 10 to 15 pieces of artwork that will be shared with you through digital files that you can then share through social media or any other means you'd like. Oh, rad. Okay, so, I know that... I love your work, but there is another person that we're looking at that's like around 400. Do you think you can match that? Sure. Well, first one's free. I got you! First one's free? You got me? Yeah. Nice! What does that mean, first ones free? First fist bump, 'cause I feel like... (Haldis laughs) Well, if you like my work then you'll hire me on, you know, down the road as well. It's like, you're like a drug dealer. Yes. First ones free. (Hollis laughs) Okay, I got it. In the future, I'll get addicted. That's right. And I'll need more photos. Yes. Okay. Well would you actually give me a deal if I asked for it? If I said, 400 bucks. Would that... I'd do the first one free. (Haldis laughs) Entirely free? You went from 450 to free? (audience laughs) Haldis you've given us so much to talk about. My packages start at 400, but I'm gonna gift you this first one. The whole thing? The whole thing. Never do that! (audience laughs) But high five though, you are amazing. Okay, Haldis you may have a seat for now. Give her a hand guys. (audience applauds) Okay. Haldis we have to say, "Thank you", because that is honestly the way that most scripts are gonna go. That's the way most conversations are gonna go, and if you notice, who was in control of that conversation? You were. Right, okay. Who said the most words in the conversation? Isn't that odd? How did I hold control of the conversation, yet say the least? We didn't practice this, right? Nope. But you can probably venture to bet that this is how most conversations are gonna go. Why could we bet that? Because we know 58% of consumer decisions go back to cost. Now, in reality it's actually probably a lot more than 58%. 58% of the first question that you get asked is the cost, the price. So, okay. What do we need to do? I love that; that's gonna be our benchmark. That's gonna be where we talk about, you have set the tone. Don't give your shiz out for free. (audience laughs) I was like, I went from 400 and you give me free? (Pye laugh) That's amazing! I love you, Haldis; that was fantastic. Okay. I have done that exact thing. I sit here, we all laugh at this, and I remember like, I remember presenting one price to somebody and it was so funny to me, 'cause I was like, "I can do $2,500 for your wedding." And then there was silence, and I was like, "But for you guys I'll do two." (Pye and audience laughs) And I was like, I just bargained myself down. They didn't say a word. Okay. So let's get into this. What I want to do is I want to give you a framework, because sales without a framework, without a structure is exactly what just happened right now. It's difficult. It's tough to grab your frame. It's tough to hold control, and you lose it, and you end up kind of going all over the place, right? Now "Sales is uncovering the need," and I have this at the very beginning of this because we have this misconception entirely of what sales is to begin with. "Sales is uncovering the need. "Manipulation is in creating it." Does that make sense? The first quote our perception of sales is manipulation. It's gonna the used car dealership and being sold a car that we really don't want. But, sales based on what Zig Ziglar said in The Secrets of Closing, sales is providing a service. It's uncovering what you need. I'm trying to get to you, and this gives me another thing to say right now, which is, I'm gonna say one curse word, just to get in your heads for one second. You're clients do not give a shit what you're selling. Just buy that. Put it in your heads. But get this, nobody cares. Do you care what company has something to sell you? Like do you honestly care? When you see an advertisement, do you care? See, Steve Jobs was amazing at this. There was a recent article that I read. He understood this better than anybody. Nobody gives a crap. What we give a crap is what are you gonna do for me? I love your vision for the product that you're creating, Shell. I think it's great and I think that needs to be one of your products. You have to now convince the other person why they should care. Okay? That's the uphill battle that we face when it comes to sales, but guess what? The battles won if you understand that from the top. Because understanding that from the top, you no longer need to sell them anything. You need to find out what they want. Great! Okay, what do they want? So here's the issue with sales is when did each of you start learning sales? Because I guarantee all of you started learning it. When did you start learning it? As a child. Yeah, as a kid. As a kid you were selling to your parents, right? When you couldn't sell to one, you sold to another. You had some line. As a teenager, "I really need that phone, Dad. "I'll be able to call you more. "You can stay in touch with me." You get your phone. Do they call their parents when they get their phone? I didn't call mine. Could they keep track of me? No, but you sure sold them really well. Now this is the issues, we started learning this technique of sales, we started learning sales a long, long time ago, and this is another one of my favorite quotes that, "Practice doesn't make perfect. "Perfect practice makes perfect." Because we are really, really good. In fact, all of us are expertly trained at being bad salespeople. Because when you sold to your parents, you sold what you wanted, and our concept of sales is based on what I want. You go into each of these meetings thinking, Aaron, you think, "I want a book. "I want to make that..." It goes back to our childhoods of convincing somebody else to do what I want, and that's not what the process is, or what it should be. So I'm gonna start with this, sales fundamental number one, you are your worst enemy. Everything that you've learned, everything, you are your worst enemy. Now we're gonna do a little game here. I want you guys to write down one of these numbers on a piece of paper and I want you to think to your work, the quality that you do as an artist. As an artist, what are you worth? Write it down. You don't have to tell me; just write it down. And I hope you pick something that is high. I hope you pick a number that represents you. Pick it. We're gonna discuss that a little bit later. Back to you. So, your bias, your experience, your history, your expectations, your sensitivities, your beliefs all of these things are what you take into your sales meetings, right? When you say out loud, "I don't know if a client would pay that." It's not your client speaking, that's you speaking. When you say, "I'm afraid that they're gonna walk." All of the things that you are afraid about, that is you. Your biases in terms of like well, "Is that the right thing to do? "Should I be? "Should I?" If a client comes in, and says, "I want this." and you're like "That's great. "I would recommend this package. "This has everything you need. "It's a little bit less expensive." Who are you to tell them what they need, or what they want? And yet we down sell them, constantly. That's too much. I don't want them to pay that much. No, that's you. I'm not saying to charge people money that's beyond the value of your service. We've talked about this the entire time, how your value needs to be contained within your price point. Your value should be just above what you're actually charging. I'm saying that we need to forget yourself, because this sales process has nothing to do with you. The way that you've learned it, growing up, it's wrong. You guys ready to do that? Ready to kind of push forward into a different way of thinking about sales?
Class Materials
How to Launch a Photography Business Workbook
Experience Pricing Example
Ratings and Reviews
This class and materials are to the point and eye-opening on the business side of photography. Pye Jirsa is an amazing and fun teacher as well! Most photographers need more business classes offered to bring us who love to create art back to reality for a more successful business that makes a living on it's own. This course will definately get you started in the right direction and so cheap too! Great investment! armstrong outdoor tv case outdoortvcase Pye Jirsa is one of the best instructors that I have the pleasure to learn from. He and his team have given me so much more than they'll ever realize. Knowledge, wisdom, training, friendship, mentoring, inspiration, joy... I cannot thank Pye enough for changing my life for the better. I owe them more than they'll ever realize. Thank you, Pye Jirsa!!!
This class has been an eye opener for me; a point of change in my vision as photographer. Pye is and AMAZING, INSPIRING, GENEROUS instructor, with an, authentic desire to help people and to share with them the best of his knowledge. I will not have enough words to say thanks to Pye Jirsa, as a teacher and as a human being, and thanks to Creative Live who allows us to benefit from the experience of such a knowledgeable, educated, well-versed photographer and instructor. 1000% recommended!
Been following this guy forever. Pye Jirsa may be well known in the wedding & portrait photography world and if there is something that this guy knows it is how to create a business, a sustainable one. The workbook he provided is comprehensive, and I honestly wish I had this when I first started out as a photographer! I love that he talks about his failures, keeping it real and honest for anyone starting out. He is definitely one of the best instructors around, super humble, down to earth and with a sense of humor to boot. The course is worth it! THE WORKBOOK is AMAZING! SUPER DETAILED!
Student Work