Find Your Passion
Pye Jirsa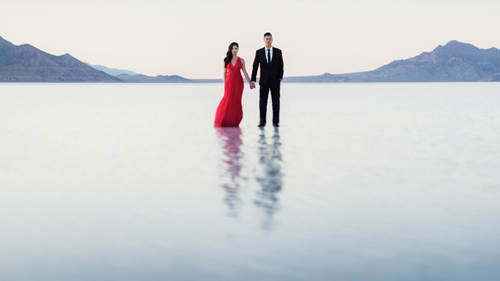 Find Your Passion
Pye Jirsa
Lesson Info
4. Find Your Passion
The reality of working as a photographer, Pye says, is that 10 percent of your time will be spent taking pictures -- and 90 percent will be running the business. Pye redefines the passion that you need for business.
Summary
(Generated from Transcript)
The topic of the lesson is about finding passion in a photography business and setting realistic expectations about what it entails.
Q&A:
What is the reality of starting a photography business?

The reality is that only 10% of the time will be spent taking pictures, while the remaining 90% will be spent on other aspects of the business.

Why does the instructor not like the word "passion"?

The instructor does not like the word "passion" because it is often thrown around without considering the actual process and hard work involved.

What should passion be focused on in the photography business?

Passion should be focused on the 90% of the business that involves creating systems, frameworks, and implementing them into a successful business.

How can someone find their passion in the photography business?

It may take time and experimentation to discover what aspect of the business one is truly passionate about.

Is it necessary for passion to be solely related to photography?

No, passion can be about any aspect of the business or even something unrelated to photography, as long as it drives and motivates the individual.
Lesson Info
Find Your Passion
You ask anyone what we do? Ha, I take pictures and fly around the world, and I'm always at islands that always have exactly two palm trees. They are really small. I would really love to, no, for like five minutes. That would suck if you were stuck there. And I take pictures of people at parties and have a great, all this stuff. And I get paid $10,000 to do it. That's what people will think. Everybody has that perception of photography. That's great, that's a good feeling to feel like, okay, people think that my job is really cool. Here's the closer reality of what we do as a business. This is all to set the expectation of the reality. The reality is that 10% of your time is going to be taking pictures. 90% is going to be everything else that we're going to be talking about, okay? That's not to depress you. I hope anybody online, any of you here, it's not to say, honestly this should be encouraging because if 10% of your job is taking great pictures, isn't that a relief a little bit whe...
n you're starting out in this industry and you're comparing yourself? If only 10% of being successful is that part of it, don't you kind of settle a little bit and say, "I can ease into that". I would. Passion is becoming a four-letter word for me. I don't like it. And the reason is because of the way it's thrown around. You need passion for the process not just the camera. If your gonna say passion, say it this way, okay? Because people keep saying, "What are you passionate about?" It's this thing that's getting thrown about, "What do you want to do, what are you passionate about?" Anybody, raise your hands. Give me a passion. Oh now nobody wants to, Kenna. Travel. Yeah, but you're actually making that into a business though. But it's a passion. Okay, let me, I love racing cars. There you go. What do you got? Kayaking. Kayaking, okay, perfect. Grab the mic. You're gonna be my demo for this, you love kayaking. Okay, what if I said to you, "Have you ever thought about being a professional kayaker, you're really good at it? Actually, I have. (laughing) Perfect, this is good, let's play into this. So what do you do for a living right now? Trying to (laughs). Trying to get a business off the ground? Yeah, for photography, yes. And I'm an educator in photography for children as well. Perfect, okay, so kayaking. What if I said, "To become a professional kayaker, you need to sit in your kayak for eight hours a day kayaking." Okay. And then you need to do that for about four years straight, travel around to every single possible river, make sure that you put your family on hold and everything else on hold because you're going to be going around to all these different places, you need to get your butt time, that's your seat time in your kayak. Do you think you might have the same passion for it after four years of doing that or do you think it would become a job? Everyday, yeah, it could be a job. Okay, that's perfect because that's the exact same way I think about racing. I love taking my car to the track and going racing. I have a track car, it's fun, it's set up. And I love putting on my helmet, and I love instructing people. I instruct people on how to high performance driving. It's really fun, but if you told me to sit in the car for eight to twelve hours a day and when I'm not in the car I need to be sitting in a simulator, and when I'm not in a simulator, I need to be studying footage, and when I'm not studying footage, I need to be doing this, and I need to do that for 20 years, from the time I was young all the way up to this point to be able to think about getting a professional job as a racing driver? I'd be like no, I'm sorry. I can't do that. That's passion, that's where passion takes you. If you simply follow down that road. And you'd be doing yourself and your family and everyone around you a disservice by doing it. That's not to say that you shouldn't be passionate. It's to say that we're using the word wrong. You should be passionate for the 90% on the right side. This, this is where you passion should be, not here. My passion, do you guys have any idea what it is? I'll give you a hint. It has nothing to do with photography. Absolutely nothing to do with accounting. I enjoy teaching, it's a byproduct. Photography is a byproduct of what I'm actually passionate about. And it took me years to find it, it took me five years of trying to identify what it was that I actually loved doing. What I loved doing is creating systems. I love creating systems and frameworks. I love standing here and teaching, yes it's great. But what drives me is the fact that I've created a system and a framework for all of you to be able to be successful on your own. I love taking those systems and frameworks and implementing them into a business and helping others to do the same thing. I write books on all that, like, this is what I enjoy. It doesn't matter what the topic is to be honest. I'm writing a book right now that has nothing to do with photography, but it's another system and it's another framework. So that is my passion. Okay, that probably sounds weird. I think I take pretty decent pictures. I'm hoping that's encouraging also because so many times we get thrown that word and we feel a sense of pressure that comes along with that. Passion, what am I passionate about. Oh my goodness, relax.
Class Materials
How to Launch a Photography Business Workbook
Experience Pricing Example
Ratings and Reviews
This class and materials are to the point and eye-opening on the business side of photography. Pye Jirsa is an amazing and fun teacher as well! Most photographers need more business classes offered to bring us who love to create art back to reality for a more successful business that makes a living on it's own. This course will definately get you started in the right direction and so cheap too! Great investment! armstrong outdoor tv case outdoortvcase Pye Jirsa is one of the best instructors that I have the pleasure to learn from. He and his team have given me so much more than they'll ever realize. Knowledge, wisdom, training, friendship, mentoring, inspiration, joy... I cannot thank Pye enough for changing my life for the better. I owe them more than they'll ever realize. Thank you, Pye Jirsa!!!
This class has been an eye opener for me; a point of change in my vision as photographer. Pye is and AMAZING, INSPIRING, GENEROUS instructor, with an, authentic desire to help people and to share with them the best of his knowledge. I will not have enough words to say thanks to Pye Jirsa, as a teacher and as a human being, and thanks to Creative Live who allows us to benefit from the experience of such a knowledgeable, educated, well-versed photographer and instructor. 1000% recommended!
Been following this guy forever. Pye Jirsa may be well known in the wedding & portrait photography world and if there is something that this guy knows it is how to create a business, a sustainable one. The workbook he provided is comprehensive, and I honestly wish I had this when I first started out as a photographer! I love that he talks about his failures, keeping it real and honest for anyone starting out. He is definitely one of the best instructors around, super humble, down to earth and with a sense of humor to boot. The course is worth it! THE WORKBOOK is AMAZING! SUPER DETAILED!
Student Work