Make Instagram Simple
Pye Jirsa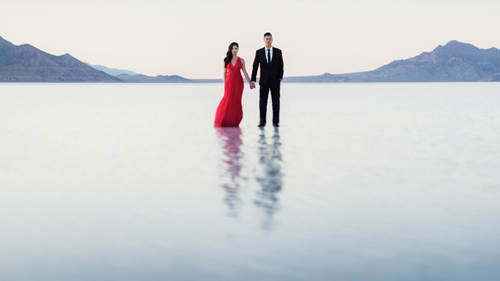 Make Instagram Simple
Pye Jirsa
Lesson Info
44. Make Instagram Simple
Continue working on social media marketing with tactics for using Instagram for your photography business. In this lesson, Pye shares the basics of using Instagram to find potential new clients.
Summary
(Generated from Transcript)
The topic of this lesson is how to make Instagram simple for starting a photography business.
Q&A:
What is the main point to understand about Instagram? The platform is eye candy, meaning that it is all about visually appealing images.
What types of images are suitable for Instagram? Images that have a clear and visible story, are visually interesting as thumbnails, and fit the crop and format of the platform.
How can group portraits be beneficial for Instagram? Group portraits allow you to tag every individual in the photo, increasing engagement and visibility.
How can tagging others in your posts help your Instagram presence? Tagging other vendors, venues, and media outlets can help build relationships, increase views, and potentially lead to features or re-posts.
How often should you post on Instagram? It is recommended to start with one post per week and gradually increase to one post per day as your library of great images grows.
What should you consider about your audience's preferences on Instagram? Most audiences on Instagram are expecting bold and dramatic images, so it is important to understand what your audience resonates with and deliver that type of content.
How can engagement with your audience on Instagram affect your visibility? Engaging with your audience through likes, comments, and replies can help increase the visibility of your images and reach more people.
How does tagging publications on Instagram work? Tagging publications is a way to get your work in front of their eyes and potentially get featured, but it is important to not falsely imply that your work has been published if it hasn't.
Lesson Info
Make Instagram Simple
Let's make Instagram a little bit more simple. Before you go and study best practices and nuances and all that kinda stuff. Because, this is honestly where... how many of us can think of books and courses on how to use Instagram and how to do this and how to do that, and how to effectively do this? There's some basics there, where if you just understand the basics of this platform, you really don't need the best stuff. The best practices, are designed to get you like, an extra 5 or 10 % or a little bit quicker growth and so forth. Okay? The basics are really straight forward. The medium itself, is eye candy. Easy as that. Eye candy. And that means if your taking not so great images there's nothing I could say, there's nothing a single platform, a single book, or any instructor could do for you, to help you be successful on Instagram. Because the platform is eye candy. First that's the first thing that you just have to just understand. That's it. This means that a non-visual story, does...
n't translate. If you have to write out what's happening in an image, it's not for Instagram. That's for something else. That's for maybe Facebook, that's for your blog, that's for something else. But that's not Instagram. Think about the way you consume on Instagram. If you don't see a great image you're just thumbing past everything, right? You're just looking for the next great image. Case in point. This image has one of the most beautiful stories attached to it. In fact we made a video on it. This image, really just a pretty picture in a pretty location. 185, three comments. 735, eight comments. I wrote the beautiful story that went along with this. It was a series of four posts. It was gorgeous, it was fantastic. And it fell on it's face. And then you, you post this, and it's like oh well cool. Okay. So, curate and first select the right imagery. This is the big thing. We know that it's eye candy. We need to pick the right types of images. Let's better understand the medium. The right images. Each platform is gonna have its nuances. Here are Instagram's. You need to think about the image and the subject size. The subject size when it comes to Instagram, the subject needs to be visible from your phone. I used this image for the background on this slide. Right here. That's the perfect example of a bad image for Instagram. It's great when you see it up on a big screen, and you're like man that's cool. It's completely lost on Instagram. Because everybody's looking at their phones, their tablets, their computers from a small screen. It's gone. We have to have something that fits the crop and format because most of the time people are seeing it as the square before they're seeing it full. Which means that, if your subjects are off to the side or anything like that it doesn't really fit the format. And that's a big thing for your vendors. The people that are working with you for styled shoots. The people that are working with you for content that want Instagramical stuff. Instagramical? They want things that are, square croppable. That means they need breathing room on the edges so they can put it on Instagram. We need a clear and visible story. It needs to be visually interesting as a thumbnail. Easy. Zoom out. See if you still like looking at the image when it's small. If you do it's a good candidate for Instagram. It has to be cohesive to the brand and style. Cohesive to the message that you're sending out. And group portraits are awesome for Instagram. Because you get to tag every single person inside of it. If it's a great group portrait, tag every single person. It's good. That's a really good one. That's one of those things that doesn't get mentioned a lot, right? Formals, ew. Group portraits, ew. Here's some examples, of good Instagrammable stuff. But you see, this blown up on a screen you'd be like wow. You saw this image earlier right? This is like, I would probably be more interested in this shot, blown up wide, than this one. But this one did better on the platform. It fits the look better. These are both good examples of visual interest as thumbnails. The subjects here are not so small, that we can't tell what's going on. But you can see which one did a lot better. Now posting at different times of day, posting these like, like oh I'm gonna teach you how to post at this time and do this, and do this to guarantee this, this. Like the algorithm is constantly changing. And there's so many things to show you all that would say it really doesn't matter that much. If you follow the principles of the platform, best practices make a 10 % difference. You put a dog in anything, (audience laughing) with a sign, and it's gonna blow up. 2,000 likes compares to 282. The previous one that you saw with this couple, was from my personal one. This is from the Lin and Jirsa accountant. 10 times, nearly 10 times the amount of, engagement. Look at how many more comments. It's unfortunate. The story's really a lot better over here. I mean the the story is all, my humans are getting married. It's adorable. It is pretty adorable. Okay. Point being? Put dogs in every single photo. (audience chuckling) Lost in the shot. Be gorgeous as a 60 inch wide image but not for the platform. Subjects are smaller, but it's easily identifiable what they are. And that is unusual to see on Instagram. Eye candy. Right? Group shots. I don't care whether you like or dislike it, or you find it tacky or tasteful, whatever it is group shots do well. Example of an editorial group shot. Example of a, just kind of, forced perspective. This is my version of forced perspective. If someone's gonna make me do something that's cliche, I'm gonna say I love it. I'm gonna do it better than anybody else. That was my, shot of a forced perspective shot, of Godzilla bride groom. Okay? This is what we're talkin' about in terms of cropping. It's beautiful wide as a full crop, but it's lost in this. Once you cropped it down, you don't see what's going on you just see an arm coming through. It doesn't fit, the medium. This is a great cropping example, of what fits a square crop. This is a big one that for some reason people leave out, and it's like I don't get it. 'Cause this is one of those big ones that not only gives credit to the people that did work for the shoot, which is great for the networking and building the relationship side, but also gets you more views. So making sure that you credit everyone that was part of the shoot. And what this entails, is not just the bride groom and maybe the coordinator, it includes the dress designer. You know Miss Hayley Paige has hundreds of thousands of followers? And I've been re-featured by her, I think like 15 times. By just tagging her. And she'll re-post it. I don't even know her. But, I actually reached out, and said I have a shoot coming up, I'd love to use one of your dresses. She got a multi million dollar company, selling her dresses. And she's like yeah I'll get you one. Okay. Cool. I mean it's probably her people saying that. I don't think it's her herself. But we can get 'em. I've never met them. The florist, entertainment. Nothing about this picture is entertainment. But that was the entertainment for the night. Lighting, videographer. Yeah we offer cinema too, but, we're gonna credit the people that were involved in the shoot. They didn't use our cinema team they used them. And we have no qualms of tagging somebody else even if they offer a product that we do. Tag relevant media outlets and chains. This is to show you kind of examples, again, you can refer back to these slides, as examples of what to do here. Okay? This is showing how one of these images, gets re-posted and re-tagged, 33,873 likes, from other accountants. 558, 5,765. This isn't our accountant. This is gonna be a tricky thing. Because weddings have this in a little more abundance, then let's say new born photography. New born photography, it's difficult to find, outlets, magazines, other things that want to publish or that are wide scale like that. It doesn't mean that there aren't. There are a lot of dress designers on the maternity side, like Sew Trendy accessories, that have large followings. You just have to look for them. Look for all the people that helped to do whatever it is that you do. Even if they're indirectly involved. Vendors, venues, and media. Now this is the effect that it can have. This one image, and I know you're like, I could have taken that picture with my iPhone. But you didn't. This one picture, has seen over 900, views between each of the different places that its gone. We've only listed six here 'cause it's, broad. And I don't know how many likes its gotten from all that. But it's been seen multiple times. This, one picture. 6.8 million people. With 170,000 likes. We actually added this one up. Is that nuts? And it would never happen without tagging. So that's the power of the format, that's the power of tagging and getting everybody involved in the process. In case you missed it, details are very very tagable. So, if you're shooting weddings out there, your details in a square croppable format are hugely taggable. To the point where we create an entire course, just on details that get published. Engage, like, reply, follow. This is a small thing on Instagram format where, if you engage with your audience, you post comments, you reply, you like, you do those kind of things, it'll feed your images a little bit more to other people. This is one of those smaller, 10 % type things. Post regularly, start one a week, aim for one a day. So one a week means that at the beginning of your business you're doing those test shoots. Save up the great images. Save them up. Start by posting once a week just to get the party started. When you've got a library of 100 great images and you're keep shooting more, then increase the frequency to one a day. Until your library is busting and you can't post enough by doing one a day. And then maybe you go to two a day. But slowly build it. Don't kind of, blow it all in one swoop just 'cause you're excited about the images. 'Cause if you post 10 images at once, each following image is gonna get served less and less times. If you post it like sequentially. Understand your audiences wants. This has something to do with, I mean this has to do with, people that look at Lin and Jirsa in general, we've attracted the people that like bold dramatic images. And I can can tell you this that, while it's effective for our brides that are looking at our work to see the light and airy stuff, to see the emotional stuff, it's effective from that stand point. Just understand that most of your audience is expecting dramatic. And big and bold. So when you post something that's different from it, it's usually gonna fall. It's gonna kind of fall flat. But it doesn't mean that it didn't get to, the potential clients you wanted them to see. It just means that your audience is not looking for that from you. And they'll come used to looking for a certain thing from you. That's why they follow you to begin with, right? Because they resonate with it. So, that's pretty simple. Then and only then do you study books and nuances. Like after you've got these basics down then go and study stuff. Do you have questions on this? Ooo, yes. It was Matt right? Yeah. All those white images, you had a caption saying the reach. How do you track that? The amount of views that you guys have. So that one (laughs), Shivani my amazing co-host and one of our team members, went and actually counted all the times that it was posted. Oh, very cool. Yeah. So I think she manually went through and like, let me find each one of these. It took her probably like four hours. It was a good amount of time (laughs). I have a question about the media tagging. You listed a number of publications. Were you actually published in those publications to therefore tag? I'm asking because I see a lot of fashion photographers who do their work and then they tag Vogue. And that seems disingenuous. Yeah. Your work is not actually published in Vogue. It seems like they're implying that it is. I usually don't get the sense that they're implying that it's published there. I get the sense that they want to get picked up by it. So, I think that's the, the real goal is to be picked up by them. Most people interpret it as that. It'd be disingenuous if you went online and said featured in Vogue. And in reality, they haven't had anything to do with anything. But, usually you're tagging the publications you want to get featured in. That you want them to see your shots. You want them to say hey this is who I am, take a look. Does that make sense? So, you're fine there. Not a biggie.
Class Materials
How to Launch a Photography Business Workbook
Experience Pricing Example
Ratings and Reviews
This class and materials are to the point and eye-opening on the business side of photography. Pye Jirsa is an amazing and fun teacher as well! Most photographers need more business classes offered to bring us who love to create art back to reality for a more successful business that makes a living on it's own. This course will definately get you started in the right direction and so cheap too! Great investment! armstrong outdoor tv case outdoortvcase Pye Jirsa is one of the best instructors that I have the pleasure to learn from. He and his team have given me so much more than they'll ever realize. Knowledge, wisdom, training, friendship, mentoring, inspiration, joy... I cannot thank Pye enough for changing my life for the better. I owe them more than they'll ever realize. Thank you, Pye Jirsa!!!
This class has been an eye opener for me; a point of change in my vision as photographer. Pye is and AMAZING, INSPIRING, GENEROUS instructor, with an, authentic desire to help people and to share with them the best of his knowledge. I will not have enough words to say thanks to Pye Jirsa, as a teacher and as a human being, and thanks to Creative Live who allows us to benefit from the experience of such a knowledgeable, educated, well-versed photographer and instructor. 1000% recommended!
Been following this guy forever. Pye Jirsa may be well known in the wedding & portrait photography world and if there is something that this guy knows it is how to create a business, a sustainable one. The workbook he provided is comprehensive, and I honestly wish I had this when I first started out as a photographer! I love that he talks about his failures, keeping it real and honest for anyone starting out. He is definitely one of the best instructors around, super humble, down to earth and with a sense of humor to boot. The course is worth it! THE WORKBOOK is AMAZING! SUPER DETAILED!
Student Work