Step 5: Follow Up & Resolve Concerns
Pye Jirsa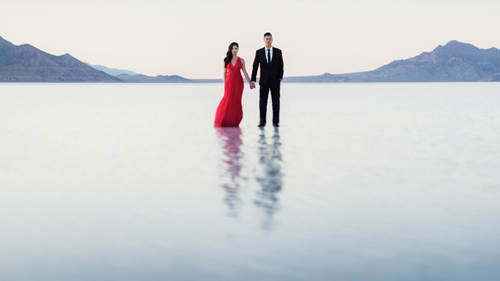 Step 5: Follow Up & Resolve Concerns
Pye Jirsa
Lesson Info
75. Step 5: Follow Up & Resolve Concerns
Build your follow-up process to avoid losing those leads. Here, Pye shares his process for following up after a client conversation.
Summary
(Generated from Transcript)
The topic of this lesson is how to follow up with potential clients and resolve any concerns they may have in order to start a successful photography business.
Q&A:
How important is it to follow up with potential clients?

It is important to follow up with potential clients as people often get busy and need reminders before they are willing to act. Studies suggest that it takes several impressions before a sale is made.

How many times should I follow up with a potential client?

It is recommended to make three phone calls to follow up with a potential client. If they request not to be called back, then only call once. Additionally, a follow-up email should be sent after each phone call.

Can I negotiate the price during the follow-up phone call?

While price may be a concern for potential clients, it is essential to first ensure that the value of your product or service has been clearly communicated. If clients still have concerns about price, it may indicate a disconnect in their understanding of the value you offer.

What should I do if a client is not happy with the price despite all the information provided?

If a client is frugal and still not satisfied with the price, it may be necessary to reevaluate if they are the right fit for your target market. Spending too much effort on clients who cannot afford your services may not be beneficial in the long run.

Is it necessary to mesh well with every client that walks through the door?

It is not necessary to mesh well with every client. It is important to identify your target market early on and focus on attracting clients that align with your vision, mission, and values.
Lesson Info
Step 5: Follow Up & Resolve Concerns
If they have a concern, they're gonna bring it up, and guess what, that's our final step. We're gonna resolve concerns after that, and then we're gonna follow up, okay? That's step number five. If they have a concern with your price, they're gonna say it. If they have a concern with not getting enough hours, they're gonna say it. If they have a concern with wanting more product, they're gonna say it. Just let them speak, let them talk. Bottom line is people get busy. A lot of times, your leads, they didn't disappear. They didn't go somewhere else. They simply got busy. Follow up, remind them. There's studies on how many impressions a brand has to make before a sale is usually made. It always changes, but I remember reading one, it was like seven to nine times. Seven to nine impressions before you're willing to act. I read another one that was like 60 times. I don't know whose numbers are right, but I do know it takes a lot of reminding and a lot of impressions before we actually act an...
d move to do something, okay? So understand that people get busy. You need to follow up, and we're gonna keep it simple. I want three phone calls. That's obviously if they say don't call me back, you're gonna call them once. If they say, we haven't really decided, no problem. Do you guys need anything? No, we're good. Okay, would you mind if I called you back in a week? And then right after that, you send them a quick follow up email and just say, it was great chatting with you guys today. Obviously these should be a little longer calls. When you're following up, you should be engaging, you should be doing the same things, and when you close it out, you send a quick email. It was so great talking with you today. Hey, remember those resources that we created back on the website? Here are three tips, when you guys are thinking of this, and you show a link right there. Three tips too. Let me know if you guys have questions. And then you follow up again, and after three and three, you're done. Move on. Erin. I was just wondering whether to use your follow up phone call as an invitation to bring up things or try to negotiate price again. So, give me an example of this because price is obviously the number one thing that people are gonna have questions about, right? But then the question that I would have for you is if they're still hung up on price, there might be some disconnect between them not valuing the service that you're presenting. Does that make sense? Yeah. So, I wanna first go back to that. Is your product good? Is your service good, is it well thought-out? Is all the things there? If so, did we present it and show them that value? Did we have them go through the steps of cognitive dissonance and agree to what we're presenting them? Did we do all those things before that place? Because we find sometimes we do get that concern on the phone. And you know what I do? I go, you know, our clients spend this much for a reason. Did anybody ever walk you through our wave? And I'll ask them the question. And they'll say, no, they didn't. Let me do that with you now. Because sometimes, our salesperson might have had touch points. It might have gotten handed off a few times, and we never had a chance to actually take them through the process of what we wanna create for them, correct? And then you do that then. And then see where it takes you. If you've planted that seed and they still have a problem with price, they're not valuing what it is that you're offering. Jill. With that, so when you're charging a certain rate for your services and you've done the presentation, how would you deal with a client that is, you know, very frugal, but you laid it out all there for them, and they're still not happy. Has that ever happened? They're very frugal. That would, I would say, go back to qualifying the right people. There's certain people that you can't, you shouldn't be spending 90% of your effort on the 10% that can't really afford you. And that may very well happen early on, but what happens is this. Early on in your business, most of the clients that you're gonna get, they're gonna be the ones that want the $500 and $1000 stuff. We talk to you guys about bringing those early people just to get this thing going, right? Along the way, you end up snagging a $3000 gig, a $2000 gig, the client, along the way, a lead of a lead, like a referral's referral leads to this one person that's willing to spend more. So what we say is 10% of your clients early on are gonna be the kind of clients that you want to get later, put 90% of your effort into the 10%, and getting those people, work those networks, work those people so you can kind of continuously move up. Because you're right, if somebody just wants to spend $100, that's not the right kind of person to be trying to market to over and over. I guess my concern or question is, am I gonna mesh well with each one of my clients that walks through the door? No. You're not gonna mesh well with a lot of your clients that walk through the door. That goes back to your, that's why we had you to the vision, the mission, everything early on and identify who you mesh well with with your target market basically. Who you're going for because I think if I handed over one of my traditional Indian or Jewish brides over to Mike Allebach, my friend, he'd probably do something crazy. Like, he would not want to handle that situation. And likewise, I don't know if I relate and can understand the type of clients that he's going for either. Does that make sense? Yes. But that goes back to those people shouldn't be really walking in your door.
Class Materials
How to Launch a Photography Business Workbook
Experience Pricing Example
Ratings and Reviews
This class and materials are to the point and eye-opening on the business side of photography. Pye Jirsa is an amazing and fun teacher as well! Most photographers need more business classes offered to bring us who love to create art back to reality for a more successful business that makes a living on it's own. This course will definately get you started in the right direction and so cheap too! Great investment! armstrong outdoor tv case outdoortvcase Pye Jirsa is one of the best instructors that I have the pleasure to learn from. He and his team have given me so much more than they'll ever realize. Knowledge, wisdom, training, friendship, mentoring, inspiration, joy... I cannot thank Pye enough for changing my life for the better. I owe them more than they'll ever realize. Thank you, Pye Jirsa!!!
This class has been an eye opener for me; a point of change in my vision as photographer. Pye is and AMAZING, INSPIRING, GENEROUS instructor, with an, authentic desire to help people and to share with them the best of his knowledge. I will not have enough words to say thanks to Pye Jirsa, as a teacher and as a human being, and thanks to Creative Live who allows us to benefit from the experience of such a knowledgeable, educated, well-versed photographer and instructor. 1000% recommended!
Been following this guy forever. Pye Jirsa may be well known in the wedding & portrait photography world and if there is something that this guy knows it is how to create a business, a sustainable one. The workbook he provided is comprehensive, and I honestly wish I had this when I first started out as a photographer! I love that he talks about his failures, keeping it real and honest for anyone starting out. He is definitely one of the best instructors around, super humble, down to earth and with a sense of humor to boot. The course is worth it! THE WORKBOOK is AMAZING! SUPER DETAILED!
Student Work