The Empty Party
Pye Jirsa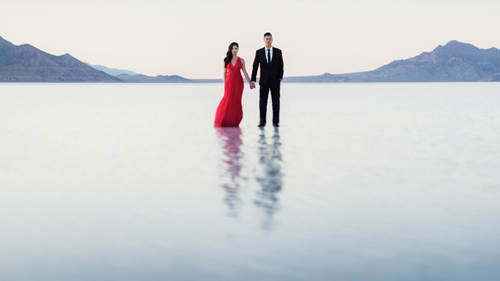 The Empty Party
Pye Jirsa
Lesson Info
39. The Empty Party
Continue developing your grassroots marketing strategy and learn how to get people talking about your business. Use SEO, social media and word of mouth networking to grow your business.
Summary
(Generated from Transcript)
In this lesson, the instructor discusses the importance of creating content and filling your photography business with test shoots and styled shoots. The instructor emphasizes the need to avoid comparing yourself to others and to focus on marketing and networking strategies to build your business. Additionally, the instructor advises against attending non-purposeful unpaid shoots and portfolio building workshops until you are established. Instead, the instructor recommends second shooting or assisting other photographers to gain experience and build your portfolio.
Q&A:
What is the purpose of the "empty party" analogy?

The purpose of the analogy is to illustrate the importance of filling your photography business with content and making it appear busy to attract potential clients.

What is the difference between a test shoot and a styled shoot?

A test shoot is a low-pressure shoot where you can experiment and potentially make mistakes without consequences, while a styled shoot is a more formal shoot where you need to deliver high-quality images for vendors involved.

How can you get people talking about your photography business?

You can get people talking through SEO, content marketing, additional networking, and referrals.

Should you attend portfolio building workshops when starting your photography business?

It is advisable to avoid attending portfolio building workshops until you are established because they may not align with your client personas, may not match your own quality of work, and may not provide valuable education beyond giving you a model to shoot.

What opportunities should you look for to gain experience and build your portfolio?

You should consider second shooting or assisting other photographers in the wedding industry or other areas of photography to gain valuable experience and expand your portfolio.
Lesson Info
The Empty Party
So this is the empty party. This is the first goal with network marketing is how do you, well, which one of these places do you want to be? I had a friend who saw this and he was like well the red door is kind of intriguing. I'm wondering what's inside of there. Yeah, no, no thanks. No thanks one friend. I'd rather be here, right. Obviously we want to be at the party that's already crackin'. This is the purpose. You guys have been to a night club or at least seen one, driven by one. They have a line outside, don't they? You get inside the club, there's not that many people. (laughing) You're laughing cause it's true. You get inside and you're like why the F did they make us wait outside for thirty minutes? I don't understand this. That's why. Because you thought it was going to be more crackin' than it actually was but now you're in and you're gonna make, have a good time anyway. This is essentially what we're gonna do with our business. And step one of this process is content. We need...
content. How do you get the content? We need to fill the party or at least make it look full. This is why I tell you all to get off social media cause I'm literally gonna tell you all right now how to make yourselves look busy. How many photographers out there are gonna be doing this or are already doing this? Don't feed into each others bullshiz. This is our marketing. This is what every company, every business does is this type of marking. Don't buy into it ourselves. Understand what we're doing, we're marketing. Don't go and say just because they're posting this and doing this and doing that and doing this, they're so much more successful than I am. And don't go making those comparisons, it's just not true. We're gonna fill the party with test shoots. We're gonna use friends and family and we're gonna target friends and family that fit our client personas. Which means if my client persona is somebody getting married I'm gonna target younger, engaged friends and family. And I'm gonna say hey I'd love to take you guys out on a shoot. Hey I'd love to do something. I'd love to just offer my time, no charge. Just let me bring you out. And we're gonna start doing those test shoots. Style shoots is gonna come 12 weeks into your business or if you're at a place right now a lot of you are so far ahead of where we were when we started in this industry in terms of the quality of product that you're creating right now. Don't get me wrong, if you're creating a great quality product right now. If you're at the car, if you're online, and you're creating a great quality product right now, start styled shoots right now. That's all that matters when it comes to a styled shoot is that you can deliver a good product for the vendors that are gonna be involved in making that product. Okay, but for most people I'm going to say wait 12 weeks or even a little bit later until you're confident that you're delivering a good set of images. Because the vendors that are gonna volunteer their time and we're gonna have a full talk about styled shoots. They're gonna expect something out of it for that time. Yes? Just a quick question, what is the difference between a test shoot and a styled shoot? So a test shoot you can dick up. For lack of better words. (laughing) Right, like a test shoot you can screw up and you're all right. A styled shoot, you mess up and you just did it in front of all your vendors. It doesn't mean that you're not gonna get great images out of the test shoot. That's not what a test shoot, a test shoot simply means that there's no pressure. There's no pressure to deliver. You're shooting for yourself. You're shooting in the hopes that you're going to get great stuff. But if it doesn't happen, worse case scenario, you only have a few images to give your model or your friends. Does that make sense? Purposeful, free, unpaid shoots. That's what we're aiming to do. Okay, this, what we just described fits into this section of our four prong approach. The goal after that is to pack the line. We need to get them talking. So once we fill up the club and get this party going, that's where we need to pack the line. Like lets now get these people expecting when they drive by to see this great experience. We're gonna do that, we're gonna pick these people up. Getting them talking through SEO, content marketing, and additional networking. Referrals, that type of stuff. Okay, so the first piece is immediate, this is the next year of time is gonna be, well this is all gonna be the next year of time, but this is immediate right now. This is future. The problem that all of us get into this with is that we start with the immediate right now, and we forget about how we're gonna bring in leads in the future. You need to divide your time equally between those two. Understand that there's not gonna be a yield right now for the next six months on this side. So this is where we start. Okay? I'm gonna say plan each shoot and opportunity wisely. While time is the asset that you have the most of, it's still a limited resource. So just don't go into each of these things blind. So what we wanna do is, we're gonna avoid non-purposeful unpaid shoots. Wanna avoid portfolio building workshops until you're established because honestly there's not a huge reason to attend a workshop to create images that A, don't fit your personas, that B, don't match the quality of product that you can do on your own, that C, don't really give you any educational value beyond just giving you a model to shoot. Those don't hold much water for your business. Does that make sense? One of these big things, I'm gonna encourage you guys to get out and second shoot or find other people to shoot with. If you're in the wedding industry, it's second shooting or third shooting. If you're outside of that industry, it's holding someones bags or helping them light. So if you are assisting on a boudoir set with a photographer, you are assisting them. You're helping to hold things, you're helping to do things. Same thing with newborns, same thing with maternity, same thing with all these different areas. You're gonna assist. But those are important opportunities to get out and do those things. When you are out from those things, understand that generally the rule is if you take a single photograph on that shoot, whether it's with your iPhone or your camera you do not post it on your own, anything without permission. With permission, fine.
Class Materials
How to Launch a Photography Business Workbook
Experience Pricing Example
Ratings and Reviews
This class and materials are to the point and eye-opening on the business side of photography. Pye Jirsa is an amazing and fun teacher as well! Most photographers need more business classes offered to bring us who love to create art back to reality for a more successful business that makes a living on it's own. This course will definately get you started in the right direction and so cheap too! Great investment! armstrong outdoor tv case outdoortvcase Pye Jirsa is one of the best instructors that I have the pleasure to learn from. He and his team have given me so much more than they'll ever realize. Knowledge, wisdom, training, friendship, mentoring, inspiration, joy... I cannot thank Pye enough for changing my life for the better. I owe them more than they'll ever realize. Thank you, Pye Jirsa!!!
This class has been an eye opener for me; a point of change in my vision as photographer. Pye is and AMAZING, INSPIRING, GENEROUS instructor, with an, authentic desire to help people and to share with them the best of his knowledge. I will not have enough words to say thanks to Pye Jirsa, as a teacher and as a human being, and thanks to Creative Live who allows us to benefit from the experience of such a knowledgeable, educated, well-versed photographer and instructor. 1000% recommended!
Been following this guy forever. Pye Jirsa may be well known in the wedding & portrait photography world and if there is something that this guy knows it is how to create a business, a sustainable one. The workbook he provided is comprehensive, and I honestly wish I had this when I first started out as a photographer! I love that he talks about his failures, keeping it real and honest for anyone starting out. He is definitely one of the best instructors around, super humble, down to earth and with a sense of humor to boot. The course is worth it! THE WORKBOOK is AMAZING! SUPER DETAILED!
Student Work