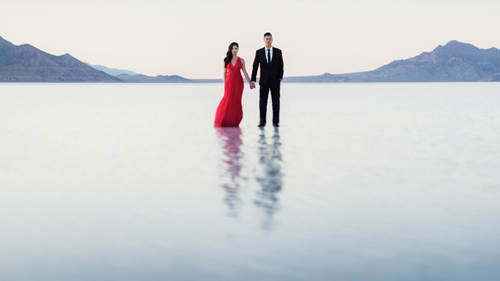 Lesson Info
11. Mind Mapping
Jump into step one for strategy and planning with mind mapping. Use this technique to brainstorm and build ideas using nothing but a sketchpad and a few minutes of time.
Summary
(Generated from Transcript)
The lesson is about mind mapping and how it can be used to organize ideas and plan for starting a photography business. Mind mapping is a process of visually organizing thoughts and ideas around a central topic, using keywords and branches. It is recommended to use a sketchpad for mind mapping, as it allows for a more free-flowing process compared to using software. The instructor encourages students to mind map for various purposes, such as writing a book or creating a business plan. Mind mapping helps in generating ideas, organizing thoughts, and eventually formulating a strategy and plan for the business. The lesson also includes examples of mind maps for different chapters and aspects of a photography business.
Q&A:
What is mind mapping?

Mind mapping is a process of visually organizing thoughts and ideas around a central topic using keywords and branches.

Why is it recommended to use a sketchpad for mind mapping?

Using a sketchpad allows for a more free-flowing process and does not interrupt the flow of ideas by thinking about software interactions.

How long should a mind mapping session be?

A mind mapping session should be around 10 minutes, focused on a specific central idea.

What are the benefits of mind mapping?

Mind mapping helps generate ideas, organize thoughts, and formulate a strategy and plan for a specific project or goal.

Can mind mapping be used for other purposes besides starting a photography business?

Yes, mind mapping can be used for various purposes such as writing a book, creating a business plan, or setting goals.
Lesson Info
Mind Mapping
So we're gonna figure out what it is that we want to do. But first, this is the fun part. I'm gonna show you guys mind mapping. This is Gizmo. He's like my nephew. I'm like his godfather. Justin's dog, who I take care of a lot. Both their dogs. Puppies make every slide better, right? (audience laughing) Totally. Totally. I'm gonna put him on every slide. This is my mind mapping journal. I actually brought it just to show you guys. I want each of you. Oh I should have put up an affiliate link for a sketchpad. I want each of you guys to go out and to buy a sketchpad. It can be anything. Just a $5 sketchpad. Make sure it's large enough size. Like small ones don't really work that well. This is my mind mapping journal. I'm gonna show you guys how mind mapping works. Anybody here heard of mind mapping before? Perfect, perfect. So how many of you do it regularly? Slightly less hands. I want you guys to do it every time you have a new idea. It doesn't matter whether you want to write a bo...
ok, whether you want to start a business, when you're competing on you know, what product do I want to make? It doesn't matter. Do a mind map each time. So my journal is filled with all sorts of these things. And I give you guys, you'll see the next slide. Well, we'll get to it in a second. I give you an example slide that'll actually detail this out so you have an example of what it looks like. But let's go through what this process is. And I'm hoping that you guys use this frequently enough that you're filling out these journals. That's about a month worth of mind mapping. I'll go through a full journal, a full sketchpad every two months, okay. So do it a lot. It's a great activity. The reason why I encourage this on a sketchpad is the way that you're gonna think and map things out works better when you're not thinking about how a software interacts. Okay, when you're thinking about oh what was that shape on this software, it interrupts your flow. What your mind map is supposed to be is I want you guys to set a 10 minute timer. Whenever you're mind mapping it shouldn't be a long period of time. This isn't brain storming to think of like every single possible idea. What this is is you set a 10 minute timer and you start with a central idea. And that central idea can be something, anything. It could be, let's say choosing a focus for photography because that's kind of the subject that we're on, right. So you're gonna put focus in this little box right here. And then you're gonna map out well what if I did weddings. Okay, give it a circle and tie it. And then start putting down what you think shooting weddings would be like. Well I'd probably have some good brides. I'd have some bad brides. Long hours. Travel. And keep tying it back to the central idea. And then you're gonna go well what if I did newborns? Newborn. Now the way that I can flow through this process is very different on paper versus as you can imagine through an application. There's mind mapping software out there. I just don't find them to be useful. And they're also expensive. So this is, oh my goodness patience. Working with a newborn every single. That requires a lot of patience. Parents that are very protective. Careful, like I have to be like safety is such a big thing. Okay, my target is moms. And you can kind of without even doing any research on these subjects, you can put together a pretty clear picture on all of these different arenas and what to expect within them right. So from there you can say well I kind of like weddings or I kind of like newborn. Now I'm gonna go and do a little more research on it. But you can put all of your ideas down on a piece of paper. I'll do this with goals. I'll do this with business plans. I'll do this with books. I have like 15 mind maps just for this course, one for each chapter. So every single chapter starts the same way in this course. I think there are some examples in there for you guys. But every one of 'em is gonna start. So I have a chapter on strategy. Okay, and I sat there and went what do I want to include in strategy? Oh I want to do porters. I want to do branding. I want to do all these different things. And I would tie them all back to this and I would branch off on each one. So in 10 minutes, I have an entire chapter written down. And now all I have to do is organize my thoughts. Does that make sense? I'm hoping that you guys do this for literally anything you guys take on. It should work for, well for me it works for almost anything. So it's one of those like exercises that it's very simple. Some of us learned it but we don't quite understand the power of it. But our central idea goes to the branches. We use simple keywords. You can add colors and shapes if you want. I keep mine pretty simple. I used to put shapes and make it all doodlie. But again, I don't like thinking anymore. I like it to be free flowing. And to do that, it's just simply getting the ideas down. Cool? This one thing, if you start doing this now, all of you guys online. If you guys start doing mind mapping with everything that you do, spend 10 minutes and set your timer, it'll change the rest of your life. It's simple, but it works so incredibly well. So this is to give you ideas. So the 12 week business plan, this is what the mind map basically looked for that. Photography as a business, this is what the mind map looks for that. Expectations, aspirations. So this is every one of these chapters laid out for you so you can see. And this one I am kind of, I went through marketing. And then I went through and gave them numbers to see which one is like kind of a priority if I'm just starting a business. So I'm hoping you guys can see from this journal that basically, well and my phone number's right below that. I didn't want to you know. I love you all but I didn't want everybody calling me all the time. Okay. So mind map your strategy and plans. This is where I want you to pause and mind map what your strategy is, yes. Then do you take the mind map and convert that to an actual schedule? Is that what you do? We're gonna get there. Okay. And this is actually a little bit of a trick question. Because I'm hoping that if I said right now, all right mind map your strategy and plans, I'm hoping that you guys go, what? How? 'Cause we haven't gotten there yet. But you can't. So you can't yet. That will eventually become basically an analysis for the business. And then it's eventually gonna become a plan that is gonna get to it. But the mind map is like the beginnings of formulating the strategy which is your central topic. The plan is gonna go around it. And then you're gonna basically formulate that into an organized, cohesive series of information.
Class Materials
How to Launch a Photography Business Workbook
Experience Pricing Example
Ratings and Reviews
This class and materials are to the point and eye-opening on the business side of photography. Pye Jirsa is an amazing and fun teacher as well! Most photographers need more business classes offered to bring us who love to create art back to reality for a more successful business that makes a living on it's own. This course will definately get you started in the right direction and so cheap too! Great investment! armstrong outdoor tv case outdoortvcase Pye Jirsa is one of the best instructors that I have the pleasure to learn from. He and his team have given me so much more than they'll ever realize. Knowledge, wisdom, training, friendship, mentoring, inspiration, joy... I cannot thank Pye enough for changing my life for the better. I owe them more than they'll ever realize. Thank you, Pye Jirsa!!!
This class has been an eye opener for me; a point of change in my vision as photographer. Pye is and AMAZING, INSPIRING, GENEROUS instructor, with an, authentic desire to help people and to share with them the best of his knowledge. I will not have enough words to say thanks to Pye Jirsa, as a teacher and as a human being, and thanks to Creative Live who allows us to benefit from the experience of such a knowledgeable, educated, well-versed photographer and instructor. 1000% recommended!
Been following this guy forever. Pye Jirsa may be well known in the wedding & portrait photography world and if there is something that this guy knows it is how to create a business, a sustainable one. The workbook he provided is comprehensive, and I honestly wish I had this when I first started out as a photographer! I love that he talks about his failures, keeping it real and honest for anyone starting out. He is definitely one of the best instructors around, super humble, down to earth and with a sense of humor to boot. The course is worth it! THE WORKBOOK is AMAZING! SUPER DETAILED!
Student Work