Your Automated Pinterest Plan
Pye Jirsa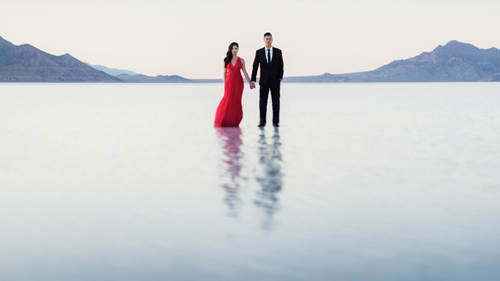 Your Automated Pinterest Plan
Pye Jirsa
Lesson Info
45. Your Automated Pinterest Plan
Most brides use Pinterest more than any other platform to engage with vendors -- and the platform is important to other genres like family photography and newborn portraits too. Tackle Pinterest and learn to make your clients work for you by adding a simple plug-in to your site.
Summary
(Generated from Transcript)
The topic of this lesson is how to start a photography business and use Pinterest as an automated marketing tool.
Q&A:
Why is Pinterest a valuable platform for photographers?

Pinterest is a valuable platform because 68% of brides use it to engage with their vendors, making it a great way to showcase your work and attract potential clients.

How can photographers use a Pinterest image plugin on their website?

Photographers can install a Pinterest image plugin on their website so that when visitors hover over an image, a Pinterest icon appears and allows them to easily pin the image to their Pinterest boards.

How can photographers leverage their clients to promote their work on Pinterest?

Photographers can request their clients to create a mood board by pinning 10-20 images from the photographer's website that resonate with them. This turns clients into marketing mouthpieces and helps the photographer understand their clients' style preferences.

Should photographers include watermarks or logos on their images posted on Pinterest?

It is recommended to include watermarks or logos on images posted on Pinterest to protect them from being used without permission. However, the size and placement of the watermark should be easy to crop off if necessary.

How can photographers use mood boards to understand their clients' preferences?

Mood boards help photographers understand the style and aesthetic preferences of their clients. However, they may not necessarily reveal the specific images that hold the most value to the client. To learn that, photographers can have a pre-shoot talk-through with their clients to discuss their preferences and what they value the most in their photographs.

How can photographers benefit from clients pinning their images on Pinterest?

When clients pin a photographer's images on Pinterest, it increases the photographer's exposure and can lead to potential clients discovering their work. It also serves as a form of validation and social proof.

How can photographers handle situations where other photographers' clients pin their images?

In situations where other photographers' clients pin your images, it can be seen as a positive thing as it shows the value and appeal of your work. Photographers can embrace this and even share the location details of the image to further engage with potential clients.
Lesson Info
Your Automated Pinterest Plan
Your automated Pinterest plan. Bust out your pens and pencils, notepads. This in and of itself, as if everything else wasn't worth the price of admission, this in and of itself is worth the price of admission to this class, because Pinterest is gonna be that source, remember based on, well, for brides specifically, 68% of them are using the platform to engage with their vendors. You can pretty much bet that if I wanna do a family shoot, if I wanna do a newborn shoot, if I wanna do any type of shoot as a client, I'm gonna go, ooh, I wanna see what everybody else has done. Not, from the girls' side. Guys, any guys here use Pinterest, like, just personally? All right, you guys are weird. (audience laughs) That's just odd. I'm just kidding. I like Pinterest, too. But we're generally gonna be looking towards the brides, the girls that are gonna be on the Pinterest side, because most guys are not the ones that are gonna be look for mood boards and inspiration and that kinda stuff. Although i...
f they were smart, they would, let's be honest. So Pinterest is where... Seriously, a camel? Chris did this shoot in Dubai recently. I'm kinda jealous. Okay, we're gonna put our clients to work for us, and this is gonna work for every single one of your businesses. The way that we're gonna do this is you can grab a little plug-in for your site. You can search it. Pinterest image plug-in. There's plenty of them out there. And we're gonna have that plug-in available on the blog where when you mouse over an image, so here's how my image looks normally. When you bring the mouse over it, you see this little widdle guy? This widdle guy right there. Is gonna bring up the Pinterest icon. So if they click it, it'll automatically take that image over to Pinterest. Now, that by itself is gonna do nothing for you. What you're gonna do is request every one of your clients to put together a mood board, okay? Now, what that means is you're gonna tell each of your clients, I want you to put together a mood board of my newborn work. I want you to pin the 10 to 20 images from my website that resonate with you most. You see that little link when you mouse over? Just click Pinterest. You already have a Pinterest account, don't you? Yeah, I know, I love Pinterest. Great. Pin the image that you like from my site. Pick 10 to 20. You're nodding you're head 'cause you're like... It's genius. Oh my goodness. Now we've just killed lots of birds with one stone. We've understood our client's style in terms of what they're looking for. We've now just had each of our clients become a marketing mouth for us because they just pinned 10 to 20 of our own images, and you know what you do to kind of, like, make it seem like it's not as promotional? You could always say pick 10 images from my site and 10 images from someone else's. Other places, blogs, magazines. Now, I like doing that because it also keeps me on my toes. So from my standpoint, seeing what resonates with my brides is huge, because it might not be stuff that I'm already creating. So you go 10 and 10. And now every person that comes in the door, do you think I do this with test shoots? Oh hell yeah. (audience laughs) I'll do it with my test shoots. Anytime I get my family members, my friends, whoever I am gonna take a picture of, I'm gonna make 'em pick at least 10 images from my blog, post it, and guess what? We're gonna have a discussion about the mood board. So we schedule a call, and I say we're gonna sit down, we're gonna review that mood board on a call. So that way they have a deadline and a time that we're gonna actually talk about it. I don't wanna call out any clients and post any of those mood boards, so here's ours. We have 30,000 followers. We have not lifted a single bit of effort in this. It's just organic followers. And the beauty about it is this has nothing to do with photographers. The 30,000 people that are following us are our clients and their networks. At least the significant majority of them are. From there you can always go along and you can create other boards. Like, if you wanna put boards together for other things that we've been talking about, you can do that. But this one thing completely automates your entire Pinterest plan. So before you mentioned that you don't include a watermark or a logo on your own website. But for, if you went back a couple slides, on the blog post, there were some watermarks and logos on the Pinterest ones. So do you recommend, especially if you're post, they're getting posted to Pinterest, to have your logo on there? Correct. So we talked about, in the previous segments, your portfolio does not need watermarks. Your blog does. 'Cause remember we mentioned when people are on your blog, they're generally grabbing stuff. Okay. When they're in a place where they're grabbing stuff and saving images and things like that, we generally wanna keep them watermarked. But you can see the sizes that we go with. Is it easy to crop off if they wanted to? Yeah. Okay. So we'll review this during the pre-shoot talk-through. So we'll schedule that before every single shoot. We'll discuss style, what we're trying to accomplish. We're gonna do the W.A.V.E., which is something we're gonna do in the sales process. That's a big part of this. Because a mood board is gonna help set us up for style. It doesn't help set us up for what's most important to the client. And here's the thing that I have to say about that. Like, if you're putting together a mood board for any area. Name an area of photography. What area? Food. Great. The one area that... Okay, so any area where you might potentially hang a photograph on your wall. Newborn. Newborn, okay. 'Cause generally people would take a picture of food and you're not gonna put it up on the wall of your home. Okay, so let's say newborn. They might put together, like, a Pinterest mood board of all sort of things. They're gonna have close-up shots of fingers. They're gonna have stylistic shots, close-up shots of maybe the props, all that kinda stuff. But do you know which one of those images they would actually print? Do you know which one of those images actually holds the most value to them? Between all the different shots of mom and dad holding the baby, the baby by themselves, which one holds the most value? That's what I'm getting at that a mood board doesn't. So the mood board dictates the tone and the style. It has nothing to do with what that person actually values. You would pin a dress and flowers, but would you hang up a dress shot on the wall of your home? Most of us probably wouldn't unless you just really, really, really love that dress. Not a solo shot, at least. Same thing with your flowers. You might really love your bouquet, but would you print and frame the bouquet by itself and hang it on the wall of the home? So what we need to get at is we need to get at the images they most value on top of the style. Think of the mood boards, Pinterest, as the style. Oh yeah, and hashtag #winning. When your photographer friends complain that your client, their clients are pinning all of your own images. I love this. My friends and our studio people, they'll be like, dude, one of your shots just got pinned again to my mood board and they really want it. Where was it? I always share locations and stuff like that, too. We'll tell them where.
Class Materials
How to Launch a Photography Business Workbook
Experience Pricing Example
Ratings and Reviews
This class and materials are to the point and eye-opening on the business side of photography. Pye Jirsa is an amazing and fun teacher as well! Most photographers need more business classes offered to bring us who love to create art back to reality for a more successful business that makes a living on it's own. This course will definately get you started in the right direction and so cheap too! Great investment! armstrong outdoor tv case outdoortvcase Pye Jirsa is one of the best instructors that I have the pleasure to learn from. He and his team have given me so much more than they'll ever realize. Knowledge, wisdom, training, friendship, mentoring, inspiration, joy... I cannot thank Pye enough for changing my life for the better. I owe them more than they'll ever realize. Thank you, Pye Jirsa!!!
This class has been an eye opener for me; a point of change in my vision as photographer. Pye is and AMAZING, INSPIRING, GENEROUS instructor, with an, authentic desire to help people and to share with them the best of his knowledge. I will not have enough words to say thanks to Pye Jirsa, as a teacher and as a human being, and thanks to Creative Live who allows us to benefit from the experience of such a knowledgeable, educated, well-versed photographer and instructor. 1000% recommended!
Been following this guy forever. Pye Jirsa may be well known in the wedding & portrait photography world and if there is something that this guy knows it is how to create a business, a sustainable one. The workbook he provided is comprehensive, and I honestly wish I had this when I first started out as a photographer! I love that he talks about his failures, keeping it real and honest for anyone starting out. He is definitely one of the best instructors around, super humble, down to earth and with a sense of humor to boot. The course is worth it! THE WORKBOOK is AMAZING! SUPER DETAILED!
Student Work