Second Shooting Etiquette
Pye Jirsa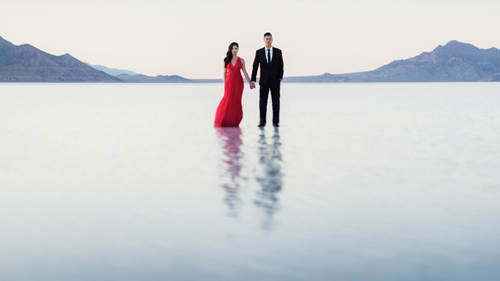 Second Shooting Etiquette
Pye Jirsa
Lesson Info
42. Second Shooting Etiquette
Working as a second shooter is a great way to get your feet wet. Create more opportunities from second shooting by treating the task with proper etiquette.
Summary
(Generated from Transcript)
The lesson is about second shooting etiquette for starting a photography business, emphasizing the importance of networking, building relationships with mentors, and maintaining professionalism and respect in the industry. Q&A:
What is the purpose of the workbook mentioned in the lesson?

The workbook is designed to help identify direct competitors who are respected and can potentially become mentors or networking contacts.

How should one approach reaching out to potential mentors or photographers to assist?

It is advised to send out emails on a weekly basis expressing interest in assisting or second shooting, understanding that rejection is normal and that persistence is key to building relationships.

Can you give an example of a successful photography mentor mentioned in the lesson?

John Solano, a successful photographer in the wedding industry who specializes in Jewish weddings and celebrity events, was mentioned as a mentor who was approached persistently and eventually agreed to bring the speaker out for shoots and provide valuable learning experiences.

What is the importance of second shooting or assisting other photographers?

Second shooting or assisting allows for gaining experience, building relationships, and learning from established professionals in the industry.

What are some actions that can instantly ruin a professional relationship with a mentor or photographer?

Actions such as being late, poorly dressed, unprepared, having bad communication skills, talking too much, having a poor attitude, shooting for oneself instead of focusing on the client, using imagery without permission, marketing one's own studio work, and consuming alcohol on the job can damage professional relationships.
Lesson Info
Second Shooting Etiquette
How many of you, like, are considering weddings and second shootings? I want to go over some brief bit of second shooting ettiquette. A few of you? Good. I assume a quite a few of you at home will be. There's a workbook which is zero seven mentor. That workbook is for you to identify people that are basically your direct competitors. But they're people that you respect. People that you look up to. People that you want to earn a mentorship with. People that you want to network with. List them out in this document. Because part of the roadmap is actually reaching out to them on a weekly basis, and asking them "can I come and assist?" "Can I come and do something?" "I'd love to get to know you." And you're gonna do it. And guess what's gonna happen? You're gonna send out 20 emails and nobody's going to respond. Until your 21st, and then someone's going to say, "Come on out, I'd love to meet you." It's exactly what happened to us. And it happens to every single person that reaches out to u...
s. Like, it's constant, don't be worried about being rejected. It's gonna to happen, you're gonna get rejected by most, it doesn't matter, you just need the one to start creating relationships. Let me tell you about my one. I don't know if anybody's heard of John Solano. But John is one of the most successful photographers in the wedding industry that you will probably never really hear about. But he shoots most of the major Jewish weddings, celebrity weddings, everything in Hollywood, and in the Beverly Hills area. Now, he's so good at what he does, that he's really given up speaking opportunities, teaching... He's like "I just don't, I don't have the time for it, "and I'm not, that's not really my thing." So he's focused on just his business. And he is more successful than almost anybody I know in this arena. And I reached out to him for four months when we were getting started. When I went to WPPI that very first time, remember back in that story when I went to WPPI in the beginning? I saw John speak at a lecture, one of the few that he gave. And I went, "I really resonate with you. "I really appreciate what you said up there. "You're very real, you're down to earth. "And it's incredible to see because I've seen so many "photographers who get so in their heads about what they do "and their mentalities and everything. "You're so approachable, yet of all of them, "you're probably the most successful one. "I would love to just come and carry your bags." And I made no, like, I didn't lie to John at all. Every time I'd reach out to him I'd say, "John, it's been a few weeks, how've you been? "I'd love to come out and hold your bags. "We're starting up a studio down here and I'd love to just, "it would be amazing if you were our mentor or anything. "If I could second shoot for you, if I could, "I know it's probably like a big ask." Five months later, John reached out back to me. He said, "You're gonna keep emailing me if I don't, like, let you come out." and I'm like "yeah, I will, unless you tell me no. "If you tell me no, I'm not gonna stalk you anymore, "but otherwise, I know your house address, "I know your phone number, I that you have three kids". No, he doesn't have three... I knew a lot about John. And he finally brought be out, he's like, "let's just do lunch, and see if you're normal". That's literally what he said. "Let's just do lunch and see if you're normal". So I drove up and we did lunch. And he was like, "you know what? "I'm gonna bring you out." He goes, and I quote, this is John: "Most photographers think they need photography school. "What they really need is charm school." And I'm like "I'm gonna use that at some point in my career. "Is that okay with you?" He's like, "yeah, just credit me every time you say it". Okay. He's the guy that said photographers need charm school more than they need any sort of technique. He brought me out for seven different shoots, holding bags, third shooting. I wasn't yet qualified to second shoot. And he knew full on that me, Justin, and Chris were starting up something. He helped us anyway. There are people like this, we are like this. There are tons of people in your industry and your area that are like this, you just have to find them. And you think you're training a competitor, and what you're actually doing is you're making an ally. Somebody that's gonna be your friend and promote you because, well, they owe it to you. In every lecture, and every place, when John came out with a light, I was the first one that said, "let me try a light, oh John, I love this light, "let me help you to sell it. "let me help you to create education around this light." It was a good light, it was the GL One. You guys ever heard of the little GL One? I don't know how much they sell anymore. But for several years, this was a fantastic light. Mike Kelley uses the light. So, we find ways of returning the favors. But I learned more from John in those six, seven shoots than I could have imagined. Like, it was the most worthwhile use of my time. And for that, all of us are forever grateful. That's what you'd be giving up by not doing this. Is a fast track, an easy, "let me get some experience." And, you know what? A lot of people come to us and they do the same thing with us, and we usually say, "we'd like to get a commitment out of you. "Like, if you want to come do it, then come do it. "But give us two years. "Give us two years, see if you like it." And we'll have people come as an assistant. Three months later, they're third shooting, six months later, they're second shooting. And they're like, "you know what, I've got a career here, "I'm good, I love this, I don't have to "do the business side." There are some many routes that you can take down this road, but create those allies. That's your sheet for that. Be sure to follow it on the roadmap and reach out. Now, once you have that opportunity, don't burn the bridge. And these are things that'll burn the bridge instantly. Late, poorly dressed, or unprepared. I had somebody show up to a wedding dressed like a lumberjack! I kid you not! Jeans, boots, and a red flannel. And I was like, "you can't go in like that, I'm sorry". Bad communication, service and skills. Talking too much. This is one of the big things. Like, it's not your shoot, you're not the show. You're there to assist, you're there to stop talking. Poor attitude, shooting for yourself. Not shooting to make a better product for the client, or for the person who's giving you this chance, but shooting for yourself instead. Using imagery without permission, marketing your studio... This is funny because this is all stuff, I'm literally listing out everything that has happened to us. Marketing your studio work.. I kid you not, I had two that I can think of, who pulled out their own business card, in front of me, and handed it to the coordinator. I'm this person, this is my studio. Oh, I don't work for him, I'm just here to help. It blows my mind, and that's why I have it in here, because this is like, okay... Yeah, (laughs) look at the expression! (laughs) I love it. All this is like, "what?" Alcohol on the job, yeah that's happened, multiple times. Okay, these are your peers, these are the people that you're gonna rely on for your career. And they're also gonna be one of your greatest assets. Be there for them, learn from them.
Class Materials
How to Launch a Photography Business Workbook
Experience Pricing Example
Ratings and Reviews
This class and materials are to the point and eye-opening on the business side of photography. Pye Jirsa is an amazing and fun teacher as well! Most photographers need more business classes offered to bring us who love to create art back to reality for a more successful business that makes a living on it's own. This course will definately get you started in the right direction and so cheap too! Great investment! armstrong outdoor tv case outdoortvcase Pye Jirsa is one of the best instructors that I have the pleasure to learn from. He and his team have given me so much more than they'll ever realize. Knowledge, wisdom, training, friendship, mentoring, inspiration, joy... I cannot thank Pye enough for changing my life for the better. I owe them more than they'll ever realize. Thank you, Pye Jirsa!!!
This class has been an eye opener for me; a point of change in my vision as photographer. Pye is and AMAZING, INSPIRING, GENEROUS instructor, with an, authentic desire to help people and to share with them the best of his knowledge. I will not have enough words to say thanks to Pye Jirsa, as a teacher and as a human being, and thanks to Creative Live who allows us to benefit from the experience of such a knowledgeable, educated, well-versed photographer and instructor. 1000% recommended!
Been following this guy forever. Pye Jirsa may be well known in the wedding & portrait photography world and if there is something that this guy knows it is how to create a business, a sustainable one. The workbook he provided is comprehensive, and I honestly wish I had this when I first started out as a photographer! I love that he talks about his failures, keeping it real and honest for anyone starting out. He is definitely one of the best instructors around, super humble, down to earth and with a sense of humor to boot. The course is worth it! THE WORKBOOK is AMAZING! SUPER DETAILED!
Student Work