Your Client 'Why'
Pye Jirsa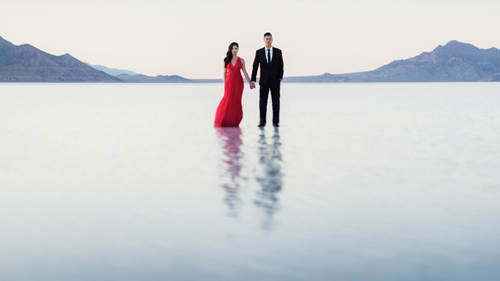 Your Client 'Why'
Pye Jirsa
Lesson Info
25. Your Client 'Why'
Craft a simple statement that builds the experience, or the why that you want for your clients. Learn what that "why" is in this lesson.
Summary
(Generated from Transcript)
The lesson discusses the importance of creating a meaningful and memorable client experience in a photography business. The instructor shares examples from his own studio, including messages displayed on the walls and the use of disrupters to capture the clients' attention. The lesson also highlights the potential to create a similar experience in a coffee shop or any other location.
Q&A:
Why is it important to establish a meaningful message for your clients?

Establishing a meaningful message helps create a strong brand experience and gives your company and team something to rally behind.

What are some examples of messages displayed in the instructor's studio?

Messages displayed in the studio include "Stop. Breathe," "Family. Friends, family, love, experiences, memories," "Lost in the digital world," and "Life belongs in print."

What is a disrupter and why is it important in creating a memorable experience?

A disrupter is something odd and unusual that grabs the clients' attention and brings them back to the present moment. It helps create a lasting impression and makes the experience stand out.

Can a similar experience be created in a location other than a studio?

Yes, the instructor suggests that the same experience can be created in a coffee shop or any other location by focusing on the messages and overall atmosphere.

How can the experience be built without having a studio space?

The instructor shares that he had a small studio space for three years and still managed to create a meaningful client experience. It is about focusing on the overall experience and finding creative ways to make an impact, regardless of the physical space.
Lesson Info
Your Client 'Why'
This is that meaning and the experiential part. Isn't it funny that we define all these things before we even do the packages? Crafting the experience. I want you guys to think of this. I want it to be short and simple. I want it to have a meaningful message to your clients. I want it convey and be something that your company and team can rally behind which means that before you can do this you probably do need to have your vision and mission and core values established. Correct? Here's ours. So, our client why. When they walk through the door, we have these messages up on the wall. I'm gonna play a video for you guys so you can see it. On the left side it says, "Stop. "Breath." On the right side it says, "Family. "Friends, family, love, experiences, memories." When you go around the corner it says, "Lost in the digital world," on this side and when you step into the main gallery it says, "life belongs in print." This is part of the brand experience that we create when you come to us. ...
On the right side here, these are all client praise and love. So as they walk through this tunnel they go, "what are these? "Oh, these are all of our clients "and the thank yous that we've received." So, it's this process. Now, what I'm gonna tell you is I want you guys to define your experience the exact same way with one, a disrupter. What the shit is going on? (audience laughs) I bet all of you are paying a little more attention than you were just a second ago. (audience laughs) Okay. That's a disrupter. It's something that, it's so odd and unusual, it makes you stop and call yourself back to presence. It's an interesting thing. If you ever watch Tony Robbins, he does it all the time. He drops the F bomb constantly. He comes on stage and like the first thing he says is like an F bomb. Snap. I'm here. What'd you say? You don't need to do that. (laughs) Like when your clients come in there, "what the shit's going on guys? "So happy to", no don't do that. Sorry audio guys. (laughs) That was loud. I should have given them a warning. But, it had to be done, Kenna. (audience laughs) Had to be done. Ours is stop, breath. How unusual is it to walk into a studio and for the studio manager to say, "stop. "Breathe." I want you to look at the words on this wall. Right then you're probably going, like as a client that walks in like, "whoa, whoa, this is different. "What, what, what's happening?" And now, that busy work schedule, the traffic that was just bugging you all the way over here, the planning and all the stuff that's gone into wedding, and all the stresses, they kind of fall into the background for a second as you are called to presence and that's what a disrupter does. For you all, you're not gonna have a studio yet. We're gonna talk about that 'cause you can create the exact same experience in a coffee shop. Let's go through what this means though. Let's take a tour. Okay, so when you open our studio there's our lovely reception team, Corinne and Leanne. This is our front foyer where our clients will take a seat. Right here, the first things that you see, boom, stop, breathe, friends, family, love, experiences, memories and they stop. We're gonna give you the presentation in a second that our person will do. They see the lost in the digital world and the wall and they walk into the main gallery where they see life belongs in print. Kind of all these different moments that we've captured. Next to each card is a description of that moment and what it meant to those people and a description of that piece of art. Yup, that's an elephant. (audience laughs) This is client reception. We project everything onto the wall in the back. And over here on that far side is design consultation. And you're about to see Bekah open up and go, "what the heck are you doing?" Here's design consultation right here. This is a full 'nother room. And, there she is. (audience laughs) Okay. Okay, great, so, I don't have a studio yet. Fantastic. What the freak do I do? Remember, this was my studio for three years. This message and, by the way, my other studio wasn't that much better. I only had one little space to meet clients that was nice and then all of us would just, when they went to the bathroom, oh man, we better have established value before they need to go to the bathroom because when they had to go to the bathroom they went all the way through the warehouse and through everything and we're like, "oh no, it doesn't look good anymore." So, it's all about building the experience and you can do this anywhere you want. Let's talk about what the experience is.
Class Materials
How to Launch a Photography Business Workbook
Experience Pricing Example
Ratings and Reviews
This class and materials are to the point and eye-opening on the business side of photography. Pye Jirsa is an amazing and fun teacher as well! Most photographers need more business classes offered to bring us who love to create art back to reality for a more successful business that makes a living on it's own. This course will definately get you started in the right direction and so cheap too! Great investment! armstrong outdoor tv case outdoortvcase Pye Jirsa is one of the best instructors that I have the pleasure to learn from. He and his team have given me so much more than they'll ever realize. Knowledge, wisdom, training, friendship, mentoring, inspiration, joy... I cannot thank Pye enough for changing my life for the better. I owe them more than they'll ever realize. Thank you, Pye Jirsa!!!
This class has been an eye opener for me; a point of change in my vision as photographer. Pye is and AMAZING, INSPIRING, GENEROUS instructor, with an, authentic desire to help people and to share with them the best of his knowledge. I will not have enough words to say thanks to Pye Jirsa, as a teacher and as a human being, and thanks to Creative Live who allows us to benefit from the experience of such a knowledgeable, educated, well-versed photographer and instructor. 1000% recommended!
Been following this guy forever. Pye Jirsa may be well known in the wedding & portrait photography world and if there is something that this guy knows it is how to create a business, a sustainable one. The workbook he provided is comprehensive, and I honestly wish I had this when I first started out as a photographer! I love that he talks about his failures, keeping it real and honest for anyone starting out. He is definitely one of the best instructors around, super humble, down to earth and with a sense of humor to boot. The course is worth it! THE WORKBOOK is AMAZING! SUPER DETAILED!
Student Work