Class Introduction
Pye Jirsa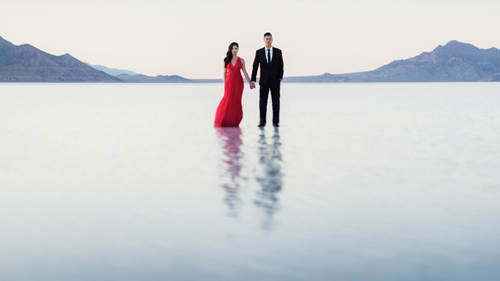 Class Introduction
Pye Jirsa
Lesson Info
1. Class Introduction
Go from nothing to a booked client or grow a young photography business -- that's what students should expect from this course. Learn what's ahead in the course in this introductory lesson.
Summary
(Generated from Transcript)
The lesson is an introduction to the photography business course, where the instructor discusses the expectations and goals of the course. They promise to teach students how to start a functioning photography business, from getting their first client to developing their overall product, marketing effectively with limited resources, and sales and closing techniques. The instructor also addresses the different types of photography businesses and assures that the course content applies to all genres. They emphasize the importance of focusing on one area and state that even those already running a business can benefit from the course. However, they clarify that the course does not cover technical photography, advanced business topics, bookkeeping and admin, hiring, or artistic development. The instructor mentions additional courses available for those interested in furthering their artistic skills. They promise to provide valuable information and recommendations without trying to sell other products. Finally, they encourage students to leave reviews and promise to be interactive throughout the course.
Q&A:
What can students expect to learn from this photography business course?

Students can expect to learn how to start a functioning photography business, from getting their first client to developing their overall product and implementing effective marketing and sales strategies.

Is this course only for wedding photographers?

No, the course is applicable to all genres of photography, including family, maternity, newborns, seniors, wedding, and engagement photography.

Can those already running a business benefit from this course?

Yes, even those already running a business can learn ways to improve their business and photography skills.

Does the course cover technical photography and artistic development?

No, the course does not cover technical photography, lighting, composition, or advanced artistic development. However, the instructor recommends other courses available on Creative Live and SLR Lounge for those interested in furthering their artistic skills.

Does the course cover advanced business topics, bookkeeping, admin, or hiring?

No, the course does not cover advanced business topics, bookkeeping, admin, or hiring. The focus is on starting and operating a photography business.

Will the instructor try to sell other products during the course?

No, the instructor promises not to sell other products. They will provide recommendations and a guide, but students can choose what they want to use for their own business.

How can students participate in the course and provide feedback?

Students are encouraged to be involved and interactive throughout the class. They can raise their hands, ask questions, and provide feedback. Leaving reviews and sharing the class is also appreciated.
Lesson Info
Class Introduction
I want to jump in and talk about Expectations and Aspirations as kind of our intro. In terms of number one, coming into this course, what should you guys be expecting to learn? What should you guys be expecting to learn? Some of the Course Promises, I'm gonna say this, if you guys will give me 12 weeks of your time. Well, not 12 weeks 'cause it's really three days, but give me 12 weeks of 112% effort in that time, I'm gonna show you how to have a functioning business. We're gonna do this, and we're gonna take you from basically a place of nothing to having your first booked client 'cause that's the question. Honestly, that's the question that I get the most is well, how do I get my first client, but for those of you that are already running a business, maybe you're six months in, maybe you're a year in or two years in, there's a lot of stuff for you guys too. What we wanna do is before we launch a photography business, we need to go into it with the proper expectations. We're gonna pre...
sent to you guys a 12-week roadmap. It's literally the most ridiculous thing I think I've ever made in a spreadsheet, full on CPA, you're gonna see it, you're gonna see that. We're gonna cover planning and strategy. We're gonna cover developing your overall product. What it is that you're trying to sell to your consumers and we'll talk about it in a minute but it can be really any genre as we go through this. We're gonna do Grass Roots Marketing because I'm sorry audio guys, I'm spazzy in my levels. I can't control the volume of my voice. That's the way it works, but how many of you guys have $10, to throw at advertising? Raise your hands. Great, I'm gonna teach you how to use $10, to put together a really great ad campaign. No, that's not approachable. It's not something, literally nobody here raised their hands because when you're starting up a business, you don't have that kind of money to throw at advertising. Any money that you do have, you need to put in your warchest, you need to invest in the equipment and the things that you need to get your business off the ground. We're gonna talk about Grass Roots Marketing campaigns and how to be very effective with what you do with very little actual money put in, and then Sales and Closing. Oh my goodness, this is one of my favorite topics, Sales and Closing. First question, what if I don't shoot weddings? How many of you here are wedding photographers? Raise your hands. Alright, you scratched your chin. I'm not sure if that was like a raise. (audience laughs) If that was an auction, you would've placed the bid right there. (audience laughs) You got to be careful with your motions. So we have like a couple of wedding photographers here. What about portrait, like general portrait? Seniors? Newborns? Are there any commercial photographers here? I'm sorry you two, this really doesn't apply. (laughs) I'm just kidding. You can take away a lot of stuff. Here's the thing, if you don't shoot weddings, that's okay. I'm gonna say that this entire course will transfer over to family, to maternity, newborns, seniors, wedding, engagement. All of that stuff is identical, and what we're getting at is that these are all direct client-serving businesses, meaning, your marketing efforts, everything that you're doing, you're reaching end-consumers directly. Commercial is the one area where you're not because those that are in commercial arenas typically are gonna work through agencies. That means that the way that you market, the way that you promote, the way that you do a grassroots campaign with a commercial studio is a little bit different than the way that you would do it with a portrait studio, but most of the content marketing, SEO, sales, closing, everything else will still apply even to commercial and to anybody in these categories, this is literally your 12-week roadmap that's gonna spell out every single thing that you need to do for your business. Does that sound good? Yeah. Yeah? Yes. She shook her head no back there. I'm just kidding, you didn't. (laughs) I like to call people out like that, be ready. Here's what I'm gonna say, start with one. Pick one area to focus in, and we'll talk about why as we go through, but we need to start with one. Will I benefit if I'm already doing good running my own business? Abso-freaking-lutely because this is the way I actually talk guys, I'm sorry. It's how it works, okay? Yes, if you're running your own business, I guarantee. What if I asked you, how do you create a push versus pull brand in terms of buyer psychology? What if i said, do you understand the difference between an emotional sale versus the feature sale? There's so many different components of this course, including content marketing, including SEO, including all these different pieces that it doesn't matter if you're already doing good, I'm gonna show you ways of doing things better. Now this isn't to say that I know everything about business, I don't. I'm still learning myself and I think anybody who claims and guarantees that they know all of this stuff is kind of blowing smoke up your pipe, but we've learned a lot. We've learned a lot, and I wanna share, Justin, Chris, and my 10 years of experience in building a business with you guys in three days. Little note here, little note, I enjoy teaching photography. I like teaching photography, it's fun, but I love teaching business. Business and the sales and marketing and all these components, this is my passion. This is what I love doing. I am gonna get spazzy. That's just the way that I am. I'm gonna rely on you guys here to say, Pye, focus fox, focus fox, I have a question. You can do the focus, everybody try the focus fox. Just, focus fox, there you go. This is a thing that I learned from my cohost, Schevonny. Focus fox, okay. Raise your hand, ask a question, bring it back. Whatever it is, if you need me to slow down, just say, hey, can you go over that again, anything. Same for those of you that are online. Let us know. Kenna's over here running the show. That is the promise that I'm gonna make you guys that you will walk away a better business person and a better artist and photographer, and that's the funny thing, is I'm not gonna teach you anything about art, but you'll walk away from this class being better at taking photographs for your clients. Here's what can't be covered in this class. So just swipe these off your expectations list. What can't be covered is anything under technical photography, lighting, composition, artistry side. We have entire libraries of stuff for that at Creative Live, on SLR Lounge. It's so far beyond this, we're not gonna focus on that. We're not gonna really cover anything beyond the initial 12 weeks. Now that doesn't mean that if you're 36 weeks in your business that this is gonna be invaluable, that there's nothing of value here. What this means is that, for us, running our business, we run off of servers that operate in petabytes, going through 10 gigabytes lines throughout the entire studio. I don't think anyone probably knows what we're talking about right now. These are our fiber-optic networks at our studio. We're not gonna talk anything about that because it has nothing to do with where you're at starting your business right now. So that means that there are plenty of things that you're gonna do at the start of your business and that you're gonna do two years in, four years in, six years in. That's the stuff that we're covering, the stuff that you need to start the beginning and operate through the business, but we're not gonna teach things that only come into play three years or four years down the road. Does that kind of make sense? Bookkeeping and Admin, that stuff sucks and that's coming from a former CPA. I'm a former CPA and I hate it. We're not gonna teach you the bookkeeping and accounting side. I'm gonna tell you the importance of it. I'm gonna give you tools and reports and analytics and show you how to analyze and understand it, but as far as actually taking notes on it, no, no. Hiring people, no not yet. We're not there yet. Associates, training, management, advanced marketing and additional things that you might do, cross-promotional campaigns, all that kind of stuff, we're gonna, let's table it for now, cool? Regarding the artistry, we'll talk about this a little bit when we talk about artistic development. We created a series, when I set out with Chris and Justin, when we created SLR Lounge, we had this vision of like, what if we could help ourselves to train our own people basically. So we created two sets of courses, one we just finished up, but one is the Photo 101, Lighting 101, Lighting 201. This is available on Creative Live and on SLR Lounge and this is Mastering Manual Mode, the Power of On-Camera Flash and Off-Camera Flash. It sounds basic, it's not. This is literally like the prerequisite to coming into our studio. It's okay, start there. Once you have that, and we'll talk about what's included in there and what you guys need to do in terms of your own artistic development, but that's kind of our beginning stages. Then for wedding mastery for those of you that are on this pathway, we came out with a series of eight workshops. Each one is about six to eight hours that literally covers the entire process, and that is our prerequisite. So this is five, six, seven, eight, four, Becoming a Lin and Jirsa Wedding Photographer. So our hope is to create actual pathways and potentially even a certification that means something and to do that, we need to create a start-to-finish learning program. Unfortunately, it's about 120 hours to get from that to there. This class is three days, which is why we're not covering it. That makes sense, right Kenna? Um hmm. Yeah, I think so, but here's my promise to you guys, I have put in a lot of time and effort into creating this course for you all, and what I wanna promise is that if you guys will do what we're talking about and simply adapt it to your own business model and do what you're doing in your specific locale, you will be successful, and my promise to you is not to sell. I have no desire to stand here and tell you, go and buy this course, go and buy that course, go and do this. I'm gonna give you recommendations and a guide, a pathway. I'm gonna tell you what gear we use. I'm gonna tell you how we get to where we wanna get to. You guys choose, online. You guys choose where you wanna be, what you wanna use, all of it. I don't wanna, that's not the goal of this class is to sell you on other things. Does that make sense? I never like it personally when I come and I sit in an audience and I spend time to be sold during that time. If something is of value, you'll see it on your own, and you can choose on your own. I do have one favor though. This is a free class, well, this is online live, right now. So everybody online, everybody here, if you see value in this class, do us a favor and leave a review. Leave a review, talk about it, share it. You have no idea how much effort, Kenna, Sara, all the people here, we have 15 people right now that are going in there making this a wonderful educational experience, and the thing that means the most is honestly, when we see positive reviews and people sharing the class. To me as an instructor, I know that I did something good, and I'm also gonna ask you another thing to promise right now, and if you're on, gosh dangit, I wanna say at home. (laughs) If you're online, in your car, if you're here, I'm gonna ask you guys to promise me something. I'm gonna make you raise your hands. So, I promise to be involved and to be interactive throughout this entire class. Raise your hands to the square. That's a left hand, I see a left hand! That doesn't get. (laughs) Okay, perfect, perfect, thank you. You have no idea how much more valuable this is gonna be for all of you and for all of you to be involved and be participating because that way I can tailor the content to your needs.
Class Materials
How to Launch a Photography Business Workbook
Experience Pricing Example
Ratings and Reviews
This class and materials are to the point and eye-opening on the business side of photography. Pye Jirsa is an amazing and fun teacher as well! Most photographers need more business classes offered to bring us who love to create art back to reality for a more successful business that makes a living on it's own. This course will definately get you started in the right direction and so cheap too! Great investment! armstrong outdoor tv case outdoortvcase Pye Jirsa is one of the best instructors that I have the pleasure to learn from. He and his team have given me so much more than they'll ever realize. Knowledge, wisdom, training, friendship, mentoring, inspiration, joy... I cannot thank Pye enough for changing my life for the better. I owe them more than they'll ever realize. Thank you, Pye Jirsa!!!
This class has been an eye opener for me; a point of change in my vision as photographer. Pye is and AMAZING, INSPIRING, GENEROUS instructor, with an, authentic desire to help people and to share with them the best of his knowledge. I will not have enough words to say thanks to Pye Jirsa, as a teacher and as a human being, and thanks to Creative Live who allows us to benefit from the experience of such a knowledgeable, educated, well-versed photographer and instructor. 1000% recommended!
Been following this guy forever. Pye Jirsa may be well known in the wedding & portrait photography world and if there is something that this guy knows it is how to create a business, a sustainable one. The workbook he provided is comprehensive, and I honestly wish I had this when I first started out as a photographer! I love that he talks about his failures, keeping it real and honest for anyone starting out. He is definitely one of the best instructors around, super humble, down to earth and with a sense of humor to boot. The course is worth it! THE WORKBOOK is AMAZING! SUPER DETAILED!
Student Work