How to Launch a Photography Business
Selecting Your Keywords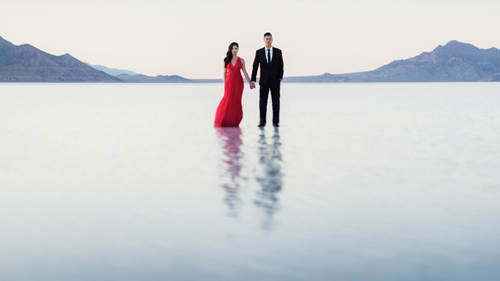 How to Launch a Photography Business
Selecting Your Keywords
Lesson Info
Selecting Your Keywords
Let's start with perfecting your keywords. That's my daughter, Ellie, again, oh. Doesn't it make things better when you see your kids in the slides? (audience chuckles) Selecting your keywords. Developing a good keyword strategy. Think S.A.L.E. Services, list your services. This goes back to your focus. Your areas, what areas do you want your ideal client? This is a big one, guys. Look, if it's a pain in the butt to drive from one place, 45 minutes up to another place to constantly be doing portrait sessions, why in the world would you SEO and list that location as where you want to go? If you hate going there, don't list it, right? Does that make sense? Like, we focus on Orange County. Why, because from Orange County to LA, it's about 10 miles, but that 10 miles takes about an hour to an hour and a half every single day. It's ridiculous. So we focus in that area that we want to be. Do the same thing. Just understand that wherever you are listing, wherever you're putting your SEO, is w...
here you're gonna be driving to every day. Or whenever you have a shoot. Locations, we want to list out ideal locations and venues. We want to have an emphasis, a style, a genre, perhaps even a religion. You can identify whatever it is that you want to focus into, right. Religion is really wedding-specific. For example, Jewish, Orthodox, wedding, photography. That's a thing and it's a thing that gets a ton of search. And it's a thing that gets the types of clients that want photographers specifically focused in that thing because it's so specific. Back to mind mapping. We're gonna mind map out our keyword strategy. Your central topic is gonna be S.A.L.E. and it's gonna look something like this. Services, are you wedding, are you engagement? Are you newborn, are you maternity? Are you boudoir, are you, what are you? Family, senior? That's number one, what is your service. Number two, where are areas do you serve? Branch out. Decide from your mind map of where you want to serve. Number three, what are the most relevant venues and locations that might apply to what it is that you do? Now this is very much an event photographer-specific thing, a wedding photographer-specific thing, but if there happens to be family portraits that frequently get done at a certain park that people might look up, that's also relevant. And the emphasis or style, right. Film, bright, airy, rustic, pastel, modern, dramatic, whatever it might be. And all you do is you start picking what people might actually be searching. San Francisco, wedding, photographer, film. Okay, that gives me an idea. Now you combine this into potential search terms and this is what we get to. San Francisco Wedding Photography. So we're using the example of, well we have family photography, too. Oakland Family Photographer, Golden Gate Park Photography, Fremont Wedding Venues, City Hall Wedding Photography. These are all possible combinations that you might land on based on your mind map. Is that kinda making sense? You mind map these four pieces and you select one of these each components to kinda figure out what a keyword strategy is and you write all those different possible combinations down. This is where you pause the video to do that, pause. Do you guys have a few ideas yourselves? Let's hear it. I've got a question. Question, I love questions. I'm still trying to wrap my head around SEO 'cause I know it constantly evolves. But does Google get confused if you name more than one area? Like servicing Seattle and the greater Seattle area, or Bellevue, servicing the greater Seattle. Does it get confused with locations? So Google's really smart and Google can probably tell by now if you're listing, what was your listing name? I mean what were those keywords that you just said? Like Bellevue photographer-- Okay, so if you said wedding or Bellevue photographer, photographer in Bellevue, those similar components, Google is pretty smart. It can say that they're probably looking for the same thing and it aggregates the results together. But we're gonna test that in just a second. So what we're doing right now is we're just trying to figure out our keyword strategy. To do that, and remember, keywording is, just think categorization. We need to tell the world what category of service we offer. Okay, so we write down the potential categories that we have, then we have to test them. Once we get to this place, we simply test them to see what are people looking for? Does that make sense? So we start with, well, how to start a photography business. Oddly enough, when we tested that keyword, the keyword that came up was how to launch a photography business got more searches than how to start a photography business. So this is our idea, this is our idea list. Then we go the next step.
Class Description
The content and opinions expressed in this course are for informational purposes only and not for the purpose of providing legal advice. You should contact your attorney to obtain advice with respect to any particular issue or problem
Build a business and get people to spend money on your photography. Award-winning photographer and co-founder of Lin and Jirsa Photography Pye Jirsa will walk you through the first 12 weeks of building your business. With his relatable and actionable teaching style, he'll explain how to define your product as a photographer and determine where it fits into a consumer mindset. You'll learn the steps to creating a brand, pricing yourself confidently, sales techniques, and basic marketing practices. This class covers everything you'll need if you're considering photography as a job, including:
Where to position yourself in the market
Branding your business to attract your ideal client
Pricing and basic financing
Creating a business plan
Setting up a portfolio
How to get your first customer in the door
Getting leads on new clients
Understanding sales
The psychology of a buyer
Pye has built multiple successful businesses from the ground up and this course includes your 12 week road map to launching your business.
Reviews
This class has been an eye opener for me; a point of change in my vision as photographer. Pye is and AMAZING, INSPIRING, GENEROUS instructor, with an, authentic desire to help people and to share with them the best of his knowledge. I will not have enough words to say thanks to Pye Jirsa, as a teacher and as a human being, and thanks to Creative Live who allows us to benefit from the experience of such a knowledgeable, educated, well-versed photographer and instructor. 1000% recommended!
Been following this guy forever. Pye Jirsa may be well known in the wedding & portrait photography world and if there is something that this guy knows it is how to create a business, a sustainable one. The workbook he provided is comprehensive, and I honestly wish I had this when I first started out as a photographer! I love that he talks about his failures, keeping it real and honest for anyone starting out. He is definitely one of the best instructors around, super humble, down to earth and with a sense of humor to boot. The course is worth it! THE WORKBOOK is AMAZING! SUPER DETAILED!
I saw the live broadcast and it was amazing. Pye is one of the best instructors and inspirational photographers.. there are two type of ppl.. one who has the knowledge and doesn't know to teach another who has the knowledge and knows how to get it through.... I still didn't purchase this as I am saving for my daughters entrance fee for collage... :) Anyways he's one of the best instructors and a good friend.... very humble and always cracks jokes.... Keep inspiring and keep teaching.... my blessings are always with you pye.