Psychology of Numbers
Pye Jirsa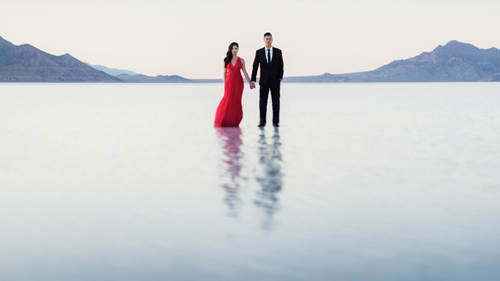 Psychology of Numbers
Pye Jirsa
Lesson Info
36. Psychology of Numbers
Presentation matters -- even the font of your price can play a role in how potential clients view your prices. Learn best practices for presenting your prices.
Summary
(Generated from Transcript)
The topic of the lesson is the psychology of numbers in starting a photography business. The instructor discusses the impact of pricing presentation, font choice, and placement on customers' perception of value. He also provides tips on creating a pricing guide and emphasizes the importance of not showing prices until after establishing value.
Q&A:
How does the psychology of numbers impact pricing?

The psychology of numbers suggests that prices without cent figures and prices that end with a nine tend to look more attractive and cheaper to customers.

What font choice is recommended to make prices look cheaper?

Sans serif face fonts, such as Arial, are recommended as they appear simpler and cheaper compared to serif face fonts.

Where should high prices be placed on a page?

High prices should be placed towards the right side of a page because people read from left to right, and it allows for value to be established before showing the price.

Should taxes be included in the pricing?

Yes, it is recommended to build in the necessary taxes into the prices to simplify the process for clients and avoid nickel and diming them.

What is the recommended order for presenting prices in a pricing guide?

The recommended order is "best, better, good" or "good, better, best" to make it psychologically easier for customers to go down in price rather than up.

Where can photographers find pricing templates?

Two recommended sources are Creative Market and Envato, where photographers can find templates by searching for "photography pricing template".

What should be included in a pricing guide?

A pricing guide should include information about the photographer's brand, experience, collections/packages, and follow the principles of value and simplicity in presenting the prices.

Should pricing be shown on a website?

It is recommended to not show pricing on the website and only present the prices during the sales process after establishing value. This allows clients to make an educated decision and compare prices correctly.
Lesson Info
Psychology of Numbers
Psychology of numbers, this is fun stuff. You guys are here, you're gonna see it for a lot longer. Here's what I want you to do. If you guys are online, great. When you see the next slide, point at the number, within two to three seconds, that looks cheapest to you. Okay, so point, like, imagine yourself pointing. Don't think about it. I'm curious, what did you guys come up with? $1,439. Which, who had what? $1,435.99, okay. $1,499. $1,499, okay. $1,436. $1,436, okay. (several audience members talking) $1,599 okay. The first one. The first one, $1,565 okay. So, oddly enough, I've ran this between many different test groups. Usually people will end with something that ends with a nine. Or whatever's the smallest print. (audience laughing) Isn't that funny? That's actually the most expensive price on there. But people would jump to it. $1,599 okay, cool. So, what does this tell us? That presentation actually does matter. Here's the psychology of a number. Everybody knows th...
is. Don't include cent figures in your packages, when you're talking about $1,500 or $2,000, $5,000 packages. That's just ridiculous. Nobody cares at that point. But, $9,899 will look more attractive than $10,000. Just from a psychology standpoint. Removing the comma to simplify. It makes it look, can you guys see that this didn't have a comma in it? Simple and small fonts. Psychology of the easier font is? So a sans serif face font. Serif face fonts are more complicated. A simpler font. Ariel, a sans serif face font, is gonna look cheaper. Weird! We put high prices towards the right of a page. Why? 'Cause you read left to right? Yes. And what do we want to establish before we show a price? Value. Value. So we follow the same mentality on anything that we show. Build in the necessary taxes. You're dealing with clients that are paying a good amount of money for your services. Build in whatever taxes you need to put into those products. Don't, don't, again, stop nickel and dimeing people. Put yourself in your clients' shoes for just a second and ask yourself what would be the experience that you would want. It's already complicated enough. They have enough to think about. Ease their minds. Make it simple. Make the process easy. This is a good, a better, a best. This is a best, better, good. What is the difference? Give it to me. Jason. I've learned that it's psychologically easier to go down than it is to go up. It is psychologically easier to go down than up. You're absolutely right. The problem is, what about those people that you're gonna price out by starting that high? So I have a simple rule for you guys. Online, start at your good. When people, if you wanna say, "starting at" online, simply to just price out people that are too far below what you're looking at, start with your good. When you present a pricing guide to somebody, that is after you've established value, then, in a pricing guide, do best, better, good. So when they receive the guide, it's holy shite, I can do that, oh that's pretty cheap. In reality they're all pretty expensive. But that's gonna be the perception they have as they go down. From here you build a simple price guide. Again let's, let's not work harder, let's work smarter. Creative Market again, you can have also Envato. We used to get a lot of our stuff off of Envato. We switched over to Creative Market because the quality of assets is generally a little bit better that we've found. I mean this is a very objective thing. So, objective, subjective. It's a very subjective area to say that, but, like, we just find better luck on Creative Market. But there's two markets there for you guys to go and look at, where you get templates. All you simply do is type in photography, pricing, template. Okay? I had to delete the, we deleted the slide with that because it had a lot of logos on it. We didn't want to show the logos. But it's photography, pricing, template. And you'll see a grip of them. Pick one that fits the brand assets that you created earlier. Here's a sample and we've also included this in your downloads. So this is in your downloads. It's one of our sample past PDFs that we used to use and it gives you an idea of, it starts with kind of our message. So this is, like, a simplified brand experience guide. Generally these would be four to eight pages. I gave you two pages. It's enough to kind of come up with whatever you guys wanna come up with. But the first page is about who you are, what you do, your experience. This is everything that we talked about prior, right. Our why. The client why. And then, afterwards you would include your collections. Notice that in each collection we kinda follow the same principles of, all the value, starting at. Ha, ha, ha, it's a small number. It's tiny. It's okay. No commas, no nothing. Cinematography, we built everything onto this. If this were a best-better-good, you'd separate every single collection out on the different pages so that they jump from page to page to page. But I just included it all in one place 'cause honestly we only send this out when we expect to not get a phone call back. So there it is in your downloads. experience-pricing-example.pdf It is an editable file. Please don't use our images. Feel free to change those out. And then, the biggest mistake you're gonna make. Openly showing that price prior to establishing the value. We've already touched on this. So now that you have your price list, don't show it. Now that you have it, don't show it. Non until you're ready to make your ask. And you're gonna come to that sales process, we're gonna go and establish that, where we do everything and get to the ask, and that's where we present the price. Because only then is your client actually comparing correctly, right. Only when they actually understand what it is that you're offering can they make an educated decision on prices. So, we don't show it. Should I show my pricing on my website?
Class Materials
How to Launch a Photography Business Workbook
Experience Pricing Example
Ratings and Reviews
This class and materials are to the point and eye-opening on the business side of photography. Pye Jirsa is an amazing and fun teacher as well! Most photographers need more business classes offered to bring us who love to create art back to reality for a more successful business that makes a living on it's own. This course will definately get you started in the right direction and so cheap too! Great investment! armstrong outdoor tv case outdoortvcase Pye Jirsa is one of the best instructors that I have the pleasure to learn from. He and his team have given me so much more than they'll ever realize. Knowledge, wisdom, training, friendship, mentoring, inspiration, joy... I cannot thank Pye enough for changing my life for the better. I owe them more than they'll ever realize. Thank you, Pye Jirsa!!!
This class has been an eye opener for me; a point of change in my vision as photographer. Pye is and AMAZING, INSPIRING, GENEROUS instructor, with an, authentic desire to help people and to share with them the best of his knowledge. I will not have enough words to say thanks to Pye Jirsa, as a teacher and as a human being, and thanks to Creative Live who allows us to benefit from the experience of such a knowledgeable, educated, well-versed photographer and instructor. 1000% recommended!
Been following this guy forever. Pye Jirsa may be well known in the wedding & portrait photography world and if there is something that this guy knows it is how to create a business, a sustainable one. The workbook he provided is comprehensive, and I honestly wish I had this when I first started out as a photographer! I love that he talks about his failures, keeping it real and honest for anyone starting out. He is definitely one of the best instructors around, super humble, down to earth and with a sense of humor to boot. The course is worth it! THE WORKBOOK is AMAZING! SUPER DETAILED!
Student Work