Family Photography Hot Seat
Pye Jirsa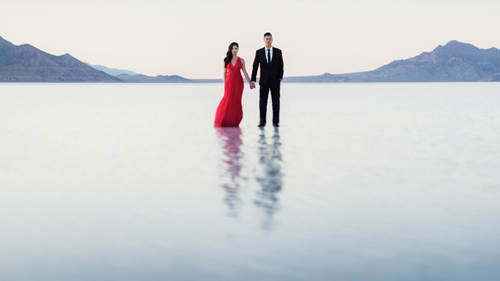 Family Photography Hot Seat
Pye Jirsa
Lesson Info
76. Family Photography Hot Seat
While sales is similar across genres, the process can vary slightly based on the type of photography. In the series of hot seat sessions, watch students improvise client meetings.
Summary
(Generated from Transcript)
The topic of this lesson is about building rapport with clients during a photography session and understanding their values and preferences in order to create meaningful and personalized images.
Q&A:
Why is it important to build rapport with clients before asking deeper questions about their daily lives and preferences?

Building rapport helps to create a comfortable and trusting relationship with clients, which can lead to more open and honest responses during the session.

What are some examples of questions that can help to build rapport with clients?

Asking about their favorite activities, hobbies, or TV shows can help to find common interests and create a connection.

How can understanding a client's daily routine and family dynamics help in planning the photography session?

Understanding their routine can help in choosing the best time and location for the shoot, and understanding family dynamics can help in capturing authentic and meaningful moments.

Why is it important to ask open-ended questions rather than closed-ended questions during the session?

Open-ended questions allow clients to provide more detailed and personal responses, which can help in understanding their preferences and values.

How can visualization and roleplaying be effective in practicing rapport-building skills?

Visualizing and roleplaying can help in understanding the client's perspective and practicing natural and effective communication during the session.

Why is scripting and roleplaying important in mastering the rapport-building process?

Scripting and roleplaying can help in practicing and internalizing the necessary questions and responses, making them feel more natural and allowing for better client interactions.
Lesson Info
Family Photography Hot Seat
I'mma start with you, Haldis, because we're gonna bring you back up and see how things might change now that we've gone through this process. So I like to say your gossip and secrets are safe with me because I won't remember them. Oh, good. So I'm hoping that I remembered all of this stuff. You better. Well, you have, you can re-watch it at any point. Yes, that's what I'm leaning on. Okay. Okay. So what was the scenario before? It was family photography? Yes. Okay. First time meeting. Um-hum. In a coffee shop. Um-hum. Okay. We just sat down. Um-hum. Go. Hi, Pye. Hi. I'm Haldis Gonzales of Butternut Blonde Photography. How are you doing? That's a cute name. Well, thank you so much. Butternut Blonde? Yeah. Interesting. Yeah. Is that what your hair color is, butternut blonde? Sure is. Wow. Yeah. Nice. Yeah. So I hear that you're interested in family photography. Yes. Can you walk me through maybe what your day-to-day looks ...
like with your kids and your family? I go to work each day. Like, I'm usually at work. Sure. Yeah. During the day. Awesome. What happens when you come home? What's your favorite moment with your children? Hm, I don't know. I guess my favorite moment with my kids... This is a pretty deep question to be asking right now. (audience laughs) Do you and your wife and your family do anything fun on the weekends? Sometimes we go for bike rides. Oh, that sounds amazing. Yeah. Yeah, that would be a great photography session, to get all of your family on bikes and maybe go out on trails our in Redmond town center and... Oh, is that what you're supposed to do? I thought you, I thought we just come into the studio and, like, take pictures. We could do that as well, yeah. But I think it's definitely something that, you know, we'll work through. Okay, pause for one second. This is why I want you guys to practice this and roleplay and do all of this stuff, because we skipped a couple steps, which is why it feels awkward. We missed something. You were supposed to built... Rapport. Rapport. Before asking me the deep nitty gritty what are you doing when your children are not, what, what? I don't know. Let's take it slow. Get to know me a little, okay? (Haldis mumbles) Be normal! (audience laughs) I can't be normal. Okay, let's flip this, let's flip this. I'm gonna do the same thing. I'm meeting you for the first time. We're gonna take pictures of your family. Let's flip it around. We're at the coffee shop. Haldis, I love you. You're amazing. Okay, Haldis, I actually got your favorite drink ready. You, that's why I asked that question on the forum. I know it was kind of odd, but you put your favorite drink was a caramel macchiato. Here you go. Wow, thank you very much. You are welcome. So my name is Pye. It's wonderful meeting you. Hi, Pye. Nice to meet you, as well. Yeah. So I like to kinda get to know my clients just a little bit, so tell me a little about yourself. What do you do with most of your free time? Nothing. (laughs) Nothing? Really? Watch Flip or Flop. Flip or Flop? Yeah. I love that show! Targ, I took his pictures. What? I took those pictures. No way. I'm serious. Okay, so you like watching Flip or Flop. That's awesome. I noticed that you guys wanted to do family photos, so tell me a little about the family. Like, I like asking these questions, because then I know a little more about, well, how to document your family, how to take the kind of pictures that you'd like to have. Sure. So what does your husband do? He's a software engineer. Oh, very cool. For which company? Time Warner. Time Warner? Um-hum. Rad. You're laughing right now. Is that, there's a, am I missing something? No, no. He makes Lord of the Rings video games. Are you kidding me? No, no joke. I play Lord of the Rings video games. Fantastic. I'm just kidding. I love Lord of the Rings, though. Wonderful. It is a... Do you like Lord of the Rings? I do. You do? Um-hum. I feel like you might be saying that just because your husband works for the company. Maybe a little bit. Maybe a little bit. Okay. So how many kids do you guys have? Two. Two, that's amazing. What are their ages? I have a four-year-old son and a 16-month-old daughter. Wow, what is that like? Tough. Tough? That's all I'm gonna get. You're just gonna say tough. Tough. Okay. Rough? It's real rough? Rough. It's rough in the streets. Rough in the streets. So when, are you typically kind of watching the kids and everything during the days, is that, or do you work as well, or... I work full-time. You work full-time also. Um-hum. Yeah. Oh man. What do you do? That's busy. I am a product manager. A product manager. Full-time mom and a product manager for... So tell me what it's like being a product manager. I keep saying tell me what it's like and she keeps, tough. Those are open-ended questions that she keeps closing off. It's really, it's intense. (audience laughs) Damn it! It's really, really intense. Well, what kind of, like, products, 'cause I know in product management, you can do, like, engineering, you can do, like, software development, you can do a lot of different arenas. What is your arena? Marketing. I swear, I swear. So what is that like? If you give me another... It's very interesting work. Good. Yeah. Good. Um-hum. Good. Cool. I've launched some products that haven't gone so well. Well, Haldis, it's been great getting to know you. I know so much about you. Here, this is what I'm gonna do. Haldis, don't even worry about any of that stuff. You know that I'm a normal guy. It's fine. This is fine. I have two kids. That makes me normal, okay? I wanna ask you a question, and it's gonna sound odd, but it's honestly not that odd. I ask all my clients this, and you'll get why I'm gonna ask you this in just a second. But I want you to think of someplace in your home where you might hang a piece of wall art. What are you thinking about? I am such a bad person to ask this question 'cause I have no wall art in my house whatsoever. Perfect, so literally any wall... Any wall is perfect. Any wall is perfect. Um-hum. So where might be one place that you might... Probably... That's what I'm looking for. Did you see her go, uh... That's the visualization. A hallway. Perfect. So maybe, like, the entryway hallway, or, like... Sure. Okay. Now, that space is, like, maybe, I don't know, four, five feet big? Yeah. Perfect. So the wall art that we create, and you see our albums, I'm gonna show kind of examples of the wall art, but it's expensive. It's $1500, $2000. It's not important to know right now other than the fact that just I want you to understand that these are investments. On top of that, you're gonna be looking at that piece of artwork every day when you're going inside, outside the house, okay? So knowing that, from your family session, I want you to think what would be the single, if I were to limit you down to one photograph, what would be the single most important image that you'd wanna put in the hallway of your family? My two kids. Your two kids? Um-hum. And what would they be doing in that photograph? Just being themselves. Being themselves. Tell me what that's like. What is it, being themselves? Just my son's a little weirdo and, you know, has crazy eyebrows like his mother. And then my daughter would probably be, you know, holding his hand or doing something funny with him. That's adorable. And do they have, like, a place that they typically like to go play? Like, what do they do? Yeah, they play outside sometimes. My son will help her. She just started walking, so they don't, I mean, they're not, like, really getting out, but he'll help her, he'll hold her hand and help her walk places, and, yeah. Rad. And where do you guys like to go as a family, like, to just kind of relax, kick back? Our living room. Your living room? This is the funny, okay, so I want you to think, 'cause our photography sessions, what I like to do is document your life. I don't like to go and, I mean, it's okay to go take pretty pictures in a pretty location. That's fine. But what means a lot more is that we create images that are actually you, and a lot of the times we do these photographs in our clients' homes, because maybe that moment of your son playing with your daughter and getting that look of these eyebrows into the camera as he's smiling, maybe getting those moments of him helping her as they're playing or him helping her up, those might be things that are important to you, are they not? Oh yeah. So if I captured that image of them together having fun, having a great time, where brother's being big brother and little sister's having fun looking up to him, is that something you might put on the wall of your hallway? Yeah. Okay. Absolutely. That's what I wanted to get to. Because from this, we have identified back to kind of these moments that you really enjoy, and from this we can plan your entire shoot. Now, this is the point of asking that question earlier, because I wanna know what you value most. Now, you feel you would agree with me that it's important I understand as your photographer what you actually value? Um-hum. Okay. This is what I do. I want you to take me through some of the other shoots that we have done. Okay. You will have those moments where you get a Haldis and she's difficult and she doesn't tell you anything at the beginning. So if that happens and you keep getting closed-ended questions to open-ended, or closed-ended answers to open-ended questions, I'll usually just go straight to the W.A.V.E., and then we'll go through the W.A.V.E., and at that point we create a connection, and now I can use her vocabulary through the rest of this time. Now, you saw the moments that this was a roleplay, right? Um-hum. But when I pointed out to you what she was doing, like, visually, did you see those body language cues of her actually thinking, and you were actually thinking about the things that I was asking in terms of the kids and what they were doing, the smiles, the eyebrows, all of it. Um-hum. Were you actually mentally picturing it? Yeah. So even in a roleplay, it's effective, 'cause you're visualizing what's going on. Um-hum. Okay. That was awesome. (audience applauds) Not really. Good job. 'Cause you did it. I didn't do it. You did it. You did it. I still was not effectively able to sell you on something. This is why we practice. Okay. No, honestly, don't beat yourself up, because this happens to every single one of our studio managers that we train. They come in, and I will do the word, like, the W.A.V.E. verbatim, word for word, right in front of them. They saw it. And then they get on the phone and they get all weird on me. They'll call somebody and they'll be like, hey, this is Michelle with Lin and Jirsa. Whatcha got on your walls of your home? (audience laughs) And I'm like, that's not what I said. That's not how it goes. And this is why we go back to scripting. We create these scripts and we roleplay them so they become natural. So you can imagine how many times I've, I've done this hundreds of times, okay? So it comes out natural and it's who I am because it also buys into the vision that I created that much earlier, and that's why I wanna create this cohesive pattern from start to finish in your company that your W.A.V.E., or your version of that, leads back to your vision and the core values that you set on the very early segments of the class.
Class Materials
How to Launch a Photography Business Workbook
Experience Pricing Example
Ratings and Reviews
This class and materials are to the point and eye-opening on the business side of photography. Pye Jirsa is an amazing and fun teacher as well! Most photographers need more business classes offered to bring us who love to create art back to reality for a more successful business that makes a living on it's own. This course will definately get you started in the right direction and so cheap too! Great investment! armstrong outdoor tv case outdoortvcase Pye Jirsa is one of the best instructors that I have the pleasure to learn from. He and his team have given me so much more than they'll ever realize. Knowledge, wisdom, training, friendship, mentoring, inspiration, joy... I cannot thank Pye enough for changing my life for the better. I owe them more than they'll ever realize. Thank you, Pye Jirsa!!!
This class has been an eye opener for me; a point of change in my vision as photographer. Pye is and AMAZING, INSPIRING, GENEROUS instructor, with an, authentic desire to help people and to share with them the best of his knowledge. I will not have enough words to say thanks to Pye Jirsa, as a teacher and as a human being, and thanks to Creative Live who allows us to benefit from the experience of such a knowledgeable, educated, well-versed photographer and instructor. 1000% recommended!
Been following this guy forever. Pye Jirsa may be well known in the wedding & portrait photography world and if there is something that this guy knows it is how to create a business, a sustainable one. The workbook he provided is comprehensive, and I honestly wish I had this when I first started out as a photographer! I love that he talks about his failures, keeping it real and honest for anyone starting out. He is definitely one of the best instructors around, super humble, down to earth and with a sense of humor to boot. The course is worth it! THE WORKBOOK is AMAZING! SUPER DETAILED!
Student Work