How to Launch a Photography Business
Link Building Strategy & Plan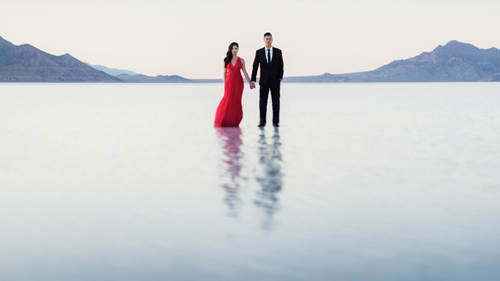 How to Launch a Photography Business
Link Building Strategy & Plan
Lesson Info
Link Building Strategy & Plan
Link, building, strategy and plan. So let's keep it kind of simple here. We want to understand the overall goal and strategy. We're gonna identify key pages outside the home pages. This is the pages, our niche pages, that you think will be searched most by your consumers, right? What we're gonna do is drive links to individual key pages. We're gonna follow the 80/20 rule. This trickle down thing, I don't want you guys to worry about for right now But what I want you to do is set a schedule for everything. Don't go and create and try and write blog entries for one whole week on somebody else's site. Like don't go to educational sites and be like I'm gonna write and spend a whole week writing. This stuff, all the back links, just like everything that you're doing needs to be done consistently over time at a slow pace, okay. One here, one there, that's it. So set a schedule. Build weekly and monthly and I want you to continue this practice indefinitely. So you should always be looking to ...
publish an article once a month or something, outside of your site. The 80/20 rule, this is a big one. This means that I want you to send 80% of your external links to your homepage. That's your tier one page, right. The one that you're trying to grab that big thing. Which means it's great. We want those things to be served toward the top of a page, right. So if you write a blog post on your site or someone else's site, it doesn't matter. If you want someone else's site to give you more link juice, the link should be towards the top of what you're writing. Let me introduce myself. My name is this. I operate this studio. That's your link. And then inside the body of text pick one of your internal niche pages to link to, further down. Does that kind of make sense? So when you talk about some of your favorite venues in that article, let's say for example when you talk about some of your favorite tips. You would link to I have five more tips on newborn safety here, magic. You get, you wrote an article for them, you get a back link to two different places. One is a niche page that'll be served up more now. That make sense, cool beans. So here's the plan. This is the first year in a nutshell. You're gonna obtain a link from every vendor you work with, immediately. That's easy to do. Give them your images. Ask them to use the images. Send them a email which guess what, we happen to have that email in the templates, requesting a link. Say, I would love for you to use these images on your site. I can give them to you with or without watermark. I would love for you, if you use them, to just give me a link. Here's the link code and you do it for them. You do all the work for them, you give them. What's the likelihood you can get every vendor you work with to give you a blog link back. Give you some sort of link back. That's pretty easy, right, should be. Then every venue you shoot at, I want you to do the same thing. You approach the coordinator. You approach the, sorry the marketing. You usually send marketing manager, I'm sorry the catering. Approach the catering manager and say: "I shot some great images I would love to get you guys. "Feel free to use them". Let them use it because if you can get a St. Regis or you can get one of these bigger properties, who they already have good authority. If you can get them to link back to you, that's fantastic too. We state valuable directories. So find one or two and ideally a paid directory. So we list out in the workbook, there's a whole tab called directories. We're gonna tell you to sign up for every single one of them under free accounts. Sign up free under all of them. I think we gave several different categories inside that directory. But there are more inside of your specific industry. So find whatever industry directories there are and take the free accounts. Only sign up for the paid if they're offering something beyond an SEO value. So look to paid directories when they allow you to link up, hire other people or do something specifically to your business or get business or find clients. That's what you pay for. Otherwise just do the free stuff. They you're gonna choose five industry publications that match your style and your image quality, okay. This is gonna be like that once a month goal. Choose five industry publications that you can get into. And then you're gonna choose five educational blog features that you can write for educational communities. And if you did one of those per month, that gives you ten external links in the span of a year from high authority websites, automatically, which I'll guarantee none of your competitors have. How many of your competitors have 10 different authoritative websites? And that's the beauty about this stuff. We think that if you go and do a search on Linagers, we've been doing this for years. Chris has been building this site up for years. To compete with that it takes time. There's thousands of inbound links coming in. But 90 something percent of the other photographers out there, they don't even have 10. Does that make it a little bit easier? Not to mention those competitors. Do you think all of them are in the same niche, creating the same product, going for the same venues, going for the same market, going for the same, no. This is why I tell all of you, there's plenty of room for everybody. Just go out and grab them. Get your clients. Set up once a month each of these things in this plan and it's already there for you. You just need to follow it.
Class Description
The content and opinions expressed in this course are for informational purposes only and not for the purpose of providing legal advice. You should contact your attorney to obtain advice with respect to any particular issue or problem
Build a business and get people to spend money on your photography. Award-winning photographer and co-founder of Lin and Jirsa Photography Pye Jirsa will walk you through the first 12 weeks of building your business. With his relatable and actionable teaching style, he'll explain how to define your product as a photographer and determine where it fits into a consumer mindset. You'll learn the steps to creating a brand, pricing yourself confidently, sales techniques, and basic marketing practices. This class covers everything you'll need if you're considering photography as a job, including:
Where to position yourself in the market
Branding your business to attract your ideal client
Pricing and basic financing
Creating a business plan
Setting up a portfolio
How to get your first customer in the door
Getting leads on new clients
Understanding sales
The psychology of a buyer
Pye has built multiple successful businesses from the ground up and this course includes your 12 week road map to launching your business.
Reviews
This class has been an eye opener for me; a point of change in my vision as photographer. Pye is and AMAZING, INSPIRING, GENEROUS instructor, with an, authentic desire to help people and to share with them the best of his knowledge. I will not have enough words to say thanks to Pye Jirsa, as a teacher and as a human being, and thanks to Creative Live who allows us to benefit from the experience of such a knowledgeable, educated, well-versed photographer and instructor. 1000% recommended!
Been following this guy forever. Pye Jirsa may be well known in the wedding & portrait photography world and if there is something that this guy knows it is how to create a business, a sustainable one. The workbook he provided is comprehensive, and I honestly wish I had this when I first started out as a photographer! I love that he talks about his failures, keeping it real and honest for anyone starting out. He is definitely one of the best instructors around, super humble, down to earth and with a sense of humor to boot. The course is worth it! THE WORKBOOK is AMAZING! SUPER DETAILED!
I saw the live broadcast and it was amazing. Pye is one of the best instructors and inspirational photographers.. there are two type of ppl.. one who has the knowledge and doesn't know to teach another who has the knowledge and knows how to get it through.... I still didn't purchase this as I am saving for my daughters entrance fee for collage... :) Anyways he's one of the best instructors and a good friend.... very humble and always cracks jokes.... Keep inspiring and keep teaching.... my blessings are always with you pye.