Strategy & Long Term Goals
Pye Jirsa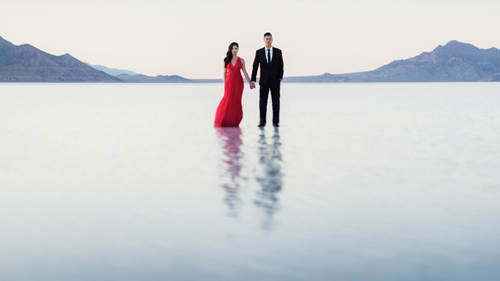 Strategy & Long Term Goals
Pye Jirsa
Lesson Info
15. Strategy & Long Term Goals
Where do you see yourself in three years? Build a long term strategy by looking at your ideal work-life balance and lifestyle.
Lesson Info
Strategy & Long Term Goals
So now, this is time we've kind of identified, we can look through to see this goal of where we want to go. We've defined our focus, we've analyzed the competition, we know our advantages, we know our weaknesses. OK. Now, I wanna say this. Your ideal work/life should also dictate your strategy and goals. You know the competitive landscape. Now it's time to decide on what you want and where you want to be three years from now. Today. Five years from now, today. The reason that's important is this: Do you guys know Fstoppers? Everybody should know Fstoppers. Lee and Patrick are two of my good friends. Lee came and toured our building and the first thing that Lee said to me was, "This is amazing, dude. You guys have done-- "I would blow my brains out, though. "This is not what I would want." And I go, "Of course." Do you know why? Because at this point in the business that we've created, we can't walk away for six months and go take a sabbatical. We've got 55 employees that rely on everyt...
hing that we do. So we need to keep the wheels turning for everybody's sake. Now we still take our vacations and we still enjoy our time, but that lifestyle that I have and that I like doesn't fit into his lifestyle and what he wants. He wants freedom, he wants to make good money but be able to just leave the studio at 12PM to go kitesurfing. And that's fantastic. But this is where we get it wrong, when we look at something and we say we envy it, we want it, without thinking to ourselves, what is it gonna be like when I'm actually in those shoes? And you end up creating a business that runs yourself into the ground. So, the first step is to define what it is that you actually want. Going back to that part-time, full-time thing, this is where I'm gonna talk about it. If you love your job and you wanna make good money, there is absolutely no reason to quit and go at this full-time until you decide, down the road, you can make great money doing both things. Is that kinda making sense? If your vision is, I wanna do this with my husband or my wife, then your strategy and your plans should not encompass buying a building, where at one point I'm gonna be this, I'm gonna do this. It should be, our goal is to own a boutique family studio, let's do what we need to do to get there. OK? So this is where I'm gonna have you guys break out your Mind Maps again, I want you guys to actually Mind Map your ideal work life, with your center idea being my ideal work life. Draw it out. Here was a few of ours. Our early goals for Lin and Jirsa Photography, we wanted to be the best wedding studio in southern California. We wanted to deliver consistently amazing work. We wanted good income with free time for other projects, that's actually in a email from 10 years ago. This area would be great because we can make a good living and still have time for other projects. We wanted to be out of the nitty-gritty, once again, in an email from 10 years ago. To not get focused in on just post-production, just one area of the business, we want to get other people in, which means that we have to be willing to give away some of the revenue that's coming in so that we can buy back our time.
Class Materials
How to Launch a Photography Business Workbook
Experience Pricing Example
Ratings and Reviews
This class and materials are to the point and eye-opening on the business side of photography. Pye Jirsa is an amazing and fun teacher as well! Most photographers need more business classes offered to bring us who love to create art back to reality for a more successful business that makes a living on it's own. This course will definately get you started in the right direction and so cheap too! Great investment! armstrong outdoor tv case outdoortvcase Pye Jirsa is one of the best instructors that I have the pleasure to learn from. He and his team have given me so much more than they'll ever realize. Knowledge, wisdom, training, friendship, mentoring, inspiration, joy... I cannot thank Pye enough for changing my life for the better. I owe them more than they'll ever realize. Thank you, Pye Jirsa!!!
This class has been an eye opener for me; a point of change in my vision as photographer. Pye is and AMAZING, INSPIRING, GENEROUS instructor, with an, authentic desire to help people and to share with them the best of his knowledge. I will not have enough words to say thanks to Pye Jirsa, as a teacher and as a human being, and thanks to Creative Live who allows us to benefit from the experience of such a knowledgeable, educated, well-versed photographer and instructor. 1000% recommended!
Been following this guy forever. Pye Jirsa may be well known in the wedding & portrait photography world and if there is something that this guy knows it is how to create a business, a sustainable one. The workbook he provided is comprehensive, and I honestly wish I had this when I first started out as a photographer! I love that he talks about his failures, keeping it real and honest for anyone starting out. He is definitely one of the best instructors around, super humble, down to earth and with a sense of humor to boot. The course is worth it! THE WORKBOOK is AMAZING! SUPER DETAILED!
Student Work