Giveaway & Styled Shoots
Pye Jirsa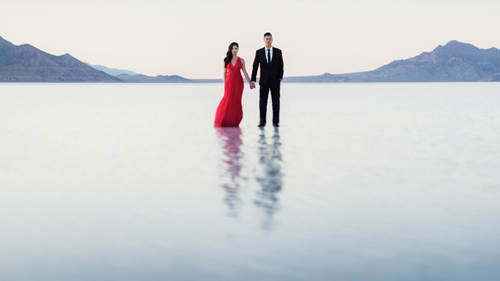 Giveaway & Styled Shoots
Pye Jirsa
Lesson Info
47. Giveaway & Styled Shoots
Once you've built a quality portfolio, giveaways and stylized shoots can help boost your business. Learn why giveaways and stylized shoots are so important and how to make the most of them.
Summary
(Generated from Transcript)
The lesson is about the benefits and process of conducting giveaways and styled shoots in order to grow a photography business. The instructor explains how giveaways and contests can help with social media growth, creating portfolio images, generating educational and social media content, attracting potential clients, and building relationships with vendors and venues. The lesson also includes a discussion on how to plan and execute a styled shoot, and how it can lead to future bookings and collaborations. The instructor emphasizes the importance of having high-quality work before starting giveaways and styled shoots, and provides a link to a resource guide for further information.
Q&A:
When should you start conducting giveaways and styled shoots for your photography business?

You should start when your work is of sufficient quality, which could be at the end of 12 weeks or whenever you feel ready.

What are the benefits of conducting giveaways and styled shoots?

The benefits include social media growth, creating portfolio images, generating educational and social media content, attracting potential clients, building relationships with vendors and venues, and increasing image exposure.

How can giveaways and contests be run?

Giveaways and contests can be run through Facebook campaigns or other platforms, and participants can be asked to perform certain actions such as commenting, sharing, liking, or following to enter.

How can you incorporate the preferences and personalities of the winners into a styled shoot?

By discussing with the winners and getting to know them, you can create a concept for the shoot that aligns with their interests and personalities.

How can styled shoots lead to future bookings and collaborations?

By showcasing the images from the styled shoot, potential clients can see the photographer's work and may be inclined to book their services. Additionally, collaborating with vendors and venues can lead to networking opportunities and word-of-mouth referrals.
Lesson Info
Giveaway & Styled Shoots
Giveaways and styled shoots. Where are we at in our road map? Well, again, like we said, if you look at giveaways and contests, this comes down to week 12 and beyond, or honestly, anyplace where you feel like your work is sufficiently good enough to create these, okay? It could be earlier. 12 weeks is already pretty dang fast, I'll be honest. That took me like three years to get to. Or even more. First thing. Your quality must be there prior. Start at the end of 12 weeks or wait until you are ready. But ready for your eyes, for this. This is what a giveaway and styled shoot can do for you. And in fact, the people right here that you see featured in this background image? They were giveaway winners, that once again, hired us to shoot their wedding. Okay? What'd we get from this? This is one of the most effective uses of your time and skills. We don't have time to go through the nitty gritty of this, but it's such a perfect piece to launching your business that we've included it, the Lea...
dGen guide inside of the course. So get the link to that. We have a link that takes you to like you'll basically go to SR Lounge, we'll give you a, an email. You put your email in, you're gonna get the link and the reason for this is that if you can imagine, giveaways, online, social media, that kind of stuff changes frequently. So if we ever wanna update that guide, we can send it out to everybody we can, basically, okay? So that way, it's like everyone's downloading from the exact same spot. So what does that do? Let me explain what these are exactly. This is you going and creating a campaign basically on Facebook, and what you do is there's plenty of different giveaway plugins and different things that you can use, and you basically say, I'm doing a contest or a giveaway, and this is for a free styled shoot of whatever genre that you are in. To join, comment below. To join, share this link. To join, do this, and they would do that action. To join, like this page. To get an extra credit, share this page. There's a list of things. The more things that they do, the more points they basically throw into the pool, the more chances they basically can get to win. That's of a, a giveaway, like a random kind of giveaway, right? But you can also run it just as a contest. Share this, and we'll select a winner. It's up to you how you wanna run it. We like running it in terms of like selecting winners. Okay? Because that way we get to choose a winner that fits our target market and what we're trying to reach for, and we're not being deceptive about it, so you're not saying it's going to be random. Do this, and then you have to pick a random person. We're saying this is one lucky winner. We will choose one lucky winner, okay? And it's basically a share and like game. So then the people that wanna enter it, they share it, they repost it, they do all those kinds of things and you get everybody that's putting their hats in the ring for this thing, right? Now here's what we get from it. We get the social media growth, so we get the likes, we get the follows. But then we also create these styled shoots with the help of the vendors that are gonna be supporting it. So if you are in maternity, you would get So Trendy. Or you would get all these different maternity vendors and this is where you need to say hey, I've taken a few great pictures, take a look at these, this is my portfolio. I would love to do this styled shoot with you in a form of a contest, and then you bring their hats into the ring. And they become part of the process where they get likes too. And they become part of everything. Like So Trendy, like this, like SR Lounge. Like whatever it is. All the companies that come into all the vendors are gonna come in and join this contest, and the vendors are gonna equally get social media growth likes and followers. Now we have gotten our vendor friends tens of thousands of likes and followers through these things. Can you imagine the kind of gratitude and indebtedness that they feel to us bringing them into these projects? They are more than willing to help throw in their time, their efforts, let us borrow things, everything, because they wanna be a part of it. And the fact that everyone is a part of it means that it's gonna get shared all the reason more, right? We're gonna hit their audiences. We can use these to create new conceptual work. Create portfolio images. We get social media content. We get educational content. We get potential future clients. We get reviews and word of mouth. We get venue networking and relationships. We get client networking relationships. We get increased image exposure. This is what that does for you. It literally checks every single box down this list. And then when it comes time for the shoot, like for the couple that won this shoot. They were engaged. This was a free engagement shoot that we were giving away. Guess what? That one can be random. Because any engaged couple that wants to be a part of this, that follows Lyn and Jirsa, is a potential client. So if the target market who would be a part of this is already within your persona, you can make it random without it being anything, and if you can make it random that's even better because then you can have all sorts of things they can do to get more submission votes. Versus a contest where it's just basically one thing, cool? So this is them. Now they won, and we told them they won, and I go, all right. Want you to hop on my blog, pick 10 Pinterest images. I did, I had them create their mood board. I'm like let's create a mood board. So then they make a mood board of images that they love from what we do. I'm like great, let's schedule time and talk. What do you guys have in mind for this? Well, we really love these images. Yeah, I notice that you guys picked a lot of pictures that kind of had a nature vibe to them. They were kind of a little more bright, more, more airy, I love that. I love that look. Like yeah. We want that. And then they go, what do you recommend we do? And I go, well what, who are you guys? Talk to me. Tell me about yourselves. Because what I would love to do is incorporate your personalities into this. I would love to make this like basically kind of a day date. But what would you guys normally do? And then, I'm not gonna say their names because I wanna keep their privacy, but the potential groom, he's like, well I have a collector's Volkswagen Beetle. And I, I really love that car. Perfect. I love that idea. And then she's like, I love Haldas's eyes are like wide open like oh my gosh, he's like on crack or something. I'm not, this is just normal. Haldas, this is normal. That's the potential we can do in these kinds of shoots. So he goes, I got this car. I go, great. I wanna say her name. My bride, tell me about you. Who are you? Well, I did ballet growing up and I would love to like somehow incorporate this into the shots. I don't know how, but like. And I'm like, what if we did this like styled shoot? Do you guys go on picnics? Yeah, we love picnics. So what if this was like you guys going out for an afternoon, going for a picnic, romantic ride in the Beetle, having a good time, having fun, and we just got kind of a romantic, classic images. And we incorporate you, and like your, your shoes, your ballet shoes. Maybe do a couple of cute shots where we put you up in a, what is it called, on point? She's like I love this, I love this. Cool, I like it too because I've never done anything like this and this sounds fun to me. So these are a couple of the shots that we go and do. And we go and do these shots and a series of images and her on point and close up details. And then they're like well, so we're getting married in six months. Because they saw the images afterwards, right? And they go wow, this is incredible. We saw the images, we need a wedding photographer. And then they just came and booked. They didn't ask any questions. They just came and booked. In the meanwhile, I got, this is five of 250 portfolio and Instagram photographs from a three-hour session shooting in a field, doing something that I love doing, doing something that was completely different, creating portfolio images for me, and then I have that much stuff to share afterwards. And then we got into their network as well. So all the benefits of it. This was their wedding. Which was another cool venue. Oh yeah, and then, because these two were so awesome, I go, on their wedding day, she almost fainted 'cause it was such a hot day where we were shooting. She almost fainted during our couples portraits, so like, right after this shot, she was like, I'm getting dazed. I've had this happen three times, by the way. You can see it in their eyes. They stop responding to questions. I was like, are you okay? She was like uh. And then we stepped in, I was like, she's gonna faint, catch her. And she like, will get light. It happens constantly, okay? You girls, something about not eating, hot days, you don't drink water, but you gotta look good in the dress. Just get to this place, the fainting. So anyway, I tell them, you know what, guys. Don't even worry about it. We didn't get time for that today. Why don't we come back. We'll do another styled shoot. We'll come back, bring your wedding attire on a separate day. I love this location. So then what do we do? We link out to the location. We're like hey, we wanna do a styled shoot at your location. Here's a couple images of our work. We'd love to bring this couple back. They didn't have a chance to do this. And the catering manager goes, great. Anytime during the week is perfect. Come on in. Do whatever you want. So then we show up, we get like royal red carpet treatment through the whole place in a beautiful location, shooting whatever we want for three hours. And then we give the images to the venue. And then the venue goes these are amazing. We love these photos. We're gonna use these photos. Is it okay if we use these photos? Absolutely. Absolutely, you can use all these photos. This was during Christmas. So, contest giveaway to the wedding day. This is the potential of we've talked about, unpaid shoots, test shoots. This is the maximum reach you can get out of your test shoots and your potential shoots is with the proper planning and thinking of, remember how we talked about slow down, slow down, muchacho. Plan it out, do things right, and do it once. This is doing things right. And you guys will get there so quickly, it's unbelievable. I would say that anybody starting in this line of business, you should be to this place within six months in terms of the quality of your work. With all the education and resources that are there, there's no reason it should take you two to three years like it did for us. Do everything with purpose, which is why you also have this document. This is your 08 vendor listing, where you're gonna list out the people in your specific industry that are people that you wanna work with, people that you might actually use for a styled shoot. And guess what? On your road map, it has times and places where you're gonna start reaching out to them weekly. Not until you start creating good images, though. And then you start reaching out and just saying hey, I'm another local person. I really admire the work that you do. I would love if at some point, we get a chance to shoot together. And then when you reach out two months down the road, they're like oh yeah, let's do it. Cool? So, go to your workbook, zero, or sorry, 14, the tab 14, LeadGen. This will take you directly to the link where you can download the latest version of the Lead Generation and Instagram Growth Playbook. It's 100 pages. I assume you don't wanna read that or want me to read it verbatim for you right now. Safe assumption?
Class Materials
How to Launch a Photography Business Workbook
Experience Pricing Example
Ratings and Reviews
This class and materials are to the point and eye-opening on the business side of photography. Pye Jirsa is an amazing and fun teacher as well! Most photographers need more business classes offered to bring us who love to create art back to reality for a more successful business that makes a living on it's own. This course will definately get you started in the right direction and so cheap too! Great investment! armstrong outdoor tv case outdoortvcase Pye Jirsa is one of the best instructors that I have the pleasure to learn from. He and his team have given me so much more than they'll ever realize. Knowledge, wisdom, training, friendship, mentoring, inspiration, joy... I cannot thank Pye enough for changing my life for the better. I owe them more than they'll ever realize. Thank you, Pye Jirsa!!!
This class has been an eye opener for me; a point of change in my vision as photographer. Pye is and AMAZING, INSPIRING, GENEROUS instructor, with an, authentic desire to help people and to share with them the best of his knowledge. I will not have enough words to say thanks to Pye Jirsa, as a teacher and as a human being, and thanks to Creative Live who allows us to benefit from the experience of such a knowledgeable, educated, well-versed photographer and instructor. 1000% recommended!
Been following this guy forever. Pye Jirsa may be well known in the wedding & portrait photography world and if there is something that this guy knows it is how to create a business, a sustainable one. The workbook he provided is comprehensive, and I honestly wish I had this when I first started out as a photographer! I love that he talks about his failures, keeping it real and honest for anyone starting out. He is definitely one of the best instructors around, super humble, down to earth and with a sense of humor to boot. The course is worth it! THE WORKBOOK is AMAZING! SUPER DETAILED!
Student Work