The Best Sales Person
Pye Jirsa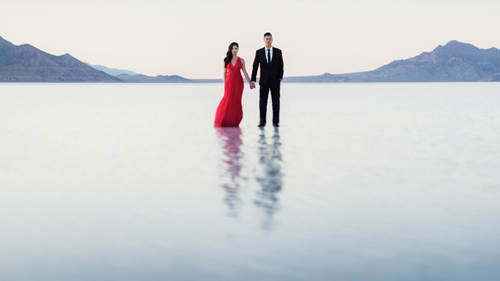 The Best Sales Person
Pye Jirsa
Lesson Info
79. The Best Sales Person
Fine-tune what you've learned about sales so far with tips to become a better salesperson and improve your charisma as you meet with clients.
Lesson Info
The Best Sales Person
This part I almost feel bad showing you guys because now after you get through this, you're gonna be like, "You were "doing that to us the whole time." This is all the body language, all the things that I've been doing throughout this entire presentation. Everything that brings you a little bit more charisma, a little bit more presence, that makes you be able to come across to someone a little better, gets people in agreement with you. All those pieces of body language and that kind of, they're not tricks. They're just understanding each other and psychology and playing into it, okay? That's what this is. Which means, in terms of everything that we have learned thus far, this comes after you're comfortable with the wave, after you're comfortable with basic dialogues. Don't start jumping into this beforehand 'cause there's a lot to perfect before we get there. And we saw that, we saw how if we don't practice these things and rehearse these things, everything that we did in the last segm...
ent. You guys can hear me do it. It's the funniest thing in the world. You can hear me do it. You can understand it perfectly. I know every one of you understands it perfectly. But when you go to say it out loud, it just doesn't happen. This weird like, do remember that, there's this line like in Tommy Boy. You guys like Tommy Boy? Yeah. Yeah, remember that part where he's tryin' to like, his dad has that line of like, "You can stick your head up a cow's ass." You know that line? (audience laughing) Yeah, and then every time he tries it, he's like, "Look, you can, Kenna, you can put your head "up a ass of a cow if you want to, "but if you just want a T-bone "I can tell you where to go for that." (audience laughing) He's like, "Dang it." That's what every one of you guys did, and that's what everyone will do. When you have learned these things, you understand it, but you can't get it out the way that it's supposed to until you rehearse it a few times. Then, when you get there, we go to fine tuning. I want you to understand being a great salesperson, and the eight reasons that you're not gonna close. This is based on our experience. One, number one, remember when we said this is your biggest mistake is because you're working with somebody, you're spending energy and time on somebody that isn't qualified to begin with. That's number one. Two is a lack of trust. This comes down to the recommendations, Julie, that you were making before I felt like we were really connected. Same thing on Haldis and Leigh's side, right? Connecting first, getting to that place where we're both laughing. Actually, Haldis, you and I connected pretty well. You were, yeah, that was good, good job. Lack of connection and empathy, where you're not getting through to them that you're actually understanding who they are, what they want. This is the salmon, buddy. (audience laughing) (laughing) This is our salmon. Number four, understanding that it's not about you. This takes us back to that 70/30 conversation thing. This takes you guys back to stop talking about you. Stop talking about what you do, about how great you are. You let those words, you know, we have like these, on SLR Lounge we have awards so that you can humble brag. Awards are so you can humble brag to your potential clients, right? You get an award. "Hey, check this out, recently go this award on SLR Lounge." Got an Apex Award. Great, it gives you an excuse to show off an image and to humble brag. When they come to meet with you, that's not the place to continue that. They've already recognized who you are, and that's why they're there. That's where you shift to this is all about them. Poor communication. We need to practice scripting. You lack urgency in the close. Shell, take your time and think about it, there's no rush. Oh, man, I just shot myself in the foot. There is a rush. I want you to close. I want you to book. But if I just said to you, "Just take your time, think about it, there's no rush." No, I need to create some sort of urgency to get it done. Unresolved concerns, and oftentimes they don't tell you. That's the problem with unresolved concerns is oftentimes you never know about them. This comes back to, "How well "do you understand your clients?" And when you present to them the ask and make the close, if they don't, it comes down to understanding why. And I expect you guys to do a similar thing where you're asking, "Tell me, what else do you guys need? "What else would you like? "What else can I do for you? "Help me to understand what you are looking for." And then a lack of follow up because sometimes people just forget. And you know what's weird is that this shall happen to you into your career, okay? You will be great friends with, let's say, a venue or a coordinator, but you don't get any referrals from that venue or coordinator for a little while. And then suddenly you run into each other on the street. "Hey, it's so good seein' you." And you catch up for 15 minutes, and then all of the sudden the next week they just sent you a client referral. Can you think of things that are similar to that that happen in your life? It happens because you kind of just, you forget. And you kind of serve the people that are in your face more often and the ones that remind you. And once you have that reminder, "Oh, yeah, that person was really a great person." Then, you go back to it. So, I need you guys to follow up with your clients, but also follow up with your vendors. "Hey, it's been a little while, what can I do for you guys? "Have you thought about maybe a new style shoot?" Follow up with each person, anybody. Okay, this is the other thing that you need to understand is that the best salesperson simply has better odds. And that, I hope, is reassuring to you. Because it's not about the best salesperson is gonna close every lead. You shouldn't feel that way. It's an unreal expectation to say, "Oh, yeah, everybody that I talk to I book." Okay, I hear that kind of stuff online, especially when I ask, "Hey, when it comes to closing, "what do you guys wanna learn?" People would say things like, "Oh, I"m really good at that. "Everybody I talk to I book." Oh, man, "What about the people you're not talking to?" Or "Is that actually a true statement?" Or "Maybe there's things you could do a little better." Or this is the point, if you got 10 leads a month, what's your first question? Unfortunately, the first question most of us ask is, "How do I get 20 leads a month?" And what I want you guys to ask is, not how do I get more leads, but "How do I raise my percentage of booking those leads?" Because if you can simply make internal changes to increase from 10 to 20%, you've doubled your revenue, and you did no additional work. So, let's think smarter in terms of like, the quality of leads we're getting and how good are we at closing those leads. And then you start thinking about how do I get more leads.
Class Materials
How to Launch a Photography Business Workbook
Experience Pricing Example
Ratings and Reviews
This class and materials are to the point and eye-opening on the business side of photography. Pye Jirsa is an amazing and fun teacher as well! Most photographers need more business classes offered to bring us who love to create art back to reality for a more successful business that makes a living on it's own. This course will definately get you started in the right direction and so cheap too! Great investment! armstrong outdoor tv case outdoortvcase Pye Jirsa is one of the best instructors that I have the pleasure to learn from. He and his team have given me so much more than they'll ever realize. Knowledge, wisdom, training, friendship, mentoring, inspiration, joy... I cannot thank Pye enough for changing my life for the better. I owe them more than they'll ever realize. Thank you, Pye Jirsa!!!
This class has been an eye opener for me; a point of change in my vision as photographer. Pye is and AMAZING, INSPIRING, GENEROUS instructor, with an, authentic desire to help people and to share with them the best of his knowledge. I will not have enough words to say thanks to Pye Jirsa, as a teacher and as a human being, and thanks to Creative Live who allows us to benefit from the experience of such a knowledgeable, educated, well-versed photographer and instructor. 1000% recommended!
Been following this guy forever. Pye Jirsa may be well known in the wedding & portrait photography world and if there is something that this guy knows it is how to create a business, a sustainable one. The workbook he provided is comprehensive, and I honestly wish I had this when I first started out as a photographer! I love that he talks about his failures, keeping it real and honest for anyone starting out. He is definitely one of the best instructors around, super humble, down to earth and with a sense of humor to boot. The course is worth it! THE WORKBOOK is AMAZING! SUPER DETAILED!
Student Work