Competitor Research
Pye Jirsa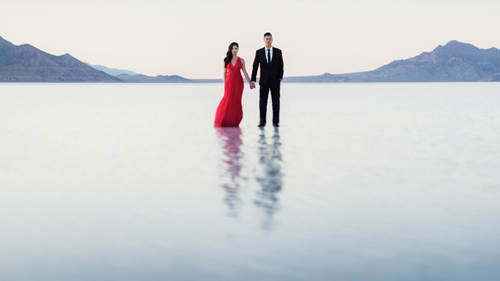 Competitor Research
Pye Jirsa
Lesson Info
13. Competitor Research
What are your competitors doing? Professional photographers shouldn't burn up all their time comparing businesses, but researching competitors is an important part of the process. Learn who's really your competitor, develop a research strategy, and understand what to look for.
Summary
(Generated from Transcript)
In this lesson, the instructor discusses competitor research for starting a photography business. He explains the importance of doing competitor research once and then periodically revisiting it. He emphasizes the difference between direct and indirect competitors and how to identify them based on the type of photography and target audience. The instructor also provides guidance on conducting a competitor analysis, including documenting competitors' prices, quality of work, hours and availability, and product offerings. He suggests using local photography groups for gathering information in cases where not much information is available online. The lesson concludes with instructions on completing a SWOT analysis of competitors and encourages students to focus on a specific niche to effectively compete in the market.
Q&A: Q: How often should you do competitor research? A: It is recommended to do competitor research once and then revisit it periodically, preferably once a year.
Q: What is the difference between direct and indirect competitors? A: Direct competitors offer the same product or service to the same target audience, while indirect competitors may offer a similar product or service but target a different audience or have a different approach.
Q: What are some factors to consider when conducting a competitor analysis? A: Some factors to consider include competitors' prices, quality of work, hours and availability, and product offerings. It is also important to analyze their website and location in relation to your own.
Q: How can you gather information about competitors if you're a boudoir photographer and don't have access to client photos? A: In such cases, it is suggested to join local photography groups and ask for information or insights from other photographers in the same niche. These groups can provide valuable information and support.
Q: How can you ensure that competitor research doesn't become time-consuming? A: The instructor advises spending no more than five to ten minutes on each competitor and not getting stuck in browsing endlessly. It should take about two to three hours to complete a competitor analysis of 20 competitors.
Q: Is there room for everyone in the photography industry? A: The instructor believes that there is room for everyone in the photography industry and emphasizes the importance of developing a network and supporting each other. Sharing information and helping fellow photographers is common in the industry.
Lesson Info
Competitor Research
Let's dive in to competitor research. This is the fun stuff. This is one of those things where when it comes to competitor research, I want you guys to do it once and forget about it for a few months. Then revisit it, okay. And then, forget about it. Eventually, once a year is fine. What I don't want you to do is to follow every one of your competitors and be like, oh my gosh, every single day, they're posting this and they're doing this. You're gonna burn up all of your time doing that social media comparison thing again. Okay, this is very different. We're gonna start with that search that we did. Our location that we wanna compete it, type of photography that we're competing within. Who's in that area? Then, we're gonna identify direct versus indirect competitors. So a direct competitor, well, let's say, an indirect competitor. An indirect competitor is... You can get pretty, kind of crazy with this. You could say a wedding photography studio and a wedding photography studio, they b...
oth offer the same thing, right. Therefore, they are direct competitors. Not necessarily. What if one wedding photography studio shoots specifically hybrid film? One wedding photography studio shoots specifically HDR dramatic kind of images. Are they now marketing to the same client? I'm hoping you guys are saying no, right. Because the client that sees all light and airy filmic over here, probably doesn't like the stuff on this side. They're not the same people that are going, oh yeah, I'm thinking about film and I'm also thinking about dramatic. No, if they're comparing film, they're comparing you to other film photographers. Does that make sense? So it's the same need, but it's not the same product. Whereas if you're in pet photography, I'm gonna venture to bet that there's not like a filmic style of pet photography and a modern style, or there might be, but they're probably not delineated nearly as much as they are inside of wedding photography. So inside of that, if you're a pet photographer and she's a pet photographer, you're both direct competitors. Does that make sense? Wedding photography is interesting as a study, because it's one of those areas where clients know just enough to have like, informed opinions of what they like. Right, they think about it enough, they look at all these bridal magazines, they look at all this stuff. Generally, if you think about the perception of a client persona going to pet photography, the bride would've looked through tons of different magazines and would've identified a style. But the person that loves their dog and just wants a photograph of their dog, do you think that they've looked through tons of dog magazines and dog-style and dog this and? I mean, they might. But most likely, most of them just love their dog and they want good pictures of their dog. So that's where we get to these are not direct competitors. Same product, same need, well, we can say same need, different product, basically. Okay, so we're gonna search your disciplinary sub-niche. Document the results, expand the keywords, and repeat. We wanna come up with a list, okay. So for example, the examples I gave. This area, wedding photography. Wedding photographer in this area. Document. Or fine art, newborn photographer. Fine art newborn photographer in Kansas City, whatever it might be. Your location under that. This comes to workbook number two. Let me go grab. Okay. Workbook number two is the competitor analysis. I have, actually this is the SWOT analysis. Ha ha. I'm gonna put this with you for one second. What do you guys wanna know about your competition? I'm gonna write it down. I know you're all thinking it. You got one thing in your heads. Give it to me. How much? How much. Price, that's always the number one, right? Is this attainable? Yeah, usually. Usually, there's a starting price. Usually, there's a, you know, investments begin at, you know, like, type thing on a site. That's general information that you can find. Okay, so you can get a starting point. And we can kind of do a guesstimation from there. So imagine this. We have that forecasting book, right? If you know that a competitor starts at $2,500, let's round it up and say that on average, they sell 3,000. Let's then look at their blog and see how many posts they have in a year that are genuine weddings. Count them up. Go plug it into number of weddings and your forecast will now tell you a really good estimation of what they're making and what their revenues are. Like, it'll be kind of scary accurate, like within 10%. That gives you idea of who you're competing against. Price. What's next? Quality? Quality. That's a huge one. You wanna know, like, is your work, where does it stand to theirs, right? Give it a rating, like, give it a number, like, is it better, is it on par, is it? But be very objective in that, because you're gonna shoot yourself in the foot if you're subjectively looking at this and like, yeah, their work is crap. No, there's a lot of people that create really great work out there. You got a question. The hours and availability. Like, do they get to do a 24 hours? Will they go into evening? Maybe the product offering. Hours, anything you want. So workbook two is created for you guys and it has a laid-out list. And I've put our names at the top, so you can kind of see how to populate it. It includes quality, it includes, like, kind of consistency. Because this is gonna give you ideas. If you start looking through their blog and you notice that their posts and their quality are very inconsistent, and their portfolio's really strong, then you can, ooh, identify a weakness, right? This starts to piece together how we're gonna actually compete. Okay, these are the primaries. Price, quality, the products that they offer. Those are the primaries of that thing. You're also gonna document their website, where they are in terms of their location in relation to you. Okay. I want you all to populate 20. And then, from that point, we're gonna continue to the SWOT analysis. Don't spend more than five to 10 minutes on each competitor. It's very easy to get stuck in this and just browse and browse and browse and browse. You don't need to. Five to 10 minutes. It should take you two to three hours to fill out all 20. Is it starting to click right now why we're choosing a focus? How would you do this for everybody? Okay. Any questions on competition? Judy. So as a boudoir photographer, a lot of competitors and even I don't put too many pictures of my clients. So how do you do a competitor analysis if you don't have access to as much information? That's gonna be a little bit tricky, because you're right. Like, in boudoir, you're not posting every single client that you are shooting. What I would say is look to groups. Local, like, Facebook groups, are generally really informative. Now, here's the thing that I wanna say about competition. We all compete against each other, right? This is the same industry. But I've always taught and shown that there are plenty of room for everybody. And more and more groups have that same mindset. So if you join a local boudoir photography group and you simply ask, what is a good starting range for this, or you simply ask the question, you'll get 20 to 30 people giving you information. If you asked, how many shoots a year do you guys expect? You'd get some pretty good information. Because this industry as a whole is turning a lot. 10 years ago, when we entered, everyone held on to these secrets very closely. And I think, over time, everyone's realized that you know what, there's enough room for everybody and everybody's offering a very different product and service, and we all help each other out. One studio helps second shoot for another one, one studio takes over when one can't. You need to develop this network and we're gonna talk about that later on, where you understand that, I mean, in Orange County, we have a lot of competition. But do you know how many times I can name friends that have competing studios that have stepped in for us when we need help? That's happened often. We're completely booked out, someone called in sick on a certain day, someone steps in to help us out. And we do the same thing. We wanna help out too. I went out to, Trevor's one of my good friends, Trevor Daley. And he had a wedding out in... It's out, some destination wedding, oh, think I forgot the name. Anyway, he said, I need a second shooter. I got the weekend free, I'll come. Okay. Like, cool. So understand that there's, like, this give-and-take relationship and that's very much information that you can find in these groups. Although it might not be as easily available online.
Class Materials
How to Launch a Photography Business Workbook
Experience Pricing Example
Ratings and Reviews
This class and materials are to the point and eye-opening on the business side of photography. Pye Jirsa is an amazing and fun teacher as well! Most photographers need more business classes offered to bring us who love to create art back to reality for a more successful business that makes a living on it's own. This course will definately get you started in the right direction and so cheap too! Great investment! armstrong outdoor tv case outdoortvcase Pye Jirsa is one of the best instructors that I have the pleasure to learn from. He and his team have given me so much more than they'll ever realize. Knowledge, wisdom, training, friendship, mentoring, inspiration, joy... I cannot thank Pye enough for changing my life for the better. I owe them more than they'll ever realize. Thank you, Pye Jirsa!!!
This class has been an eye opener for me; a point of change in my vision as photographer. Pye is and AMAZING, INSPIRING, GENEROUS instructor, with an, authentic desire to help people and to share with them the best of his knowledge. I will not have enough words to say thanks to Pye Jirsa, as a teacher and as a human being, and thanks to Creative Live who allows us to benefit from the experience of such a knowledgeable, educated, well-versed photographer and instructor. 1000% recommended!
Been following this guy forever. Pye Jirsa may be well known in the wedding & portrait photography world and if there is something that this guy knows it is how to create a business, a sustainable one. The workbook he provided is comprehensive, and I honestly wish I had this when I first started out as a photographer! I love that he talks about his failures, keeping it real and honest for anyone starting out. He is definitely one of the best instructors around, super humble, down to earth and with a sense of humor to boot. The course is worth it! THE WORKBOOK is AMAZING! SUPER DETAILED!
Student Work