How to Launch a Photography Business
Your First Massive Failure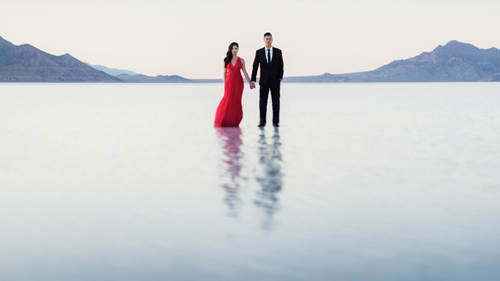 How to Launch a Photography Business
Your First Massive Failure
Lesson Info
Your First Massive Failure
Your first massive failure. That was like literally one of my first massive failures was this photograph right here. But I'm using this photograph because this is one of our first failures is to qualify your leads. You can't sell to people that are not your target market. You can't take the $500 client and turn them into the $5000 client. You can't take somebody that wants to spend $ for a newborn session and have all their images and sell them a $2500 piece of wall art. That's number one is just understand where to put your time and where to put your energy. And this goes back to also, you can't worry about... I use this image for a specific purpose. Because so many of us are concerned about the photographer down the street that's charging just a little bit less. It's because both of your images look like this. Okay? If the quality of work between you and a competitor, if you can't tell the difference, how's the client going to? So if you're not producing good work to begin with, then...
you're gonna be in that range where you can be undercut. Easily. Because a client can't even differentiate between the two. And I don't mean that you need to be doing crazy, expert work. What I mean is that at least differentiate yourself in terms of like, Honda, let's go Toyota, I like Toyota, Toyota to Lexus. None of us here understand a darn thing about cars. Well, maybe some of you do. I race cars but I don't really know what goes on inside them, I'm like, they're just fun. None of us get it yet all of us have the perception that there's at least one that's significantly better than the other or at least partially better than the other. That's the level that I want your work to be at. Where at least a consumer can come in and say, their work is good, it's better than the rest. Like they have at least that basic level of differentiation. Now when it comes to comparing Lexus to Mercedes to BMW, that's your job as the salesperson. Does that make sense? First step is to not be competing in a class where everybody else can compete right there with you. And that goes back to like price and quality and these we've talked about. I want you guys to avoid budget questions when it comes to qualifying somebody. There are plenty of other things you can ask to qualify a lead. Because Haldis, if you ask me, now I ran that conversation, but if you ask me what do you want to pay for this service, what do you think I would say? I want it free. Yeah, I want it free. (chuckling) Fist bump bro. I'll hit you back next time. I want it free. Like I mean, that's what happens when you ask a budget right? What did you expect to pay? I don't know, $100? I'm gonna give you a number that is what I wanna pay. It doesn't mean anything. So qualify with things like other questions. Venue, what is your venue? What's the size of your wedding? What is your vision for your shoot? Clothing and car, these are things that you can qualify visually, right? I have an asterisk next to them because you need to be able to see them. But if somebody shows up carrying their Louis Vuitton bag and they set it down on the table for their maternity shoot and they start going, I really expected to pay $250, there's some education that needs to happen. Right, it's not that they can't afford it, it's that they came in with the expectation of something. But you can use that clothing, you can use the Mercedes Benz that they showed up in to qualify them as yes you can afford my services, now I need to establish the value for you. This is important because qualifying does not mean directly asking. In corporate sales, sometimes it does. In corporate sales sometimes you call somebody on the phone and you're talking about budget considerations for paper. That's a commodity, right? Commodity based businesses where it's like a software, a specific piece of thing that you need, it goes down to budget. Because by and large, they're all the same. But we're not in that industry. We're not selling a commodity, we're selling a luxury product. This is why we defined all that so long ago in earlier segments, right. Because we have to understand what type of product we're actually selling. Don't use your energy on people that are not your clients. That's the first step. Just stop. And think back to that persona, who was your client persona? Okay, that's where we want to spend our time. This is where I said, remember I said, it's okay to send your price list out if they're not your prospective clients. Or if they're gonna burn your time. Send it out. Go to the next one. A big part of this is a numbers game. Sales is a numbers game. But I can help you to really increase your odds.
Class Description
The content and opinions expressed in this course are for informational purposes only and not for the purpose of providing legal advice. You should contact your attorney to obtain advice with respect to any particular issue or problem
Build a business and get people to spend money on your photography. Award-winning photographer and co-founder of Lin and Jirsa Photography Pye Jirsa will walk you through the first 12 weeks of building your business. With his relatable and actionable teaching style, he'll explain how to define your product as a photographer and determine where it fits into a consumer mindset. You'll learn the steps to creating a brand, pricing yourself confidently, sales techniques, and basic marketing practices. This class covers everything you'll need if you're considering photography as a job, including:
Where to position yourself in the market
Branding your business to attract your ideal client
Pricing and basic financing
Creating a business plan
Setting up a portfolio
How to get your first customer in the door
Getting leads on new clients
Understanding sales
The psychology of a buyer
Pye has built multiple successful businesses from the ground up and this course includes your 12 week road map to launching your business.
Reviews
This class has been an eye opener for me; a point of change in my vision as photographer. Pye is and AMAZING, INSPIRING, GENEROUS instructor, with an, authentic desire to help people and to share with them the best of his knowledge. I will not have enough words to say thanks to Pye Jirsa, as a teacher and as a human being, and thanks to Creative Live who allows us to benefit from the experience of such a knowledgeable, educated, well-versed photographer and instructor. 1000% recommended!
Been following this guy forever. Pye Jirsa may be well known in the wedding & portrait photography world and if there is something that this guy knows it is how to create a business, a sustainable one. The workbook he provided is comprehensive, and I honestly wish I had this when I first started out as a photographer! I love that he talks about his failures, keeping it real and honest for anyone starting out. He is definitely one of the best instructors around, super humble, down to earth and with a sense of humor to boot. The course is worth it! THE WORKBOOK is AMAZING! SUPER DETAILED!
I saw the live broadcast and it was amazing. Pye is one of the best instructors and inspirational photographers.. there are two type of ppl.. one who has the knowledge and doesn't know to teach another who has the knowledge and knows how to get it through.... I still didn't purchase this as I am saving for my daughters entrance fee for collage... :) Anyways he's one of the best instructors and a good friend.... very humble and always cracks jokes.... Keep inspiring and keep teaching.... my blessings are always with you pye.