Luxury vs Consumer Products & Experiences
Pye Jirsa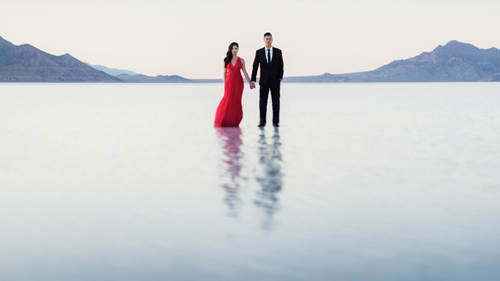 Luxury vs Consumer Products & Experiences
Pye Jirsa
Lesson Info
21. Luxury vs Consumer Products & Experiences
What's the difference between luxury and consumer, besides just price? In this lesson, Pye walks through the different qualities that tend to be associated with luxury brands compared to consumer goods -- and how that relates to photography.
Summary
(Generated from Transcript)
The topic of this lesson is the difference between luxury and consumer products and experiences, specifically in the context of starting a photography business.
Q&A:
What is the difference between luxury and consumer products and experiences?

Luxury products and experiences are typically high-end, exclusive, and focused on providing an elevated and unique experience, while consumer products and experiences are more accessible, functional, and cater to a wider range of needs.

How can luxury and consumer buying experiences be compared?

Luxury buying experiences are often characterized by exclusivity, personalized service, and a focus on the overall experience, while consumer buying experiences tend to offer more options, functionality, and a focus on meeting basic needs.

How do luxury and consumer products differ in terms of presentation?

Luxury products are often presented as pieces of art and are displayed in a minimalistic and curated manner, while consumer products are presented in a more practical and organized way, with a focus on showcasing a wide range of options.

Is photography considered a luxury or consumer product?

In the current market, photography is considered a luxury product. This is because the accessibility of technology has made it possible for anyone to take pictures, making professional photography services more of a luxury than a necessity.

How does the perception of photography as a luxury product affect the business model?

It challenges the traditional approach of feature selling and emphasizes the importance of selling the experience and value of the photography service rather than focusing on the features and technical aspects.

How can photographers differentiate themselves in the luxury market?

By understanding that their service is a luxury and not a commodity, photographers can focus on creating a unique and exclusive experience for their clients, emphasizing the value and emotional impact of their work rather than solely relying on features or price.
Lesson Info
Luxury vs Consumer Products & Experiences
Luxury versus consumer products and experiences. Gosh, I can talk about this stuff forever. I love it. This is an exercise we're actually gonna do. Right now. We're gonna mind map a luxury versus consumer experience, and what we're gonna do is you're gonna do it while looking at this first. I want you to look at these two images and I want you to map out luxury versus consumer as your central branch, central topic, and you're gonna branch out, and give me different words and different things that apply to each of these different buying experiences. Right now, let me hear it. Just words. Clutter. Cluttered on the left. Elegant. Elegant on the right? Functional on the left. Functional on the left. What? One versus many. One versus many, that's a great one. Focused on the right. More what? Boring, yes. Minimalist on the right side. Maybe missing functionality and utility? On the right side, maybe missing functionality or utility? Yeah the side looks very functional, ...
there's places to sit, there's options. Yes. Joe. Exclusivity on the right. Exclusivity on the right. They have one person wait on you. Process versus experience. We're getting a lot of good stuff, so let me get the mic. We're getting more than one word. I was expecting like one word from each of you. We're getting, okay, so where's the mic. Grab the mics. Jason. On the left, I see a process and on the right I see an experience. Very interesting. Anybody else? Let's pass the mic over. I see clear quality versus quantity. Quality versus quantity. Okay. Cool, let's do one more. I want you to write that down on your paper, by the way, as you guys are defining these two things out. And now let's go to this one. Grab the mic when you have something to say. Define out these two different experiences. More organized. More organized on the left side versus the right side? Quality versus quantity on the right. Quality versus quantity on the right. More expensive on the left. That's an interesting assumption, 'cause you wouldn't know that. But you feel that, right? Presentation on the left. Versus just whatever on the right. I see a lot of uniformity in the as opposed to kind of chaos and options but very chaotic. Yes. Julie? It's more difficult to access the products. It gives you more want, I guess? Isn't that kind of interesting? Like they place it in ways that you kind of need someone to help you a little bit, right? Massive on the right versus exclusive, maybe? What was that? Massive versus exclusive? Yeah, like massive, like broad market versus exclusivity on the left. Very good. I think you guys have this. Lee, go ahead. Even the walkways are designed differently, you've got like a freeway on the right and then you've gotta get in and you sit down or, not sit, but. Okay, so this is very interesting that you guys have identified all this and you're spot on, okay? I want you to put that into your mind map. So you've got this central topic of luxury versus consumer. I want you to branch left to consumer, branch right to luxury. And I want to you define out all the words that you just put in each of those categories. There's the words that you guys really stated already. So in a luxury versus consumer good. On the consumer side, this is, by the way, a Honda dealership. We can't show logos obviously, but this is need over want. We all need cars, right? We need to get from one place to the next. That's how the showroom is kind of set up. This is a consumer product. These fulfill needs. Many product choices. We maximize, there's a product for everybody. Right? We got something for all of you. You want something small? Put you in a Civic. Want a big van? Got that too. We got it all. Maximizing usage of space. Well we gotta have a lot of space to be able to present all the different options that we have to give you. Products become commodities. Meaning brand perception aside, would a Honda or a Toyota or a Hyundai all fulfill the same need? Yeah and in fact, Honda and Toyota, in terms of brand and quality, I know all of us have preferences, but outside those preferences, it's the exact same product in terms of what it can do, in terms of its niceness and everything, right? These are commodities. The features are prevalent. Right, they're displayed everywhere. What does it come with? What is the engine size? Leather? Genuine leather? Patent leather? I don't think anybody puts patent leather in their car, that'd be weird. You'd have like a, like get in and there's a purse-type seat. This is all want over need. This is a Bentley dealership. Does anybody here need a Bentley? No. You could say I need a car, but you can't say I need a Bentley. I really gotta have a, well if you sat in them, they're pretty freaking awesome. Seriously, though, they have this fur under your feet. You're sitting in like, your shoes are on like this ridiculous, like $10,000 fur. Which if you take your shoes off, oh, it's so good. I'm just saying. But there's no way I need that. I want it. Few products and choices. Minimalistic open spacing. Do you not think that here the product is presented as a piece of art versus here the product that fills a need. It's a commodity, correct? Experience values trump, experience and value trumps the features. Prices are concealed. Now here's the interesting part. Where does photography fit? The service that you're offering, because this goes to your question. Anybody. Like, I wanna hear what your thoughts are. Is photography a consumer product or is it a luxury product? (students talking) Let's hear it. I consider it more of an investment, than. Okay, an investment in which side? Uh, to the consumer, 'cause they're, they're paying you to do this spectacular job. But a luxury consumer or a commodity consumer? That, that's where I struggle with that market. Because you have the photographers that that are in your area that charge $ and give you everything and you're out, you know, they kind of under-price you, and you're, you don't fit in that market, but then, it's kind of like, well, do I just stick with my pricing or do I raise it? Well, let me get to this. You are, okay, let's think of it this way. 15 years ago, you could have said photography was a commodity and a luxury. I'm gonna say that today you can't. Today photography, as a business, is a luxury. Why? Don, right? Yes. 'Cause everyone can take pictures. You are abso-freaking-lutely correct. Your, what we've talked about, your phones, the fact that everybody has Rebels, every single one of these inventions which we call the democratization of production, has taken this entire industry's commodity and destroyed it. It's gone. If you wanted to, this is why K-Mart photos. They're all getting rid of their photo stuff. Right? Everybody can do that stuff at home now. You don't need like your pictures on your iPhone are good enough. You don't need someone kind of not really learned photographer in a studio taking crappy pictures of your family for $20. That's gone. What's left is photography as a luxury. So here's the next question that I hope makes you stop and think for a second. Why would a consumer brand and a consumer business model fit your luxury product? And don't tell me that you don't offer a luxury product. If you're a pet photographer, I can take good pet photos with my phone. Boudoir? I stand in the mirror all the time naked and I just do that, like, I just go. I really don't. Julie, don't look at me that way. It's okay. But seriously, how would it fit? It doesn't. And that means that this whole mindset of the feature sell, which is what everybody started doing, is gone. When we get to sales, I'm gonna blow you out of the water. Why are we feature selling a product that has nothing to do with features? Would you walk into a Bentley dealership? This, this is some basic, let's think just on this topic for one second. Who in their right minds would go into this place and be like, are the seats genuine leather? Is, does that sound ridiculous? Um, what's the mileage on that car? Like, does it get good gas mileage? You're laughing 'cause it's a ridiculous thought. Because all of us know that you go into this place to buy an experience. You know that if you're paying 300, 400, $500,000 for a car, they damn well better be using genuine leather and have actual Rolex faces for all the timepieces in the car. And they're gonna do all the things necessary to make it so you never have to ask those kinds of questions. It would be silly, likewise, to go into a Luis Vuitton store. This is Luis Vuitton on the left side. Girls, how many of you would go into a Luis Vuitton store and ask the price? That's an embarrassing question to ask, isn't it? What would you do instead? I really love this one. Let me look at this one real quick. And you pull it down, and you kinda like, flip it around a little bit, and like, there's a tag, and you're just like, ding, oh, I saw it, okay, and then you kinda put it back. Tell me that's not how you do it. Like as inconspicuous as possible. Why is that? And yet, people will come into your business and hound you on your price constantly. Do you think it's because you're prepping them to do that? Absolutely. I'm gonna teach you how to get them away from it, and a part of it is gonna come from the presentation of your product. Understanding first and foremost that photography is not a commodity. It's a luxury.
Class Materials
How to Launch a Photography Business Workbook
Experience Pricing Example
Ratings and Reviews
This class and materials are to the point and eye-opening on the business side of photography. Pye Jirsa is an amazing and fun teacher as well! Most photographers need more business classes offered to bring us who love to create art back to reality for a more successful business that makes a living on it's own. This course will definately get you started in the right direction and so cheap too! Great investment! armstrong outdoor tv case outdoortvcase Pye Jirsa is one of the best instructors that I have the pleasure to learn from. He and his team have given me so much more than they'll ever realize. Knowledge, wisdom, training, friendship, mentoring, inspiration, joy... I cannot thank Pye enough for changing my life for the better. I owe them more than they'll ever realize. Thank you, Pye Jirsa!!!
This class has been an eye opener for me; a point of change in my vision as photographer. Pye is and AMAZING, INSPIRING, GENEROUS instructor, with an, authentic desire to help people and to share with them the best of his knowledge. I will not have enough words to say thanks to Pye Jirsa, as a teacher and as a human being, and thanks to Creative Live who allows us to benefit from the experience of such a knowledgeable, educated, well-versed photographer and instructor. 1000% recommended!
Been following this guy forever. Pye Jirsa may be well known in the wedding & portrait photography world and if there is something that this guy knows it is how to create a business, a sustainable one. The workbook he provided is comprehensive, and I honestly wish I had this when I first started out as a photographer! I love that he talks about his failures, keeping it real and honest for anyone starting out. He is definitely one of the best instructors around, super humble, down to earth and with a sense of humor to boot. The course is worth it! THE WORKBOOK is AMAZING! SUPER DETAILED!
Student Work