Chumming the Price Waters
Pye Jirsa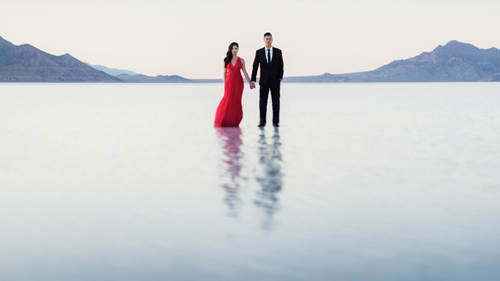 Chumming the Price Waters
Pye Jirsa
Lesson Info
83. Chumming the Price Waters
What happens when a client pushes for the price first? Pye walks through "chumming the price waters" and getting potential clients to see your value first.
Summary
(Generated from Transcript)
The lesson is about how to effectively handle price inquiries in a photography business and how to use website design and communication to attract potential clients and discuss pricing.
Q&A:
What percentage of buyers want to discuss the price first?

60% of buyers want to discuss the price first.

How can you handle a price inquiry on the phone?

Instead of immediately giving the price, ask the client what they want out of the photographs and try to understand their needs before discussing the price.

How can you use your website to attract clients and discuss pricing?

You can place your pricing information on the Contact Us page and state that collections start at a certain price, encouraging potential clients to reach out to discuss their needs. Alternatively, you can have a separate Pricing page that potential clients are more likely to click on, and use an instant chat plugin to initiate a conversation with them.

What is the purpose of redirecting a price concern and establishing value?

By redirecting a price concern, you can address the client's initial question while also emphasizing the value and benefits they will receive from your services.

What are some tools you can use to engage potential clients on your website?

You can use instant chat plugins that allow you to start a conversation with potential clients when they are on the pricing page, and only receive a message if they respond.
Lesson Info
Chumming the Price Waters
Chumming the Price Waters. We've briefly mentioned this throughout. We've talked about this multiple times. 60% of buyers want to discuss the price first. And now if I asked anybody here if 60% want to and they come to you on the phone. Who am I gonna pick on? Tori grab the mic. If I called you on the phone, and I said, Tori, what's your price? what's the line now? I'd like to know what you want out of the photographs. Tori, I don't even know if I can afford the photographs. (laughs nervously) This is harder. Some of our customers pay about $600 per shoot, but I really wanna understand what you want out of these, or what kind of pictures you wanna have. Perfect. You went back to it. Perfect. Have a seat. That was amazing. Now, this is the beauty of this, had I asked that three segments ago, you probably wouldn't have been able to answer, even if I asked during the hot seats, you wouldn't have been able to answer, but now that you saw the hot seats, you're like, Okay, now at lea...
st I can answer this. Now you're gonna practice it until you believe it. Right? You're gonna give them the, let them have their bone, give them that piece so they can let go, and then present your value. But what else are we doing to chum our price waters? What else are we doing to make people want to come to us and talk about price only? That's where the website comes back in to play. How do we display it on the website? Do we have too much information on the website? Do we ask them to talk to us? Do we give them a starting place and then simply try and get them on the phone? 'Cause that's what you should be doing. If you're sending out price lists, if you're sending out... if you're putting out information into the world of, like, packages and all that kind of stuff, no. Just remove all of that. Let's not train them to come to us just on price. Okay. So the theory, the thought behind this, any time there's a price concern, I want you to solve the price concern, I want you to redirect and then to establish the value. That's simple enough. Yes, Haldis? What's a good place to put the pricing on your website? The info page, about page? And when I say pricing, I mean, starting at X. Is it-- I would honestly say, there's no right or wrong here, but I would think Contact Us might be the best place to place your pricing info because you want them to reach out to you. And then simply stating, Collections start at this. We'd love to discuss your needs. And then phone number. If you wanna have a pricing, that's fine too. People generally click Pricing more than they do Contact, so in terms of website heat, it's called a heat map, where does a person click the most, it's on Pricing. So if you want them to simply click Pricing, fine. Do the same thing: Starting at... Let's talk right now. And you know what you can get for your website? You can actually get these little aids. There like little plug-ins, basically, that you can install on your website, that lets you start up a dialogue with them, like an instant chat message. So when they're on the pricing page, it could pop up an instant chat, and a little automated message will say, Hey, this is Haldis. How can I help you? And if they respond to that, it comes to you. Hey, Haldis, there's someone new on the site. Talk to them right now. Kind of cool, right? If they don't respond to it, you don't get a new message. So only if they respond, does it tune you in.
Class Materials
How to Launch a Photography Business Workbook
Experience Pricing Example
Ratings and Reviews
This class and materials are to the point and eye-opening on the business side of photography. Pye Jirsa is an amazing and fun teacher as well! Most photographers need more business classes offered to bring us who love to create art back to reality for a more successful business that makes a living on it's own. This course will definately get you started in the right direction and so cheap too! Great investment! armstrong outdoor tv case outdoortvcase Pye Jirsa is one of the best instructors that I have the pleasure to learn from. He and his team have given me so much more than they'll ever realize. Knowledge, wisdom, training, friendship, mentoring, inspiration, joy... I cannot thank Pye enough for changing my life for the better. I owe them more than they'll ever realize. Thank you, Pye Jirsa!!!
This class has been an eye opener for me; a point of change in my vision as photographer. Pye is and AMAZING, INSPIRING, GENEROUS instructor, with an, authentic desire to help people and to share with them the best of his knowledge. I will not have enough words to say thanks to Pye Jirsa, as a teacher and as a human being, and thanks to Creative Live who allows us to benefit from the experience of such a knowledgeable, educated, well-versed photographer and instructor. 1000% recommended!
Been following this guy forever. Pye Jirsa may be well known in the wedding & portrait photography world and if there is something that this guy knows it is how to create a business, a sustainable one. The workbook he provided is comprehensive, and I honestly wish I had this when I first started out as a photographer! I love that he talks about his failures, keeping it real and honest for anyone starting out. He is definitely one of the best instructors around, super humble, down to earth and with a sense of humor to boot. The course is worth it! THE WORKBOOK is AMAZING! SUPER DETAILED!
Student Work