Stop Wasting Time & Money
Pye Jirsa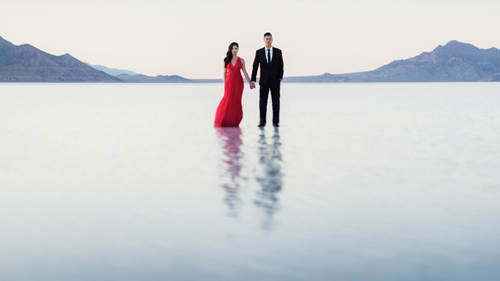 Stop Wasting Time & Money
Pye Jirsa
Lesson Info
7. Stop Wasting Time & Money
Can your clients really tell the difference between an f/1.2 and an f/2.8 lens? Between a good camera and a high-end camera? No -- which means you shouldn't be wasting money on gear that you think that you need. Instead, re-focus on what clients easily notice.
Lesson Info
Stop Wasting Time & Money
I'm going to say this respect yourself stop wasting time and money. This is a big one for me. Which of your clients can tell these apart? Raise your hands if you think they can. F2 F1.4 F1.2 you guys are laughing why are you laughing? Which of your clients can tell these apart raise your hands. Which of you guys have a hard time telling these apart? Okay so what's all the fuss again. How about the D800 versus the D850. I can't tell. 50 versus 36 versus 28 megapixels. Who knows like seriously. Yet online discussion of photography and in person discussion of photography and workshop discussion of photography, how big of a focus is gear and the gear that you have and what you have. If I can only get that lens then I can do this. If I had an 85-12 I could shoot and be really successful. I've heard that exact argument I can't tell you how many times, I want to deliver that for my clients I can't find clients unless I have an 85-12. Oh my goodness, really? How about this, what if I give you ...
extremes, which of you can tell which is the $500 Rebel Kit versus the $ Full-Frame and Lens combo. This is an example from Photography 101 we actually blow them up so you can see them side by side, it's so difficult to tell, this was a $99 prime on the left side versus a $2000 prime on the right side. If you're having a hard time with it, what do your clients think? How about this. How many of your clients can tell the difference between good communication versus poor, raise your hands. Yeah we're all good at knowing that. How about great poses and flattering expressions versus just average ones, that'll show through in a photograph. Good experiences versus not so good ones, that's something that they can differentiate. Guys there's nothing on the imagery side that they can differentiate, what we're talking about on our side, this is for photographers only. What they differentiate is the experience and they'll talk about that, but you bring your, tell me your name. Lee. Lee, I'm Pye nice to meet you. So you've got an 85-12 I'm sorry brother they're just not going to talk about it you know what I mean, that's fine but we're all brainwashed to spend thousands on gear and nothing on education. This is one of those things that I wanted to talk about because these are all things that have happened to us. So I want to tell you the cost of failure. Time this is your most valuable asset, this is all you've got the one thing you can't make more of. Okay so wasted time that's on the small side of things that you could potentially fail at. How about money? We have had refunds, not a lot, but think about this for one second. If we've shot over the last five, six years 300 plus weddings, let's say it's 1500 clients. It would be doing great if you had less than 1% refunds which we do, we have in something like ten years we've given two. Even those two let's say they were $6000 in total, compare that to how much money you spent on your education. $6000 how much could you spend on education and never even come close to $6000? Isn't that kind of a stupid thought to think of like oh my goodness if I could've done something to prepare for that, so unhappy clients, negative reviews and negative word of mouth oh my goodness those can cost you big time. Because it's not going to effect one future client it's going to effect multiple, so if you're booking at two 3000 a negative review can effect the next $20, of income, those are huge. Future clients, if you get enough negative reviews, if you get enough negative word of mouth out there you could potentially take the entire business. And we've seen it happen, multiple times and it all goes back to simply don't shortcut yourself, don't shortcut the process, don't buy into this whole oh yeah you're going to be shooting a $10,000 wedding, here's how to shoot $10,000 weddings next week. Maybe you'll get one, maybe you'll get two and then you'll tank your business right afterwards because you're not yet there ruined it. Here's the cost of education. Audible my favorite place to, I listen to books constantly I go through about a book a week on Audible. So that costs me $250 bucks a year for an entire subscription, cheap. Online classes I spend personally at least $800 to bucks on online classes per year, I budget that into what I'm going to be spending. And in person experiences, I spend money on too. But the one thing I caution about that is just go off word of mouth, don't buy into what the hype is, ask people who attended those classes because a lot of those can be hit or miss and they're a lot of money. But still if you added all these things up together over the course of five years it still wouldn't come close to losing a client or potential clients in the future correct, that's the cost difference I want you guys to think about when you guys are thinking about this. Learn from other people's mistakes, life's too short to make them all yourself.
Class Materials
How to Launch a Photography Business Workbook
Experience Pricing Example
Ratings and Reviews
This class and materials are to the point and eye-opening on the business side of photography. Pye Jirsa is an amazing and fun teacher as well! Most photographers need more business classes offered to bring us who love to create art back to reality for a more successful business that makes a living on it's own. This course will definately get you started in the right direction and so cheap too! Great investment! armstrong outdoor tv case outdoortvcase Pye Jirsa is one of the best instructors that I have the pleasure to learn from. He and his team have given me so much more than they'll ever realize. Knowledge, wisdom, training, friendship, mentoring, inspiration, joy... I cannot thank Pye enough for changing my life for the better. I owe them more than they'll ever realize. Thank you, Pye Jirsa!!!
This class has been an eye opener for me; a point of change in my vision as photographer. Pye is and AMAZING, INSPIRING, GENEROUS instructor, with an, authentic desire to help people and to share with them the best of his knowledge. I will not have enough words to say thanks to Pye Jirsa, as a teacher and as a human being, and thanks to Creative Live who allows us to benefit from the experience of such a knowledgeable, educated, well-versed photographer and instructor. 1000% recommended!
Been following this guy forever. Pye Jirsa may be well known in the wedding & portrait photography world and if there is something that this guy knows it is how to create a business, a sustainable one. The workbook he provided is comprehensive, and I honestly wish I had this when I first started out as a photographer! I love that he talks about his failures, keeping it real and honest for anyone starting out. He is definitely one of the best instructors around, super humble, down to earth and with a sense of humor to boot. The course is worth it! THE WORKBOOK is AMAZING! SUPER DETAILED!
Student Work